Lipundja Mokoy Figures and Bark Paintings
The aim of this article is to assist readers in identifying if their aboriginal sculpture or painting is by Lipundja. It compares known examples of his work. Lipundja Gapapuyngu bark paintings are in the Central Arnhem Land Style using traditional ochres. He is a recognized aboriginal bark painting and sculpture Artist. His best known for his sculptures of Mokoy which are very collectible.
If you have a Lipundja sculpture or  bark painting to sell please contact me. If you want to know what your artwork is worth to me please feel free to send me a Jpeg. I would love to see it.
Lipundja was one of only a few Central Arnhem land sculpture artists. A few other artists known to do sculpture in this region include David Malangi,  Mick Magani and Dawidi


Lipundja Sculpture
He is best known for his sculptures Mokoy Figures of the Wild Honey Totem. These Mokoy figures range in size from 30 cm to over a meter tall, The chest and thighs on figures are often painted with diamond shapes. These diamonds represent the traditional body painting of the wild honey men. The diamonds in body paint represent honeycomb. The faces of his figures tend to be triangular when viewed face on with a rectangular forehead. The sex of his figures is not shown but are male. Some of his sculptures have the arms attached to the body. He also sculptured birds and a dugong.
Other well known Arnhem land sculpture artists include Crusoe Kuningbal and Binyinyuwuy
Lipundja Bark paintings
His bark paintings vary a lot in style. They often incorporate the honeymen diamond design. His painting of figures is often static with arms bent at 90 degrees at the elbow, hands straight down.
He also depicts turtles, leaves, sacred objects, fish, birds snakes and abstract design.
Biography
Lipundja was born around 1912 and died in 1968. He spoke Gupapuyngu language. If anyone knows more information about the biography of Lipundja Gapapuyngu , please contact me as I would like to add it to this article.
Lipundja is sometimes also spelled Libundja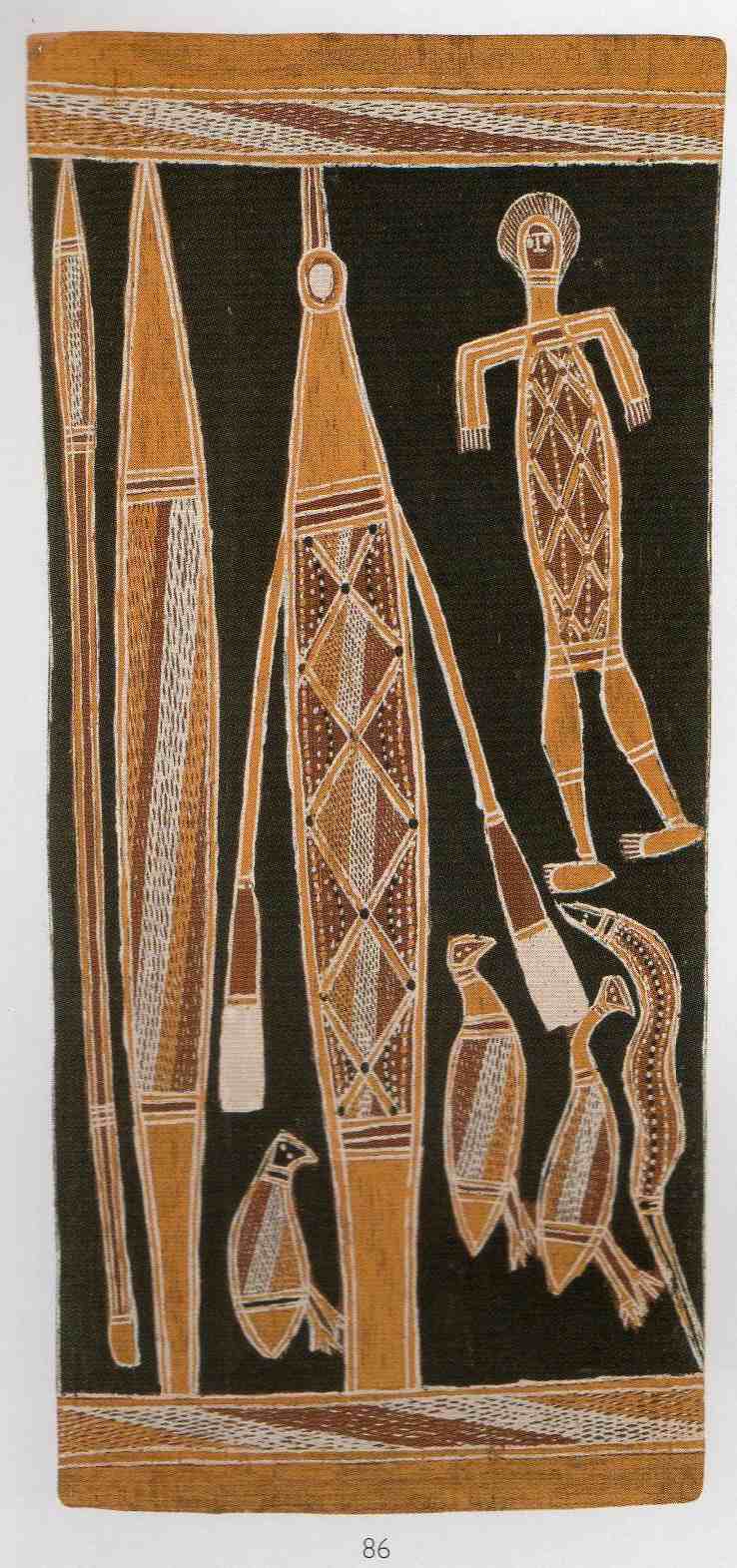 All images in this article are for educational purposes only.
This site may contain copyrighted material the use of which was not specified by the copyright owner. 
More Central Arnhem Land
Artworks and Articles
Lipundja Art Images
The following images are not a complete list of the artist's works but give some idea of his style and variety.
If this post has been informative please take the time and make the effort to share it on social media

. By clicking any of the share buttons below you create a link from your social site to this article. Links are what google uses to calculate what information on the web is useful. By sharing this article you are letting google know you found my article / images of some value. Thanks!