Paddy Jaminji was the first painters to paint in what is now recognized as the East Kimberley Art style. He is often overshadowed as an artist by his more famous nephew Rover Thomas.
He spent most of his youth on stations as a stockman.
In the 1970's he was a respected elder of the Warmun community at Turkey Creek and began to paint.
Paddy Jaminji earliest works are dance boards used in the Krill Krill ceremony. These early works were on board and held by dancers during a unique corroborate.
The aim of this article is to assist readers in identifying if their Aboriginal painting is by Paddy Jaminji. It compares examples of his work. It also gives some background to the life of this fascinating artist.
If you have a Paddy Jaminji Aboriginal painting to sell please contact me. If you want to know what your Paddy Jaminji painting is worth please feel free to send me a Jpeg. I would love to see it.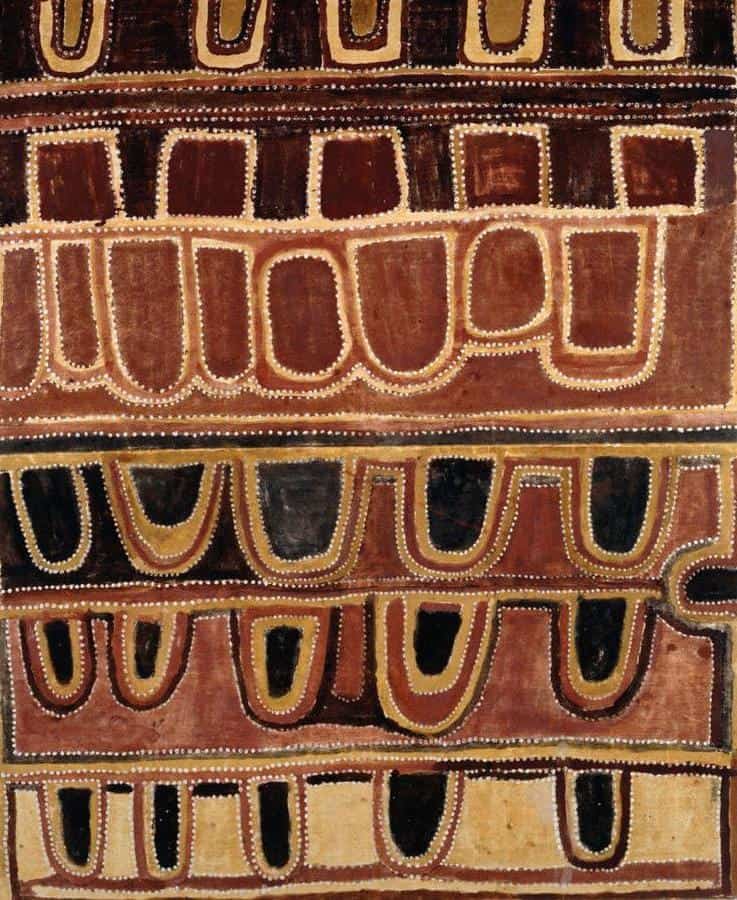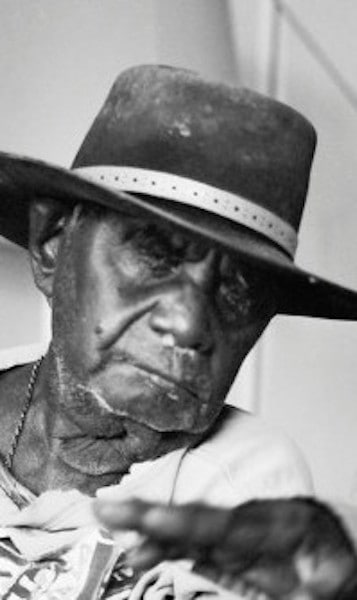 Paddy Jaminji Early Life
Paddy was born around 1912 and was a Kija speaker. He spent his youth living a traditional nomadic lifestyle and in his teens became a stockman. Paddy spent most of his life in and around his home country near Bedford Downs. He worked for many years at Lissadell station.
He was one of the first people to resettle at Turkey Creek when patrol jobs ended in the mid-1970s. In Turkey Creek, he was the old man of the settlement and a respected elder. He carved owls and painted boomerangs for sale.
Painting career
Paddy Jaminji had a Nephew called Rover Thomas who had a profound dream. This profound dream or vision would turn into a ceremonial dance called the Krill Krill ceremony. In this dance, dancers held boards painted in designs that depicted different spirits. Paddy painted these boards and their designs were very different from dot art painting from Papunya.
Mary Macha, who ran a Government Aboriginal Art Marketing Company's visited turkey creek in 1977. She recognized the painted Krill Krill boards as important art in their own right. At first, Paddy Jaminji was reluctant to sell the painted dance boards. The materials to paint on were hard to come by. When Mary promised to send him a supply of boards on which to paint the East Kimberley Aboriginal art movement began.
Mary Mocha acted as Paddy Jamanjis agent and marketed his unique designs. In 1983 Mary turned her garage in her house into a home studio and Paddy visited Perth and painted full time.
Between 1983 and 1987 Paddy painted in the company of his nephew Rover Thomas. Unfortunately, his eyesight deteriorated and by 1987 he was almost completely blind.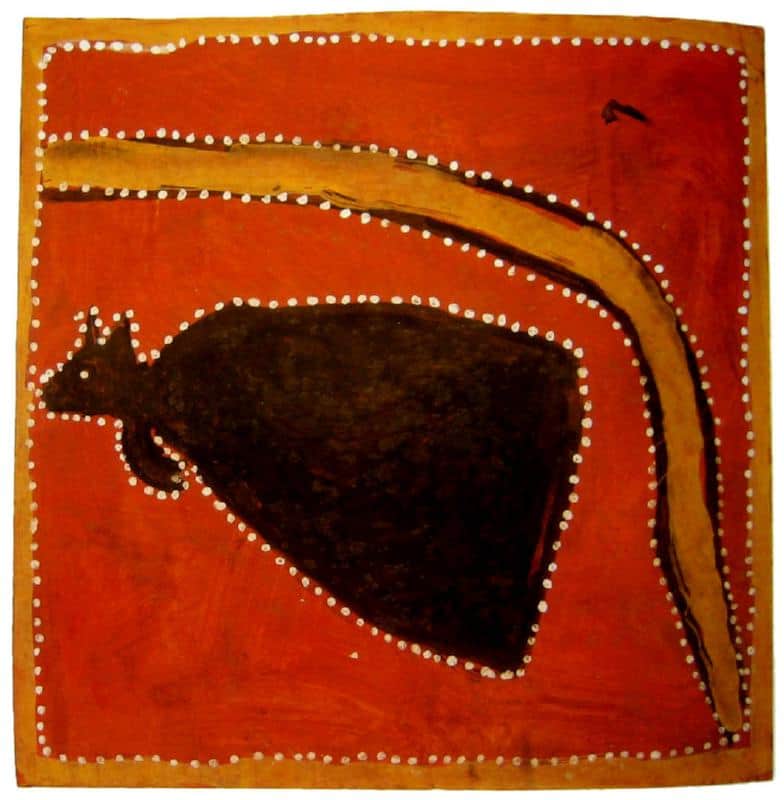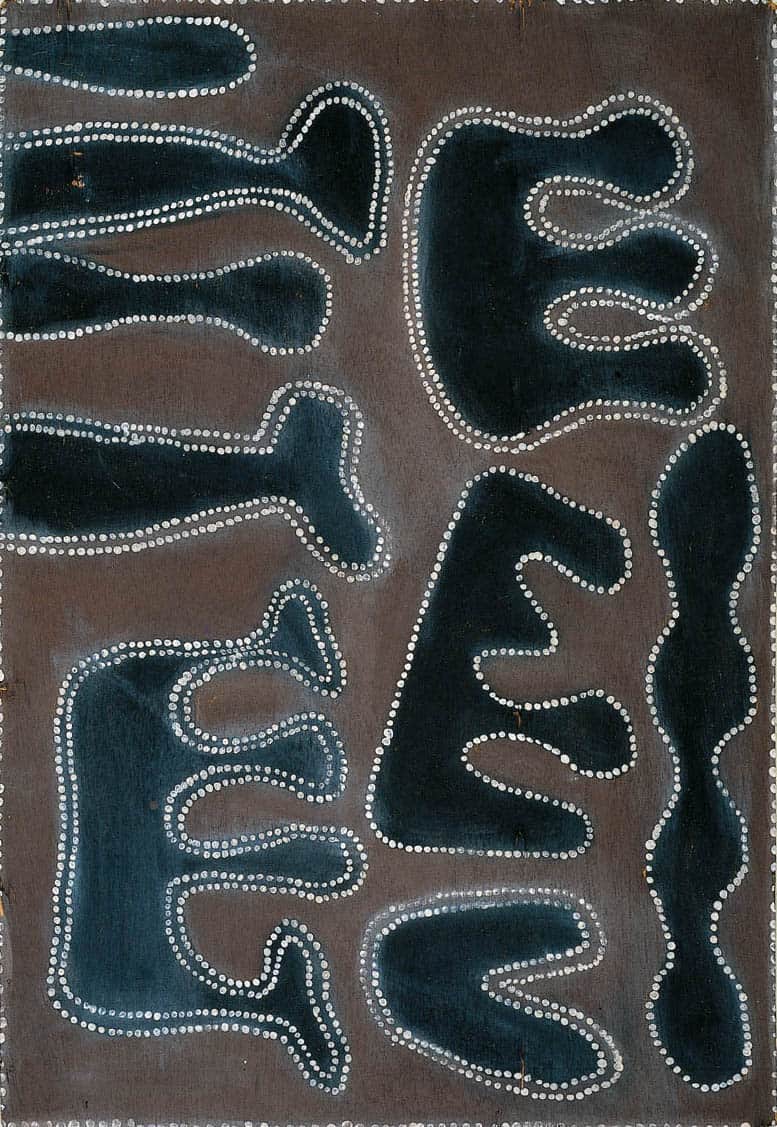 Painting style
Paddy Jaminji paintings were completely different from aboriginal art of Central Australia or Wandjina art. The remote Kimberley is a different culture and language group and the paintings from this area reflect this.
Jaminji's paintings were often a diagrammatic depiction of the landscape. They were aerial views, which followed the actual contours of the country. He used the earth and ochres as the medium. Jaminji use of traditional ochres results in a coarse textured surface that conveys an earthy quality.
Paddy Jumanji's way of painting paved the way for later artists like Paddy Bedford  and Queenie McKenzie from this region. He pioneered the whole Kimberley style of Aboriginal art.
Jaminji's most emblematic paintings were of mythic creatures depicted in a figurate style. He painted devil-devils and Tawurr. Tawurr the Half Kangaroo that transformed into a rock at Elgee Cliffs. Elgee cliffs are the site of an ancient cave painting and Dreaming place.
Tawurr is an important being during the Krill Krill ceremony. During the Krill Krill ceremony, a spirit stops to acknowledge Tawurr. This ensures the continuity of the spiritual powers that he imparted within the cliffs.
His use of ochre grounds his work to the country. It imparts a strong feeling of connection to the spirit of the places and mythical creatures he paints.
Some people would argue his artworks works were soon overshadowed by his younger more prolific nephew Rover Thomas. I would argue his art although more naive has more soul.
Paddy Jaminji paved the way for a generation of Kimberley artists. Artists like Paddy Bedford and
Queenie Mckenzie
and Eubena Nampitjin were inspired by his founding style.
More Kimberley
Artworks and Articles
All images in this article are for educational purposes only.
This site may contain copyrighted material the use of which was not specified by the copyright owner.
The following images of the Artworks of Paddy Jaminji are not a complete list of his works. They do however give a good idea of the style and variety of this Aboriginal Artist.
If this post has been informative please take the time and make the effort to share it on social media

. By clicking any of the share buttons below you create a link from your social site to this article. Links are what google uses to calculate what information on the web is useful. By sharing this article you are letting google know you found my article / images of some value. Thanks!