Freddy West Tjakamarra is one of the lesser known painters at Papunya at the start of the Aboriginal art movement. In the early part of his career, he painted some magical paintings on Composition board. His Early paintings were less than 60 cm x 60 cm. Many of his early works are ritual and contain secret imagery meant only for the eyes of initiated men.
His later works are on Canvass but he maintains a high standard and precise linework.
The aim of this article is to assist readers in identifying if their Aboriginal painting is by Freddy West Tjakamarra. It compares examples of his work. It also gives some background to the life of this fascinating artist.
If you have a Freddy West Tjakamarra Aboriginal painting to sell please contact me. If you want to know what your Freddy West Tjakamarra painting is worth please feel free to send me a Jpeg. I would love to see it.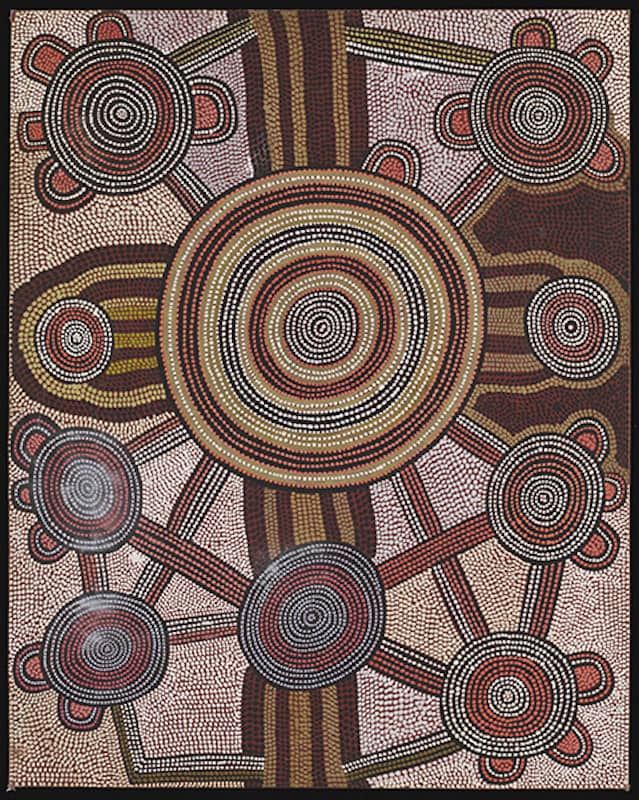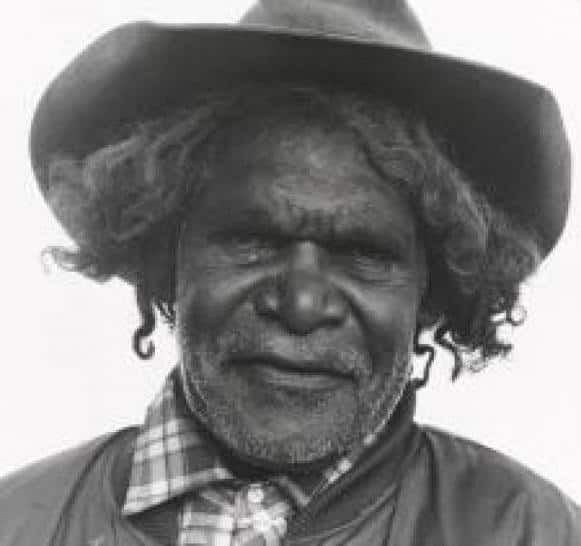 Early life
Freddy West Tjakamarra Was born around 1932 in the Pollock Hills. For the first half of his life, he lived a nomadic, hunter-gatherer lifestyle. Initiated into Pintupi custom he was a keeper of storylines.
He and his family were mostly based along the western shore of Lake Mackay. They often traveled with another group and these families became some of the last nomadic groups left in the desert.
In 1963, Freddy West Tjakamarra decided that he would go and join his relatives, who were living at Papunya settlement. Papunya is traditionally Luritja land, but the Pintupi had become displaced by nuclear weapons tests. West and his family walked to Papunya and met the welfare officers on the way. Freddy West Tjakamarra by this time had two wives: Parara and Payu who had family in Papunya.
In Papunya, Freddy West worked with Anatjari, John Tjakamarra, and Yala Yala as a farm laborer.
Early paintings
In 1971 Geoff Bardon became a local school teacher at Papunya primary. He tried to encourage local children to paint in their own traditional style. When he learned only older men could paint these stories he started a men's painting group.
Freddy West Tjakamarra was an early member of Geoffrey Bardon's men's painting group. In 1972 Freddy along with other artists like John Kipara Tjakamarra Yala Yala Gibbs and Long Jack became founding members and initial shareholders of Papunya Tula. Papunya Tula was a company owned by aboriginals to assist with the sale of Aboriginal dot art.
Papunya was a hectic place with many clans and west did not stay in the main settlement for long. Instead, he moved and painted at a place called Yayayi. Yayayi was a small outstation 40 kilometers from Papunya. Several other artists were also based at Yayavi including John Tjakamarra and Yala Yala Gibbs. Peter Fannin would drive out to Yayayi to deliver painting supplies and pick up pieces of art for sale.
Yayayi artists would often work together on joint artworks. They would sit on all sides of a canvass completing sections. Freddy also painted on shields.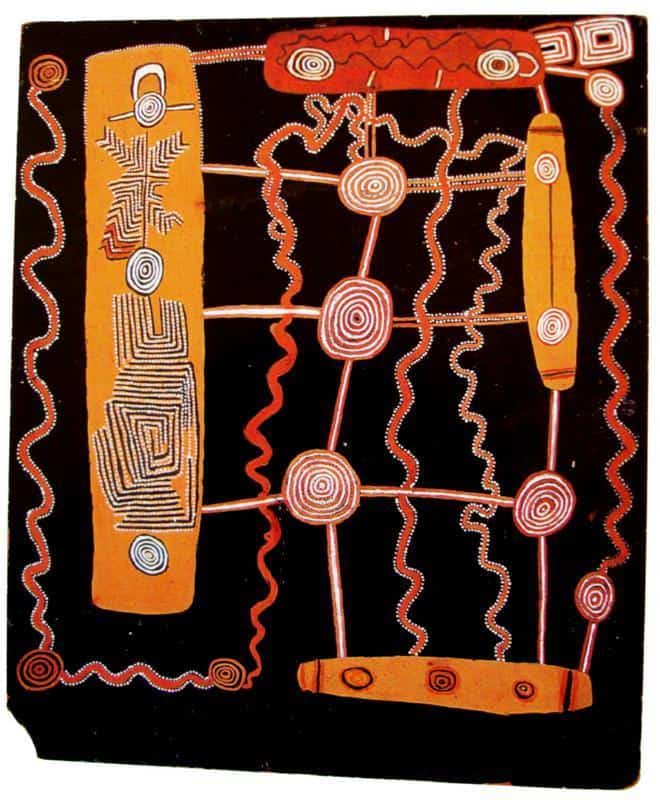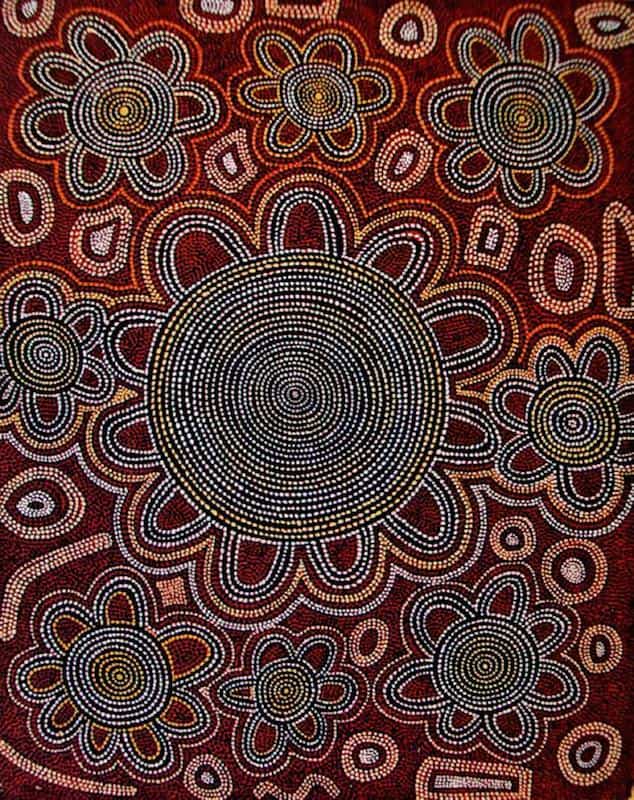 Later Art
One of these joint artworks made it into Australian Perspecta in 1981. This was an important moment in the legitimization of Western Desert painting by the art establishment. It caused international interest and became a catalyst for a re-appraisal of the identity of Australian art.
West campaigned strongly within the Pintupi community for his clansmen to leave Papunya. He felt they should return to their traditional country in the west. In 1981 he leads 300 Pintupi people back west and set up the community of Kintore.
In 1984 he helped with the establishment of another settlement called Kiwirrkurra. He lived in Kiwirrkurra for most of the rest of his life. He died in 1994 and had 15 children.
Freddy West was also called by his tribal name Tjukurti Tjakamarra
Freddy West Tjakamarra references
Early Papunya Artworks and Articles
All images in this article are for educational purposes only.
This site may contain copyrighted material the use of which was not specified by the copyright owner.
Freddy West Tjakamarra Images
The following images are not the complete known work by this artist but give a good idea of his style and range.
If this post has been informative please take the time and make the effort to share it on social media

. By clicking any of the share buttons below you create a link from your social site to this article. Links are what google uses to calculate what information on the web is useful. By sharing this article you are letting google know you found my article / images of some value. Thanks!