Thomas Nandjiwarra Amagula
Groote Island Bark Painting
Thomas Nandjiwarra Amagula is one of the best-known aboriginal artists from the remote Groote Eylandt Islands in Arnhem Land. His most valuable works are those depicting traditional ceremonies and, Dreamtime stories.
Amagula painted in the traditional style of Groote Eylandt using colored dashes on a black background. Thomas Nanjiwarra was also a political negotiator and traditional leader. He played a pivitol role in manganese mining agreements. He received an MBE at the age of 45 for service to his community.
If you have a bark painting you believe is by Thomas Nandjiwarra Amagula please feel free to send me an image. I am happy to let you know what it is worth or add it to my database of images of artworks by this artist.
I am always looking to buy artworks by Thomas Nandjiwarra Amagula.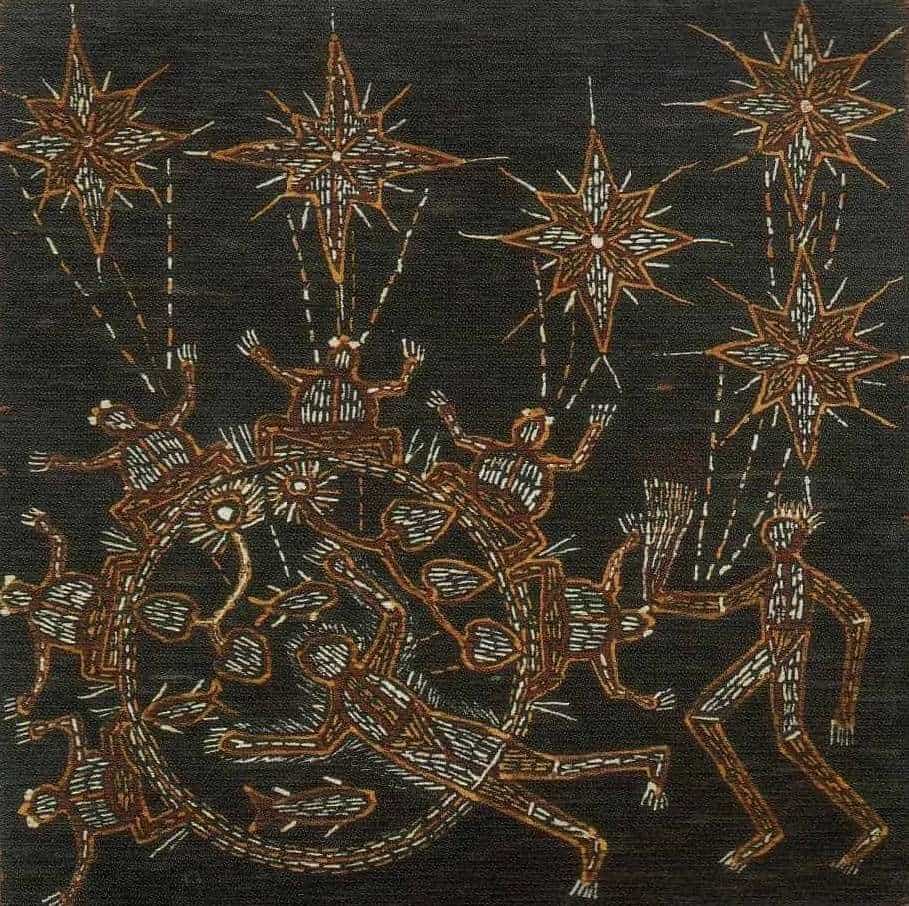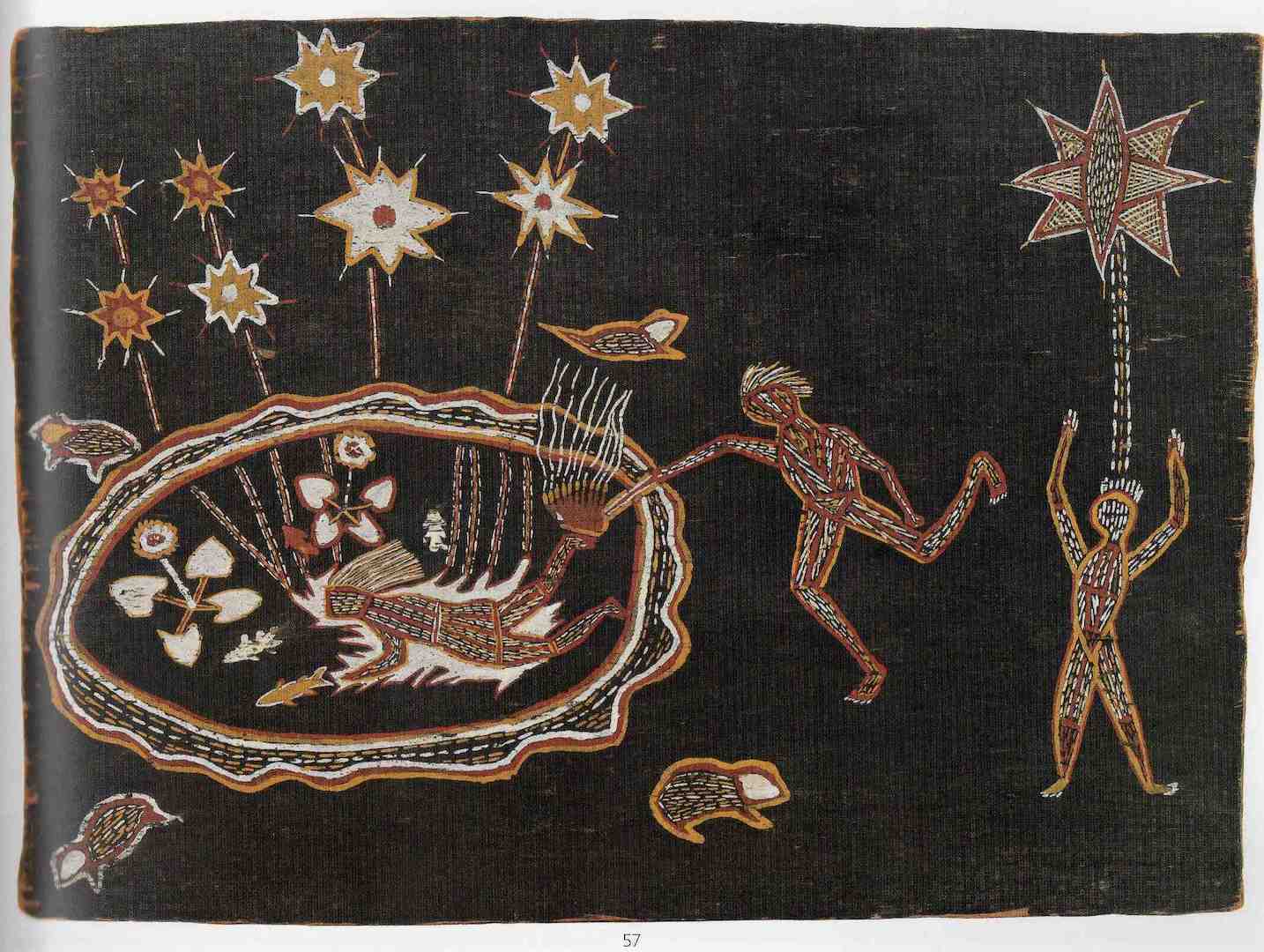 Thomas Nandjiwarra Amagula Style.
Nanjiwarra did several Groote Eylandt paintings that depict ceremonies and relate to creation stories. These are certainly, the most desirable to collectors. The majority of Thomas Nandjiwarra Amagula aboriginal bark painting has a dark brown or black background.
Nanjiwarra's earliest works often depict single totemic animals. These include shells insects and, sawtooth sharks. Many of his larger more complex works depict aspects of the Groote Island creation stories.
Where he draws figures however, he tends not to depict eyes or facial features. The faces and bodies of his figures instead covered in stippling. Many of his more complex barks contain the morning star motif. When unsigned his works can be hard to distinguish from those by Jabarrgwa Warrabadalumba Kneepad or Nandabitta Maminyamandja
Thomas Nanjiwarra Amagula Biography
He was an Artist, respected Aboriginal leader and Justice of the Peace. Awarded an MBE in 1970 for his community work. In 1969 was Chairman of the Angurugu Council on Groote Eylandt. He negotiated with mining companies to secure areas to be protected. The second Aboriginal magistrate appointed for the Northern Territory in 1974.
During the 1960s and 70s manganese mining operations brought a demanding and disruptive influence to the island. Nandjiwarra became chief negotiator with the mining companies (BHP, GEMCO). He was intent on protecting his community and environment. He was also aware of the need to spend mining royalties to move into the new times facing his people. Thanks to Nandjiwarra Groote Eylandt became a model for other indigenous communities. School attendance was at 90% and thriving health centres and housing improvements were in place.
In 1981, Nanjiwarra was chairman of the Aboriginal Cultural Foundation. In 1985 he was Chairman of the Groote Eylandt Aboriginal Task Force. He also worked on Aboriginal Benefits Trust Fund and BHP Royalties Trust Fund. Played the role of Charlie in Peter Weir's 1997 film, The Last Wave. If anyone knows more information about the biography of Thomas Nanjiwara please contact me as I would like to add it to this article.
Care for Aboriginal Bark Painting by ensuring it always stays dry and does not move as ochre can flake off. A bark painting is best stored in a dust-free place and away from insects for example in a draw.
Nanjiwarra is also spelled Nanjiwara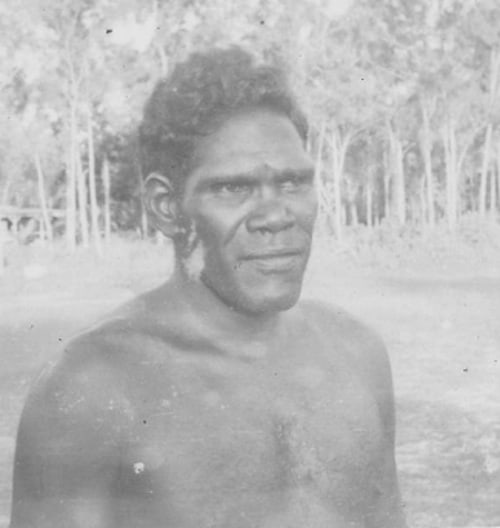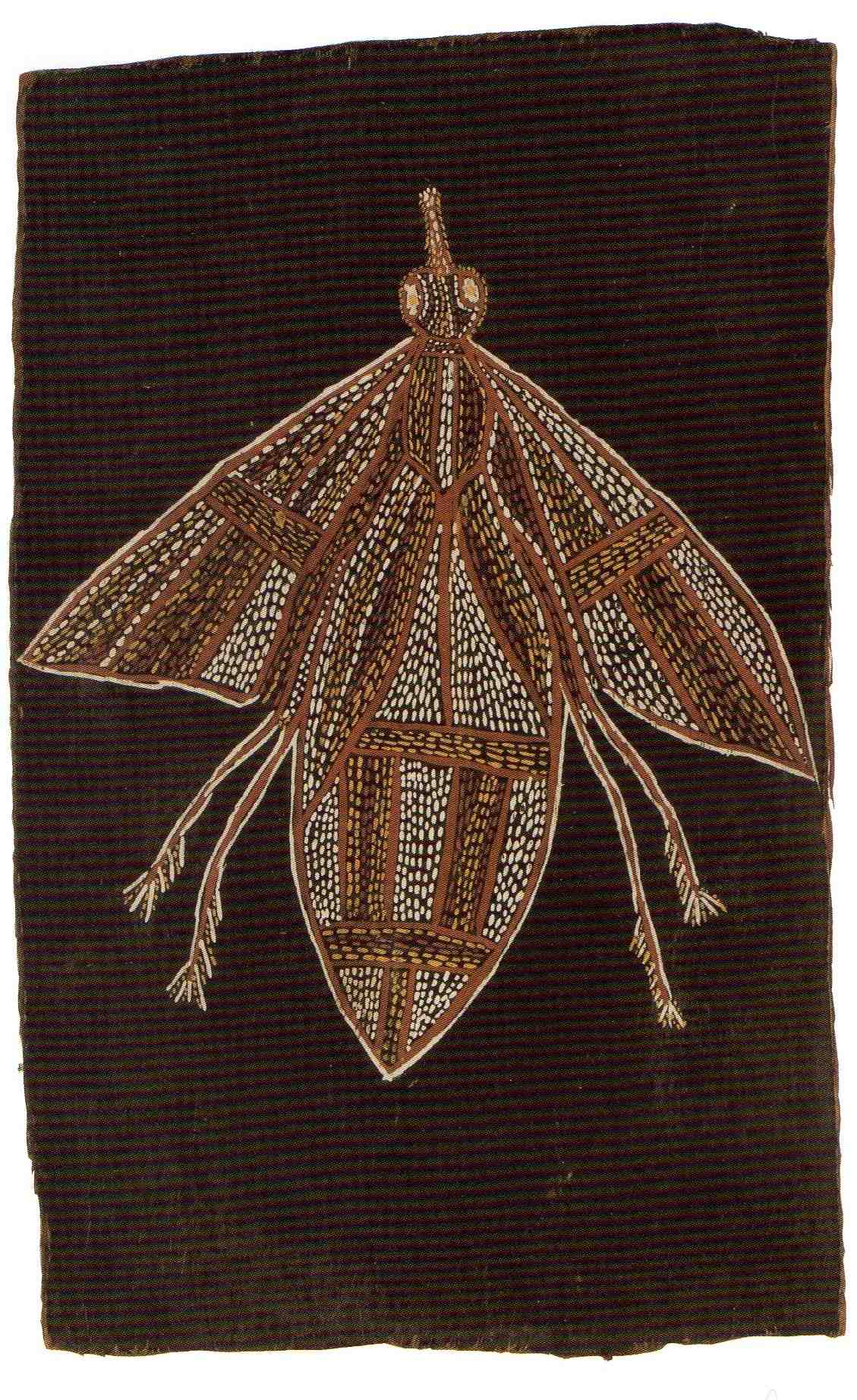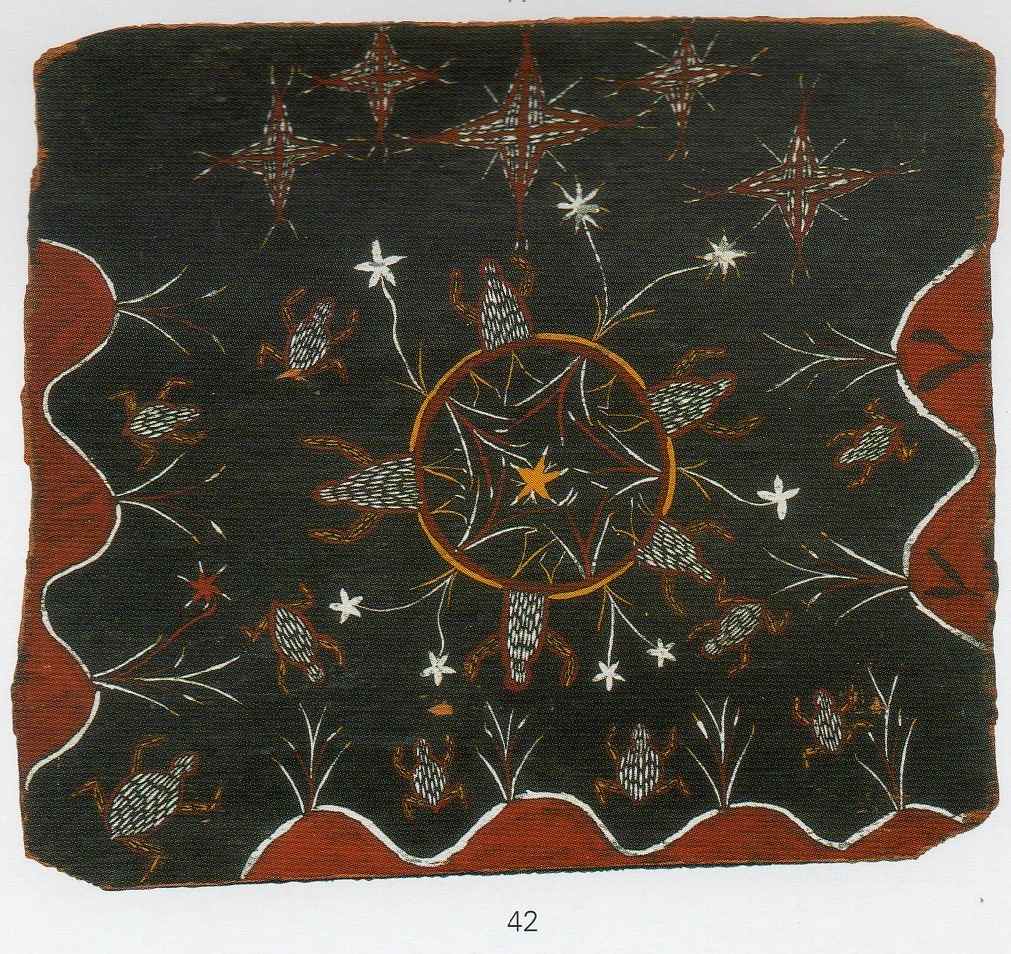 The Wind Tree dreaming
The seasonal winds had a profound effect on the life of Aboriginal people on Groote Island.
In December the North-west monsoon sweeps in from the sea bringing a cool change and life-bringing rain
.
Dagiwa a female ancestral hero during a particularly long dry season went on a quest to find the spirit of Barra the North-West Wind
. Her quest led her to a bloodwood tree on the river island of Maitjung.
It was a dangerous island full of spirits including fanged devils that would tear people apart
.
The spirit of the North West wind lived in the tree and when she arrived the tree demanded sex in return for the monsoon
. Her baby was dying of hunger and although
sorely
tempted she refused. It was then that her husband arrived with other men who started cutting down the tree with stone axes.
As the tree bled red sap the men danced around the tree chanting and hitting it with axes until a breeze began to stir. To this day the bloodwood is a sacred tree and each year the tree
is gashed
to ensure the wind blows bringing the rain.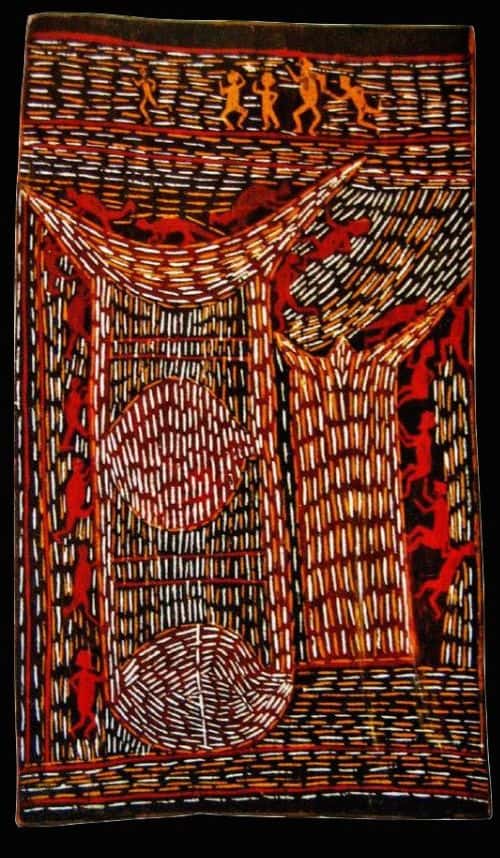 All images in this article are most importantly for educational purposes only.
This site may contain copyrighted material the use of which was not specified by the copyright owner.
Groote Eylandt Art and Artists
Thomas Nanjiwarra Amagula Images
The following is not a complete list of works. It does however, give a very good idea of this artists style and variety.
If this post has been informative please take the time and make the effort to share it on social media

. By clicking any of the share buttons below you create a link from your social site to this article. Links are what google uses to calculate what information on the web is useful. By sharing this article you are letting google know you found my article / images of some value. Thanks!