Binyinyuwuy Aboriginal Art
Binyinyuwuy (c. 1928–1982) was an Aboriginal artist from the island of Milingimbi in Arnhem Land. He painted profusely in the late 1960s and early 70s. Binyinyuwuy was an artist of high ritual authority, which certainly gave him the right to paint a large array of subjects. He painted traditional songlines belonging to his moiety, the Dhuwa, and those of the Yirritja.
If you have a Binyinyuwuy bark painting and would like to sell it or know what it is worth contact me. In short, it is as simple as sending me an image of the front and back along with the dimensions.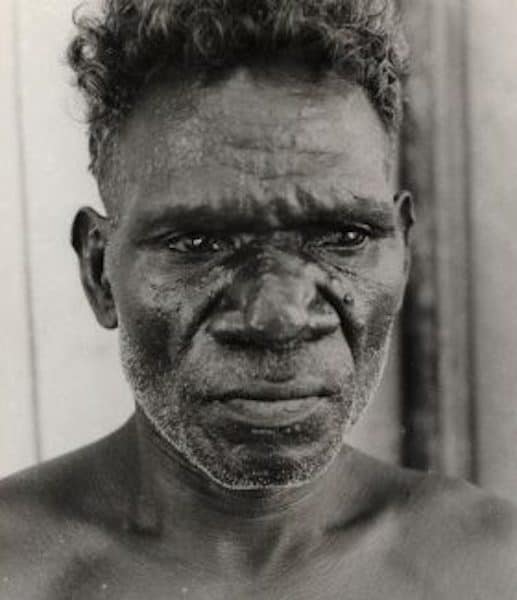 Biography of Binyinyuwuy
Binyinyuwuy was born in 1928 in Ramingining, in central Arnhem land Australia. He was Dhuwa moiety belonged to the Djarrankuykuy clan and spoke Djambarrpuyngu language
As a young man, he moved to the island of Milingimbi, off the northern coast of Arnhem Land. The town of Milingimbi was a Methodist Mission in 1923. It was a remote Island community and very conservative.
During WWII Binyinyuwuy enlisted in the Northern territory Special recon unit. This unit was set up to protect Australia's northern shoreline from Japanese invasion.
The 1948 American-Australian Scientific Expedition to Arnhem Land used Binyinyuwuy as a guide. He helped archeologist Frank Setzler excavate a Makassan well. Meanwhile, this expedition was the first to collect one of his works of art.
In the early 1950s, Binyinyuwuy, returned to Milingimbi . He was somewhat of a trouble maker, raiding shops at the mission station. Binyinyuwuy resented the presence of the Europeans and Methodists on the Island. The mission pastor approached traditional elders to try and find a resolution to Binyinyuwuys raiding. He soon learned that Binyinyuwuy was a skilled carver painter and maker of ceremonial objects. He accepted one of the young artist's paintings as compensation for the store raid. Milingimbi had already established a small cottage industry selling handicrafts to anthropologists. Fidock documented Binyinyuwuy taking part in a Wurrpan (emu) ceremony with Dawidi at Milingimbi.
The young Binyinyuwuy rapidly became a full-time artist. He was an artist of high ritual authority. This gave him the ability to paint many different traditional Dreamtime stories. As he grew older a central part of ceremonial life in his community. He kept making ceremonial objects and paintings for sale until his death in 1982.
Banumbirr The morning Star
Binyinyuwuy's most collectible works depict the morning star ceremony Banumbirr.
The Morning Star (Venus) is a creator-spirit in the Yolngu culture of Arnhem land. In Yolngu Mythology the star guided the first humans, the Wagilag sisters, to Australia. The sisters arrived near Yirrkala in North East Arnhem Land and followed Barnumbirr across the land from East to West. The sisters created a songline and named and created the animals, plants, and geographical features.
Binyinyuwuy painted the morning star ceremony identifiable by the morning star poles. He also painted the story of the sisters and their death at the hand of the rainbow serpent. Many of his smaller bark references the animal's plants and geographic features of this creation story. Others artworks reference ritual objects and hollow logs used to bury the dead.
Banumbirr has a strong association with death in Yolngu culture. The Yolngu have a special ceremony called the Morning Star Ceremony. It is a ceremony when living Yolngu, with the help of Barnumbirr and the "Morning Star Pole", can communicate with their dead ancestors.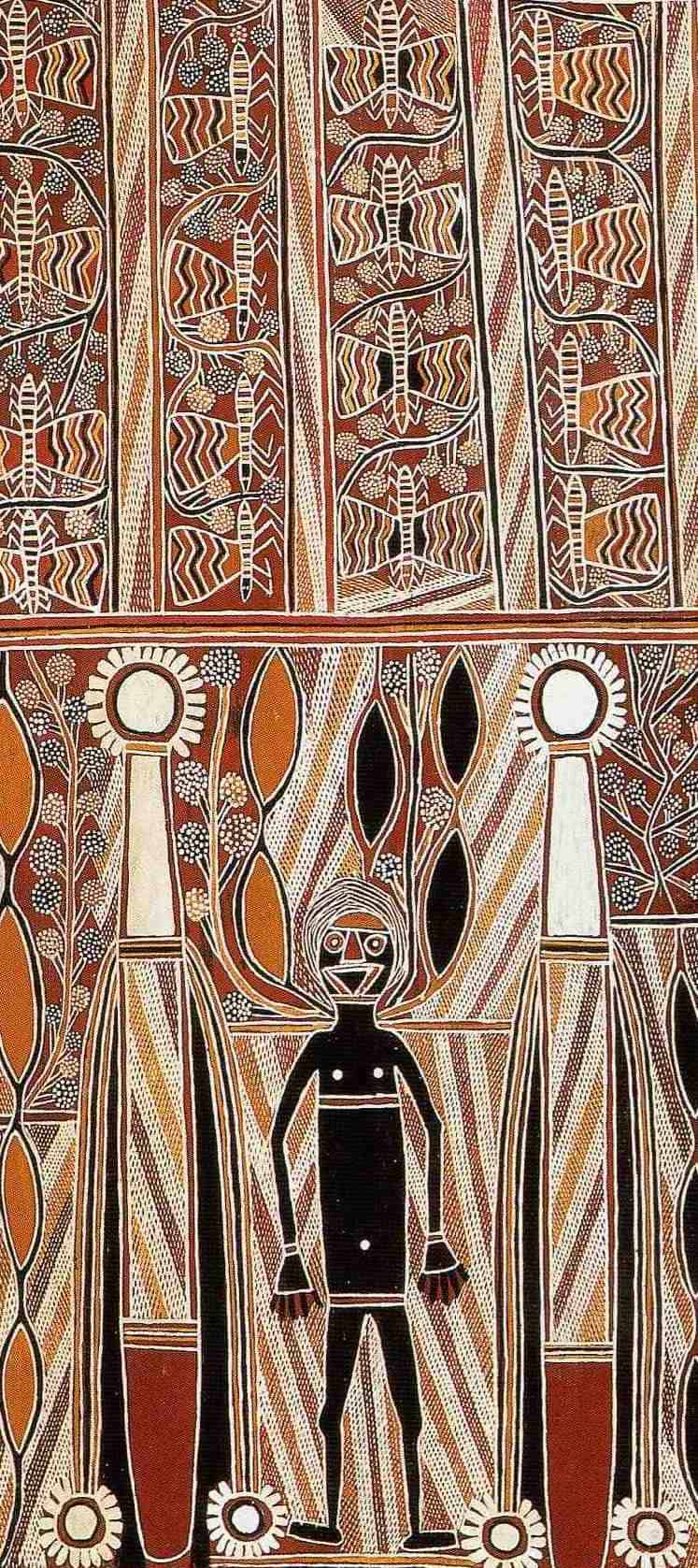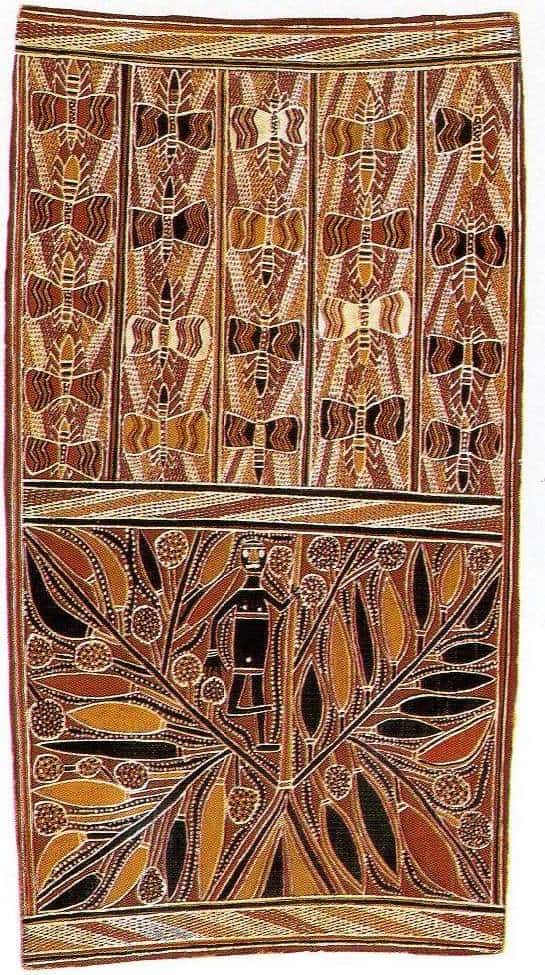 Binyinyuwuy Style
Binyinyuwuy did not have a consistent style. He was forever experimenting and expanding. His works have a consistent elegance and he favored using a warm brown-red ochre. Compared to many of his contemporary artists like David Malangi and Mick his linework tended to be finer and more precise. This is especially true in his depictions of more important traditional subjects.
Some of his smaller and less important barks are more rushed and less precise
He was quite prolific and the quality and value of his art fluctuate. Some of his works are masterpieces and others quickly produced tourist paintings.
Binyinyuwuy like Lipundja and David Malangi also produced painted aboriginal sculptures. These are rare but tend to be high quality.
Other Aboriginal Art and Artists
All images in this article are for educational purposes only.
This site may contain copyrighted material the use of which was not specified by the copyright owner.
Binyinyuwuy artwork Images
The following images are of the Artworks of Binyinyuwuy. It is not a complete list of his works. They do however give a good idea of the style and above all the variety of this Aboriginal Artist.
If this post has been informative please take the time and make the effort to share it on social media

. By clicking any of the share buttons below you create a link from your social site to this article. Links are what google uses to calculate what information on the web is useful. By sharing this article you are letting google know you found my article / images of some value. Thanks!