Yirrkala Bark Paintings
Bark Paintings were mainly painted in Yirrkala Mission in Eastern Arnhem Land. They have several distinctive characteristics. First, the artwork is likely to be "framed" within distinct boundary lines. Within this area, the surface of the bark is often completely covered with primary figures and background designs. It is almost as if the artists abhorred empty spaces. Yirrkala bark paintings themselves tend to be finer, and more formalized. Backgrounds are more elegant and more static than the Milingimbi / central Arnhem Land region.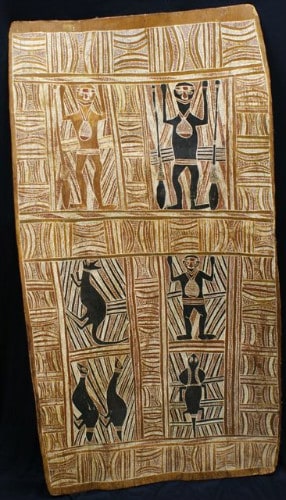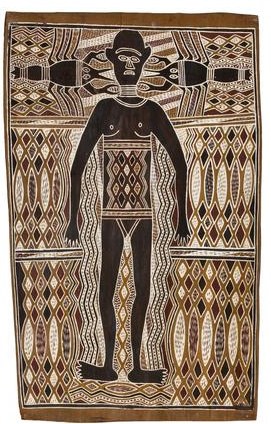 Yirrkala and the importance of Rarrk
Many of the background clan designs found in Yirrkala bark Painting designs come from patterns of Batik cloth. Makasar traders bought batik to Australia long before the arrival of white Australians. Crosshatching is common both as a background design and to fill in figures as are lines dots and stippling. The designs are often laid on in fine lines that resemble embroidery. Yirrkala bark Paintings are sometimes made up of several panels, each depicting a different incident or figure. Some of the largest barks come from this region, including rare book barks. Book barks are a series of barks, where each bark serves as a chapter of a legend or myth.
Yirrkala painters tend to have the finest rarrk cross-hatching. It is often the design of the detailed crosshatching that will indicate which artist produced the work. The themes of the painting relate to myths and as these myths are clan related this can also help in determining the artist.
Yirrkala Paintings history

Yirrkala Art has been collected since the Methodist Overseas Mission established in in North East Arnhem Land in1935. There is strong evidence that in the mid 1950's it was Yirrkala art that was the catalyst for the realization that indigenous Australian art was unique and profoundly independent tradition. The Yirrkala were trading and working with Maccassan fishermen before european settlement. Many Yirrkala barks depict Maccassan Praus and fishing scenes.

Yirrkala Native Title barks
In 1963 the Yirrkala Bark petitions were presented to the Australian parliament's house of representatives. they were the first formal assertion of indigenous native title.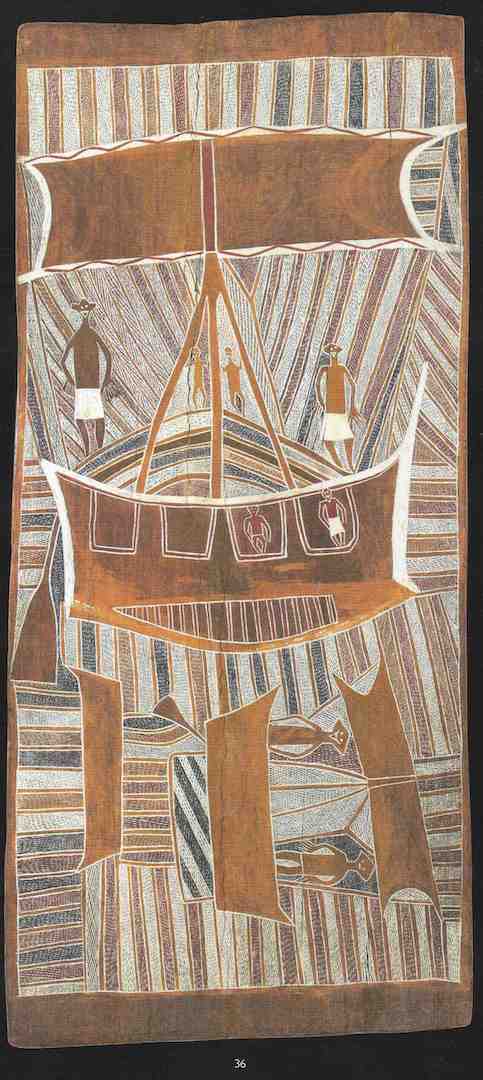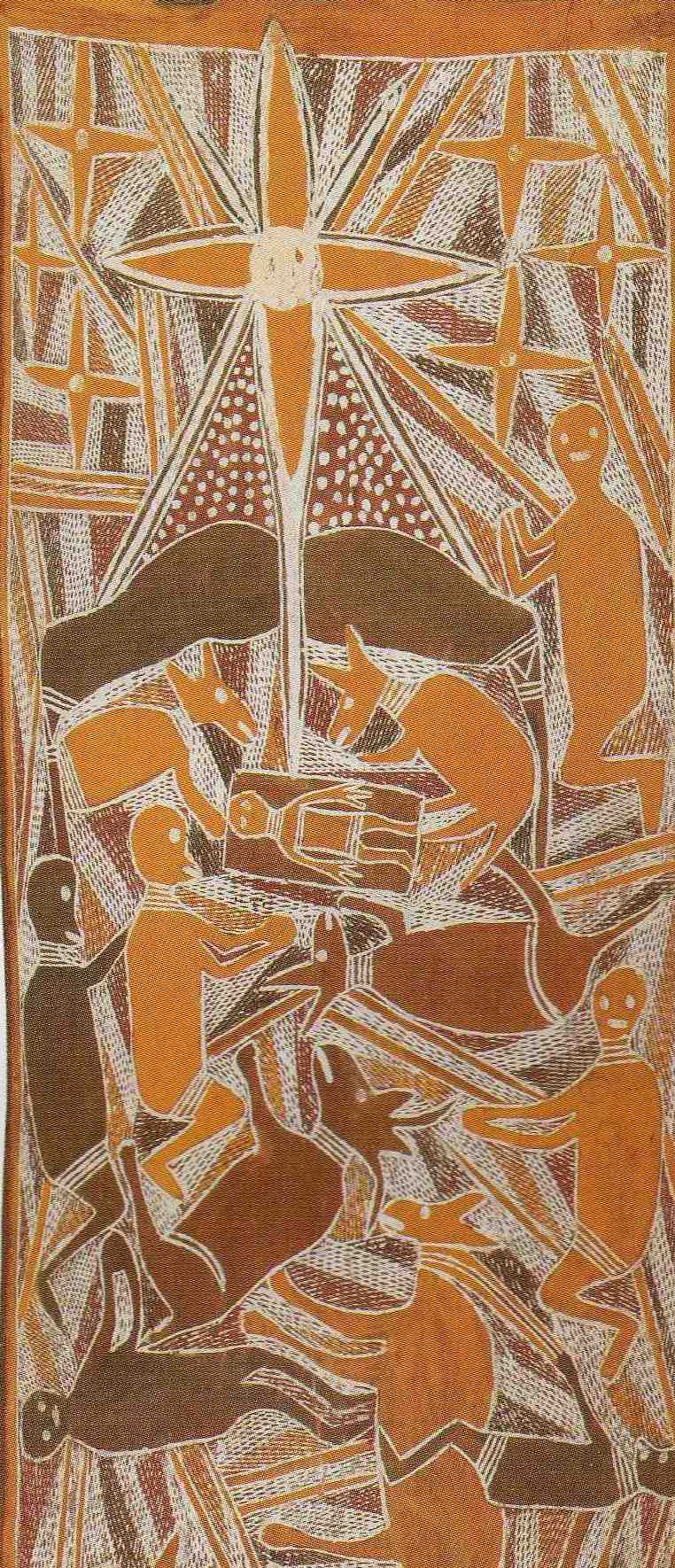 Yirrkala bark painting meanings
Yirrkala bark painting often depict dreamings or origin stories. Different scenes from these stories can be depicted in panels or they can be a snapshot of a timeframe of that story. If you do not know the story being told it can be difficult to understand.
Fortunately Mawalan Marika did some bark paintings you may be familiar with. The one opposite is the birth of Christ. Knowing the story lets you understand the artwork on a deeper level. The child in the square in the center is no longer just a child. The large star is the star of Bethlehem, and the three kings are visiting Joseph and Mary. The whole painting is a snapshot of a much larger and spiritually more critical story.
Different clans in Yirrkala had different stories and associated rituals that they had the rights to. These stories often explained the origins of natural features like waterholes within the clan's territories. The paintings were proof of ownership of the story of your land.
Yirrkala Sculpture
Sculpture from Yirrkala does not date back very far and was probably introduced by Macassan Fishermen. The early sculpture is rare and is painted in detail. The later sculpture is not as finely painted but instead incised. Most Aboriginal Sculpture is Tiwi Sculpture due to a more robust carving tradition. The few early examples of Yirrkala sculpture are very collectible, especially those by a known artist.


Mawalan Marika

Mawalan Marika was head of the Rirratjingu clan from North East Arnhem Land. He is one of the greatest bark painters and carvers of his time.
Mawalan Marika was born in an era before intensive European colonization. He was a principle informant to anthropologists. Charles Mountford and Roland Berndt both relied on him for accurate traditional information.
In general Mawalan had a love for yellow ochre. There is a striking contrast between his ability to do incredibly detailed Rarrk and the simplicity of his figures. His earlier barks are rarrk clan patterns with few or no figurative elements. Due to the market wanting figurative work his later paintings contain larger and more figures.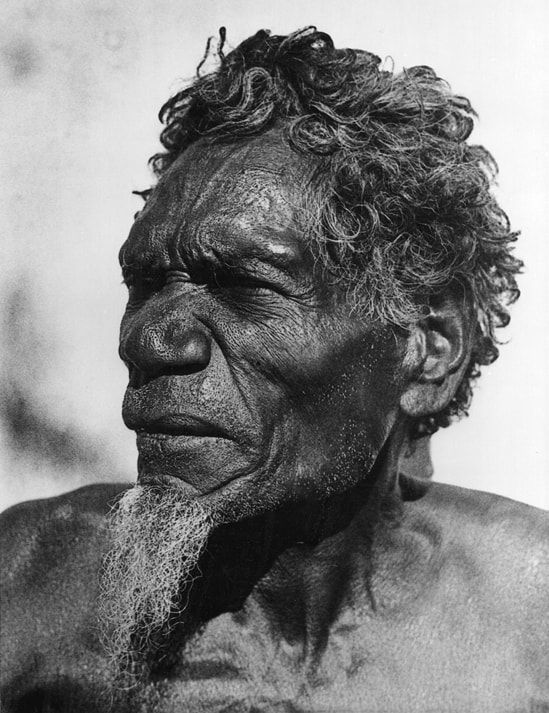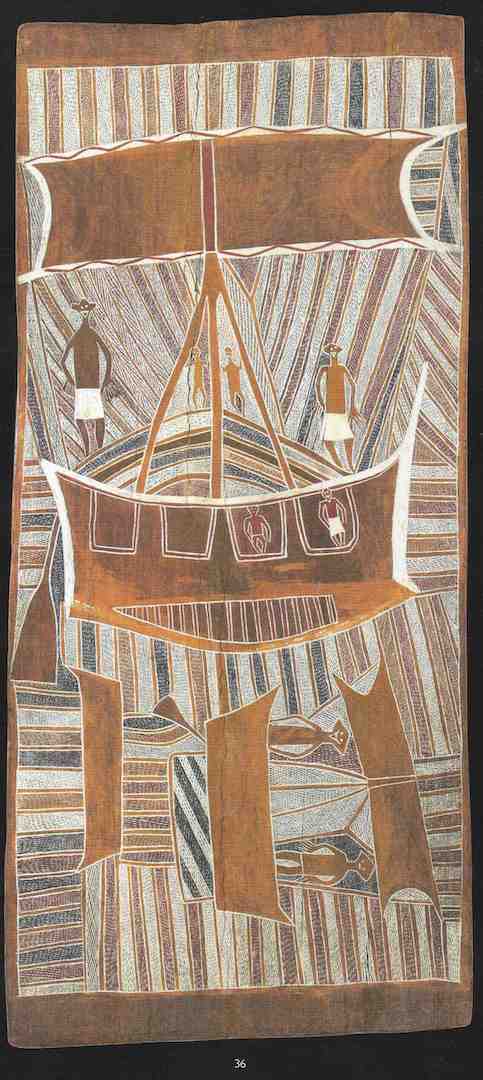 Birrikidji Gumana
Birrikidji Gumana's paintings often have a diamond-shaped design in the raark background. This design is the property of the Dalwanga clan of the Yirritja Moiety and has its own story. The ancestral hero Lainjun came out of the sea in the dreaming with the seafoam forming the diamond patterns on his body. Laintjun taught the Dalwangu clan how to paint the diamond pattern and its meaning.
He excelled in painting Indonesian Fishing Praus and fishing stories.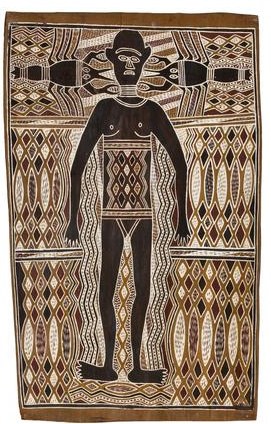 Mathaman Marika

Mathaman Marika started bark painting in the early 1960's and became one of the most sort after bark painters of North East Arnhem Land. When Mawalan his older brother died he became the leader of the Rirratjingu clan of the Dhuwa moiety. His bark paintings are depictions of different ancestor stories of his people. They include its creatures, places, and totems.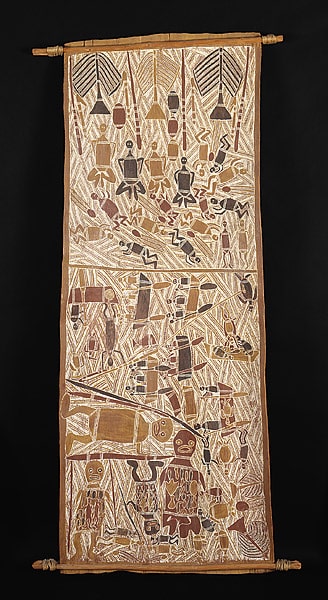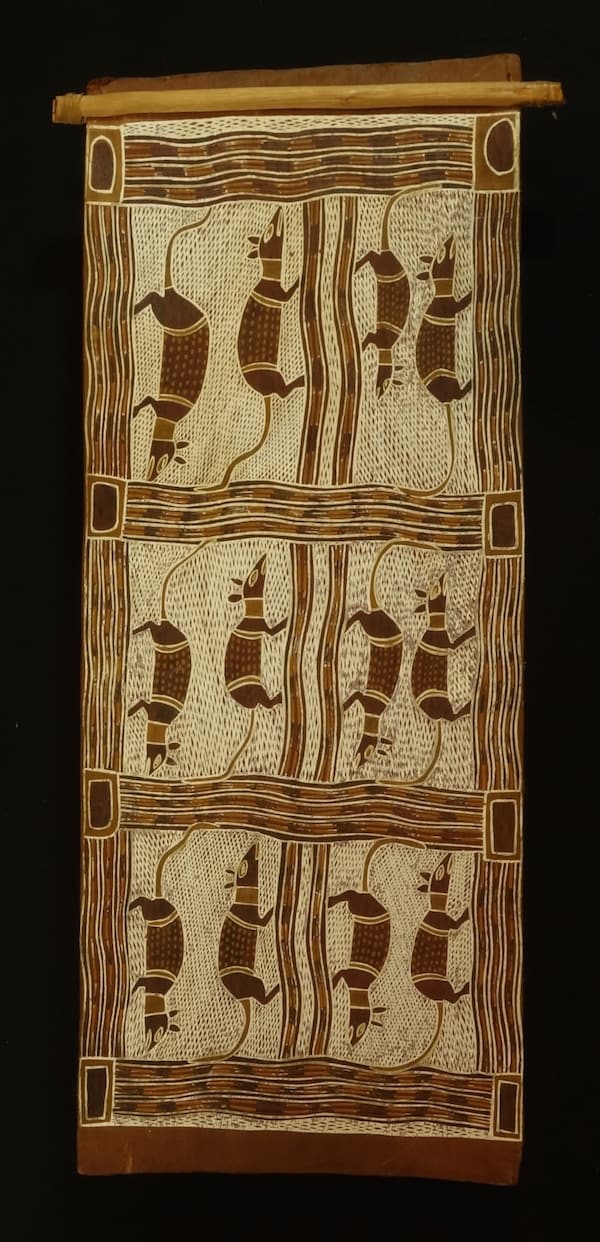 Narritjun Maymuru
Narritjin Maymuru is one of the best-known and most prolific Yirrkala artists. His artwork tells of the movements of the ancestral beings. The most notably the Guwak (koel cuckoo). Guwak while traveling with the Marrngu (possum), created the lagoon and sand dunes of Narritjin's homelands.
Narritjin Maymuru often separated his bark paintings into schematic panels. Vertical and horizontal features separate these Schematic panels. He painted backgrounds completely in rarrk crosshatching and in traditional motifs. These motifs include diamonds, rows of dashes, anvil shapes and an X pattern.
Mithinari Gurruwiwi
Mithinari Gurruwiwi was an exceptional and prolific bark painter from the Blue Mud Bay area of Northeast Arnhem Land.
Gurruwiwi works are different to many Northeast Arnhem Land artists. He often uses small dots to infill areas. His rarrk crosshatching is fine but he often leaves large areas of single bold color. Mithinari's paintings have a diversity of forms but also have an overall coherence of stylistic elements.
He often repeats figures be they of fish or birds or snakes. Many of his paintings are of the inland area of Garrimala. This area is bursting with the vibrant life of the rich inland lake as snakes, birds and fish compete with each other among the waterlilies. This feeling of plenty is reflected in his paintings of this area.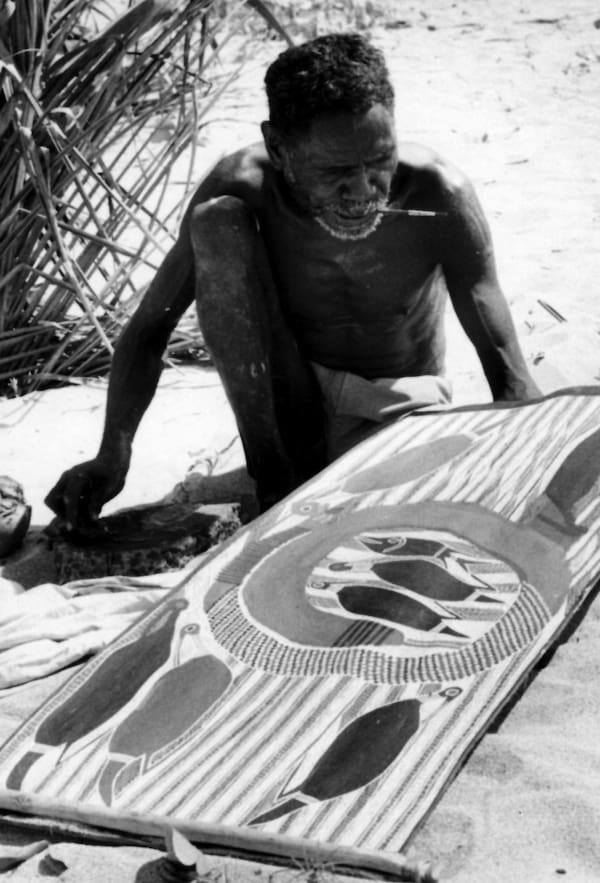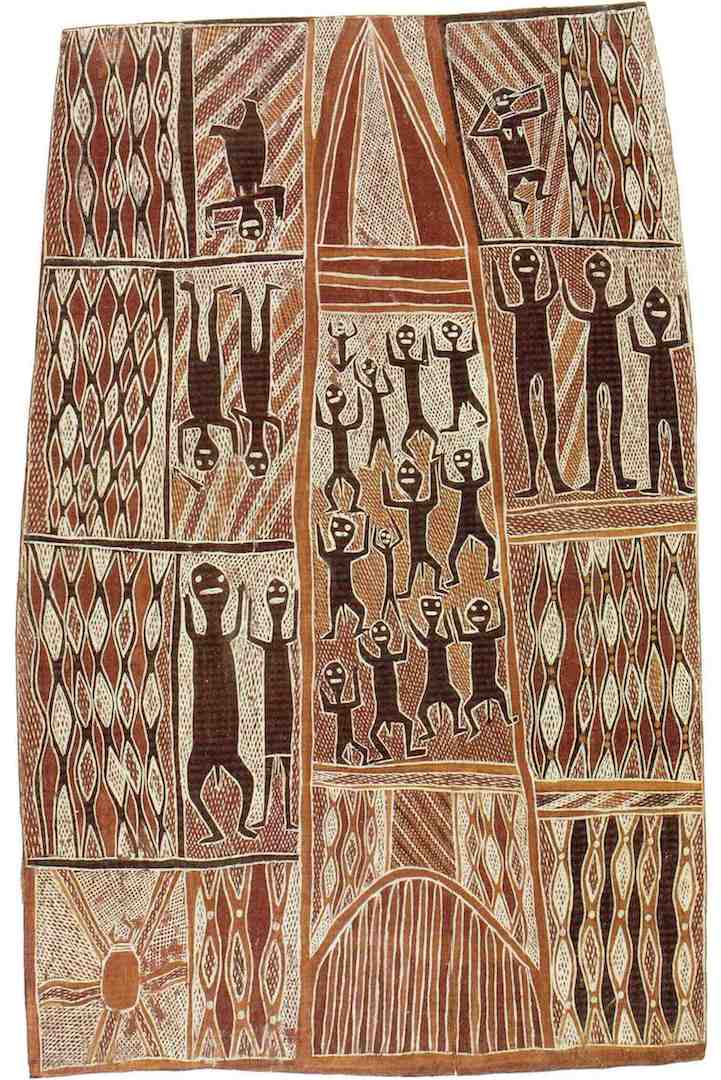 Munggurrawuy Yunupingu
Munggurrawuy Yunupingu was a prolific bark painter and sculpture artist. He was a master of both bark painting and figurative carving. He was one of the first Yirrkala artists to produce bark paintings for sale.
Munggurrawuy Yunupingu early works are very traditional. They consist of geometric schematic clan patterns. It is within these background schematic patterns, that his great skill and control of crosshatching is best demonstrated. He probably along with Mawalan Marika developed an episodic or panel style of bark paintings.
All images in this article are most importantly for educational purposes only.
This site may contain copyrighted material the use of which was not specified by the copyright owner.
If this post has been informative please take the time and make the effort to share it on social media

. By clicking any of the share buttons below you create a link from your social site to this article. Links are what google uses to calculate what information on the web is useful. By sharing this article you are letting google know you found my article / images of some value. Thanks!