Oenpelli Art Bark Paintings
The Majority of Oenpelli Art is bark paintings. Traditionally the art of this area was painted on rock shelters and on the bark panels of temporary shelters. Arnhem Land Rock Art goes back at least 20,000 years and x-ray style Oenpelli Art at least 8000 years. It is this form of Aboriginal Art that truly is the longest ongoing art tradition in the world.
Oenpelli is the name of a mission, based in Gunbalanya near the Alligator River. It was established by the Church Missionary Society in 1925 at the site of the Government run Oenpelli Aboriginal Reserve.
The mission encouraged Gaagadju artist to paint and and make handicrafts and many of the early works from this area still have mission labels recording the artist and the story depicted.
I am a keen collector of Oenpelli Bark paintings and if you have one and would like to know what it is worth please send me an image.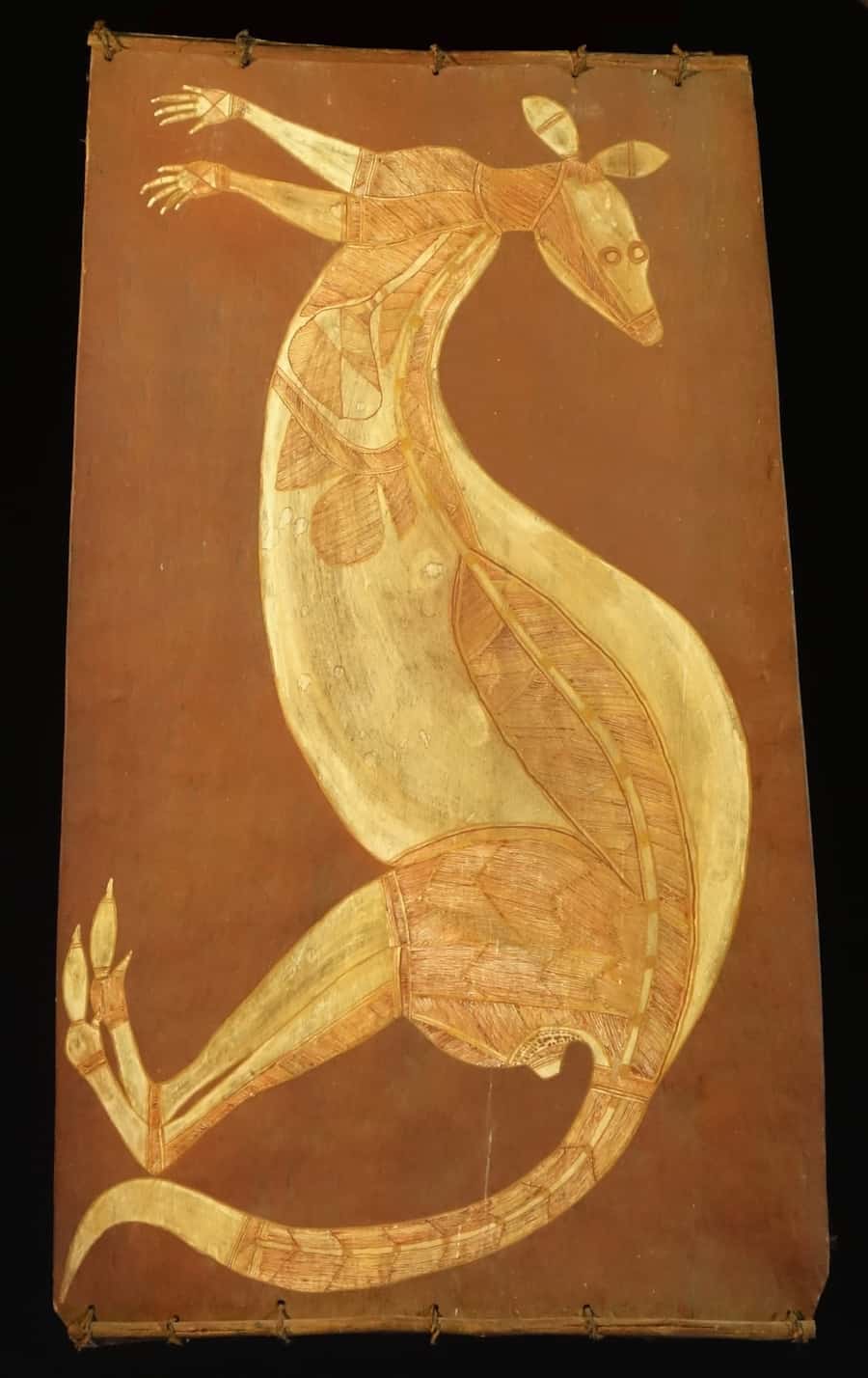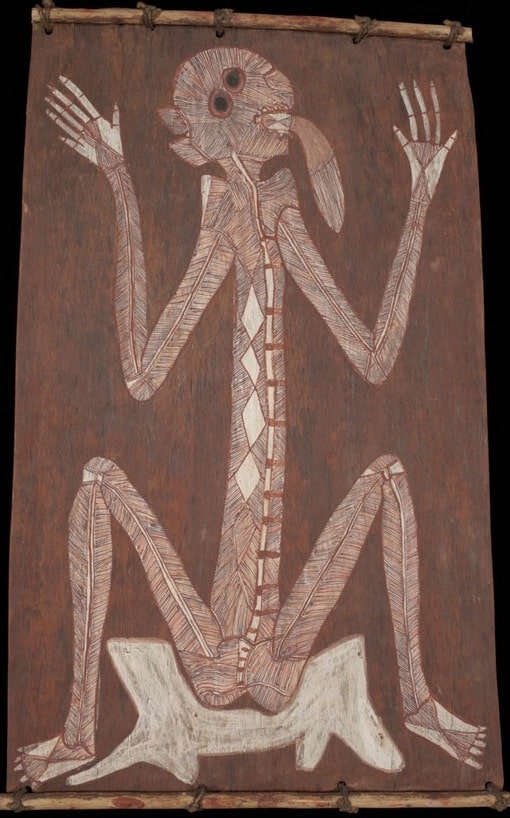 Oenpelli Art Style
Traditional Oenpelli Bark paintings have a monochrome background. After the bark has been stripped from the tree and staraightened over a fire it is painted a single colour.  The image or images are then painted leaving a single colour background. The insides of the animals were often depicted leading some people to refer to the art style as X-Ray art.
The reason the details of the internal anatomy is depicted is to bring the totemic animal to life.  Traditionally these were more than just images of animals they were related to a deeper traditional spiritual connection to ancestral dreamings.
Oenpelli Art does not just include real animals but also includes creatures from the ancient past like the Raibow Serpent and Mimih spirits.
Some artists also painted scenes of Customary practises and initiation ceremonies.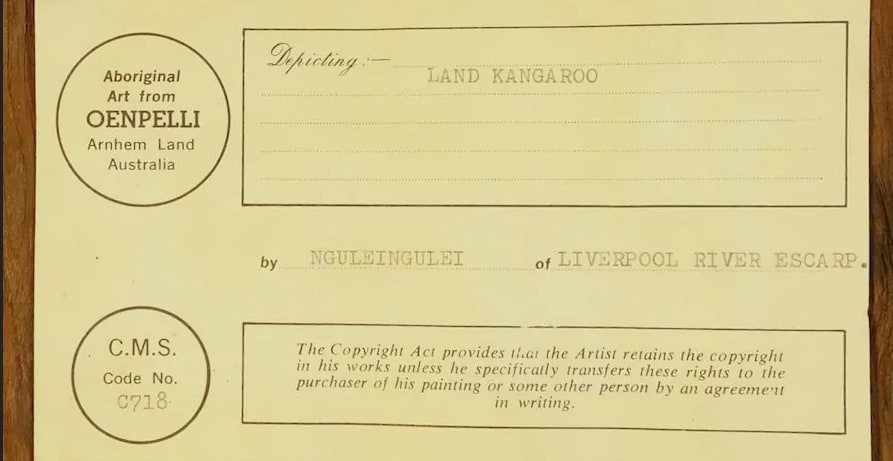 Oenpelli Paintings collection history
The first major collection of Oenpelli Bark paintings was made in 1912 by Baldwin Spencer. In his role as director of the National Museum of Victoria, Baldwin Spencer asked Paddy Cahill to commission several bark paintings from Gaagadju (Oenpelli) artists. In all, about 170 paintings were commissioned in this way between 1912 and 1922.
The early bark paintings prior to the 1960's were often on rough-cut sheets of bark and unsupported by framework.
In the 1960's because barks bend, artists often used to drill the top and bottom of the barks so that firm sticks could be attached.  These firm stick frames ensured that the bark would not curl as it dried out and these later barks tend to be rectangular.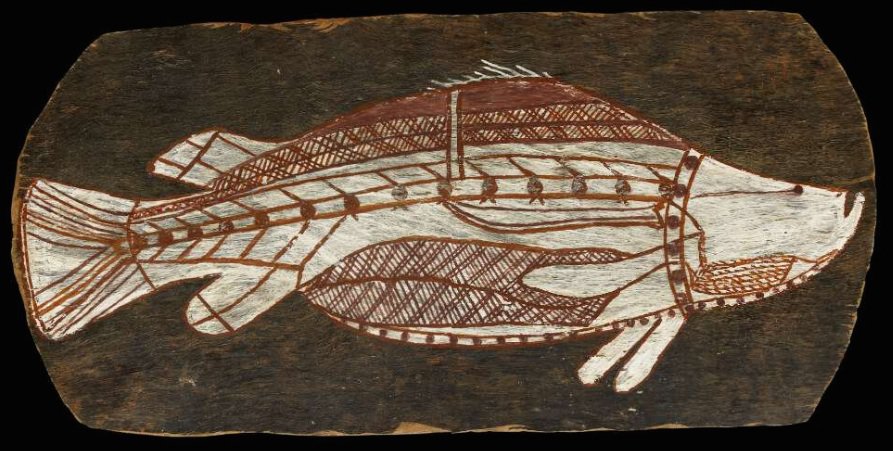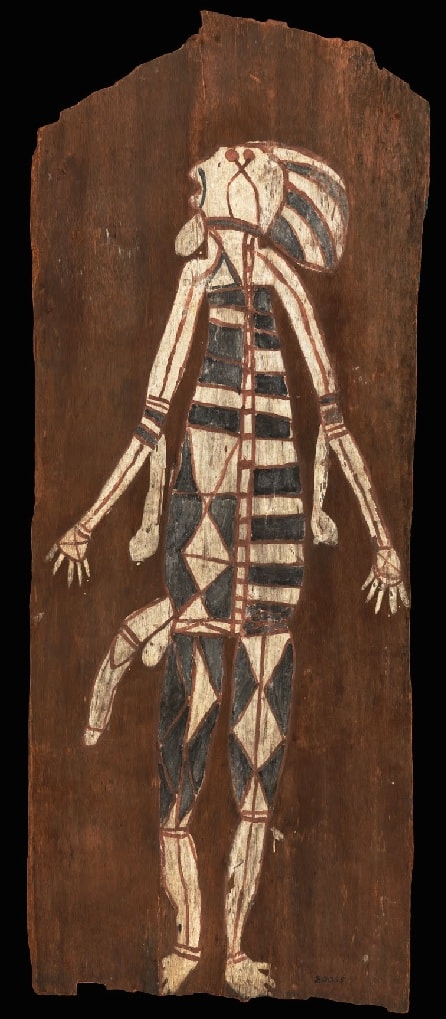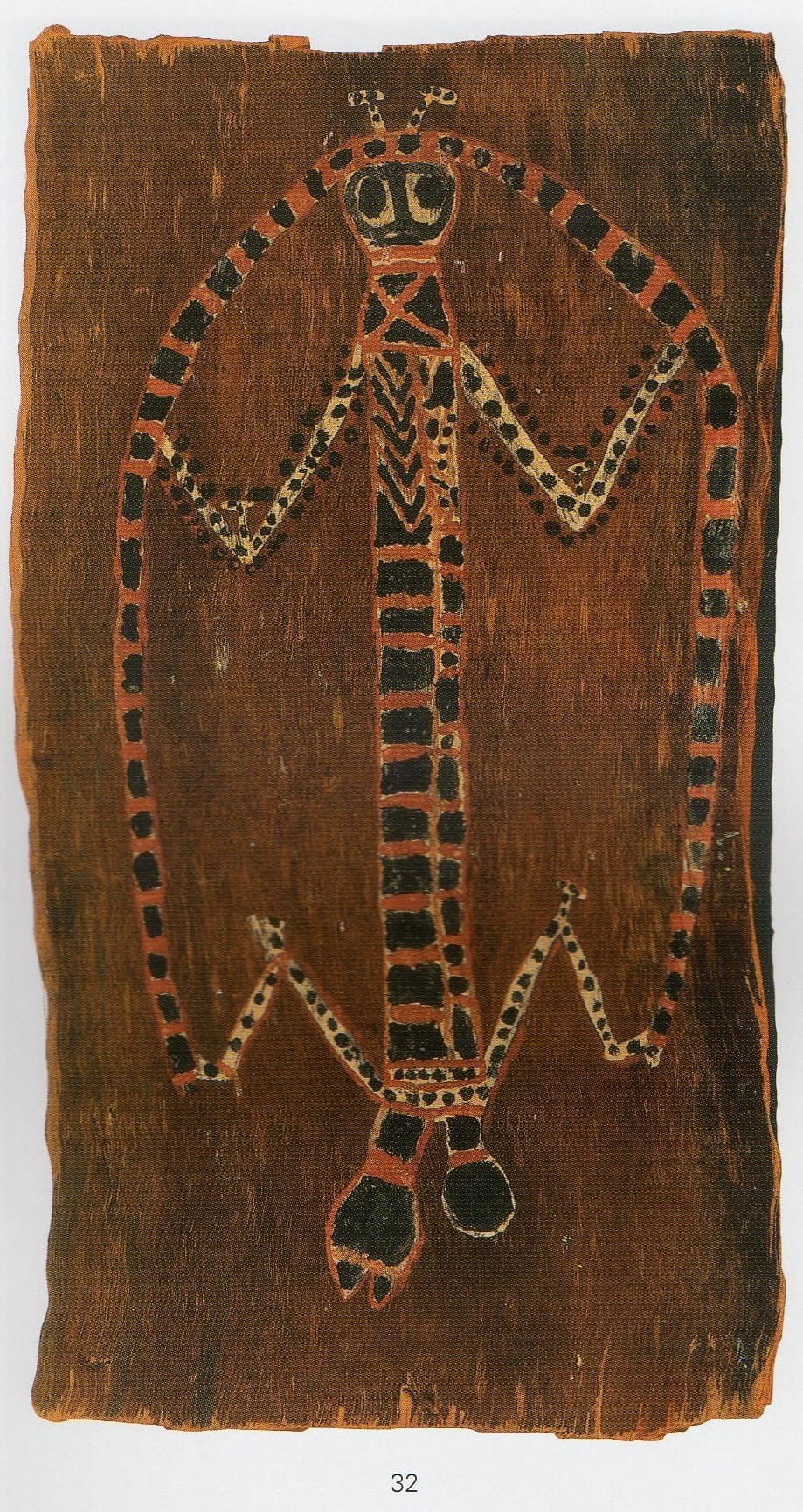 Oenpelli bark painting meanings
The imagery painted on bark by Oenpelli artists is related to dreamings or song lines.  Even a picture of a Barramundi is not just a Barramundi but refers to a particular traditional legend story of significance to the artist.  Some of these stories like the Namarrkon lightning spirit (opposite) are easier to understand if you know the story.
During the monsoon, Namarrkon ascends into the clouds.
Here he creates thunder by striking the hammers attached to his elbows and knees and holds rods of lightning
.
If he gets angry he creates flashes of lightning, loud thunder, and then torrential rain.
Recommended reading
Gunbalanya Bim Oenpelli Art
Crocker Island Art
The Art of Crocker island is by the same people as Oenpelli Art but the style although similar is looser. The art from Crocker Island is some of the rawest and most fluid depictions of spirits found anywhere on earth.
Many of the bark paintings from Crocker island have a simplicity and yet still carry a huge sense of spiritual importance that makes art great.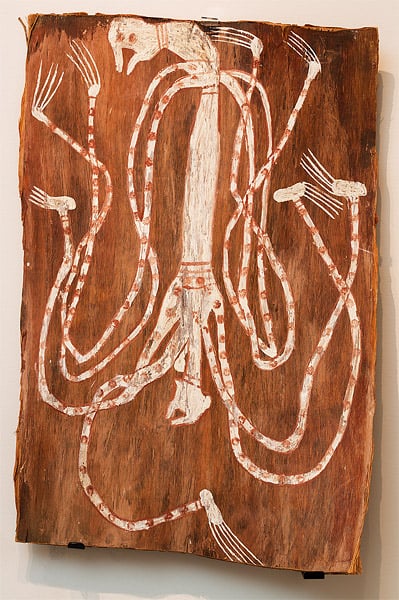 Gaagadju (Oenpelli) Artists
Yirawala
Yirawala is one of the most important Aboriginal artists in Australian Art History. He was an innovator who took his oenpelli roots and combined them with different styles of Arnhem land art.  The combination of styles resulted in some exceptional artworks that had clear single images combined with fantastic crosshatching.
He was an authority on traditional tribal beliefs which allowed him to paint many of the beings of the Kuninjku people.
He was a prolific artist and is very collectable.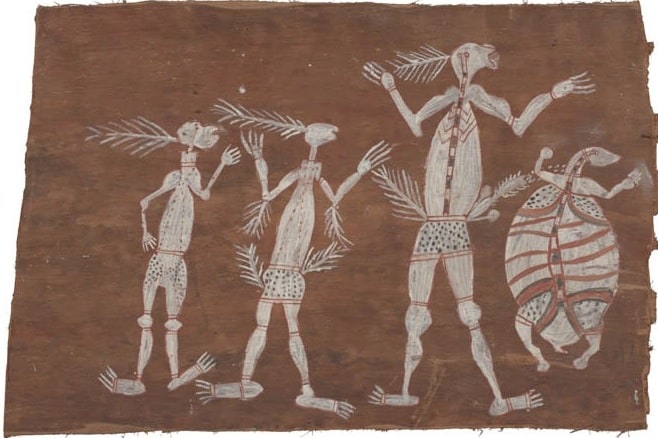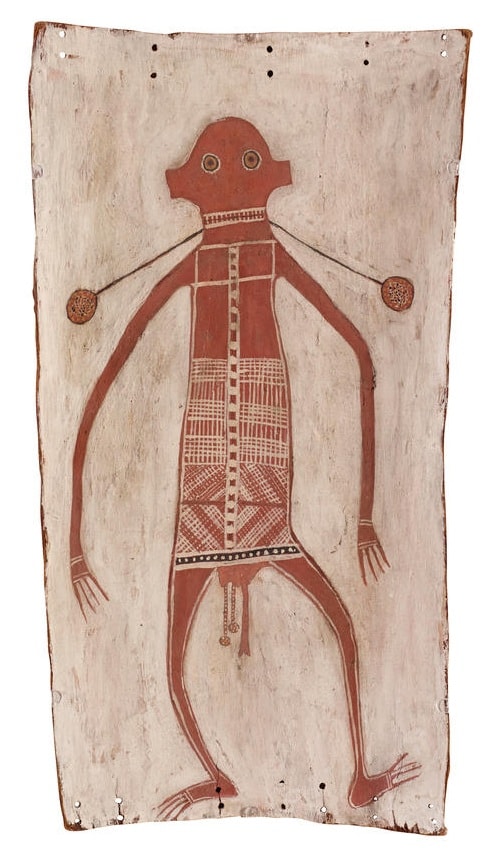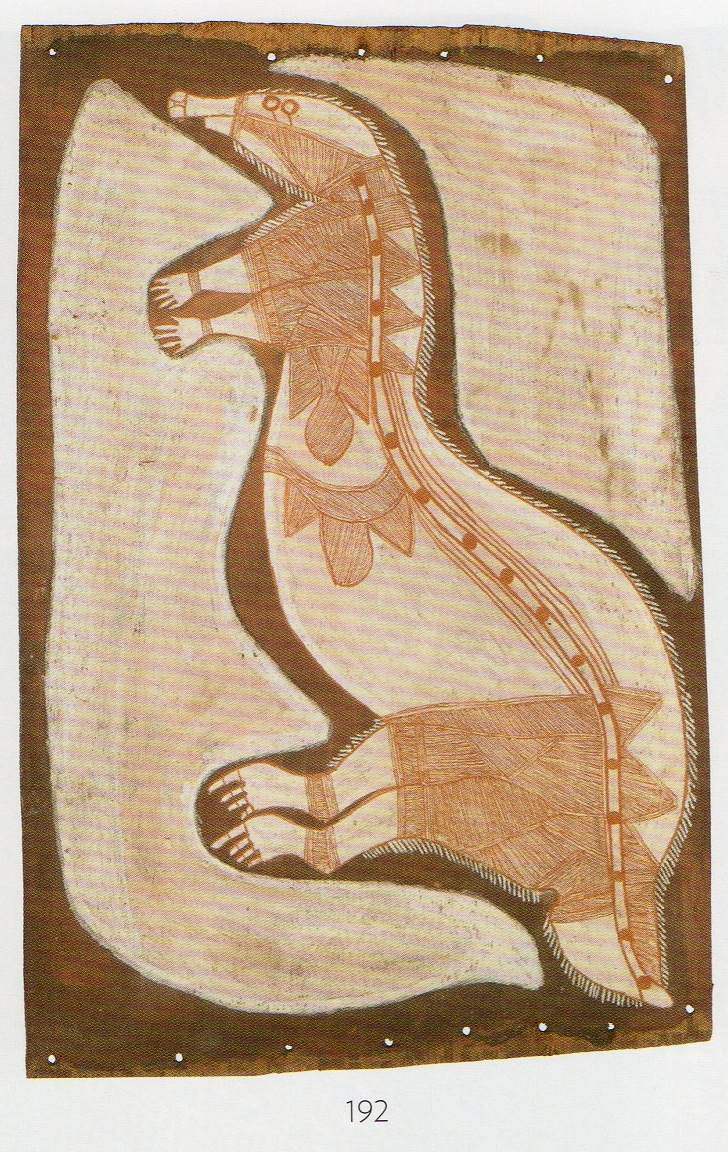 Lofty Nadjamerrek
Lofty Nadjamerrek was one of the best and most prolific Aboriginal bark painters from Oenpelli in Western Arnhem Land. He stuck true to his cave painting background and painted in a traditional X-ray style.
The high quality, intensity, and fineness of his parallel line hatching often distinguish Lofty's work. He painted on Rectangular bark with either a red or Black background. Lofty Nadjamerrek does not use crosshatching an preferred fine parallel line work.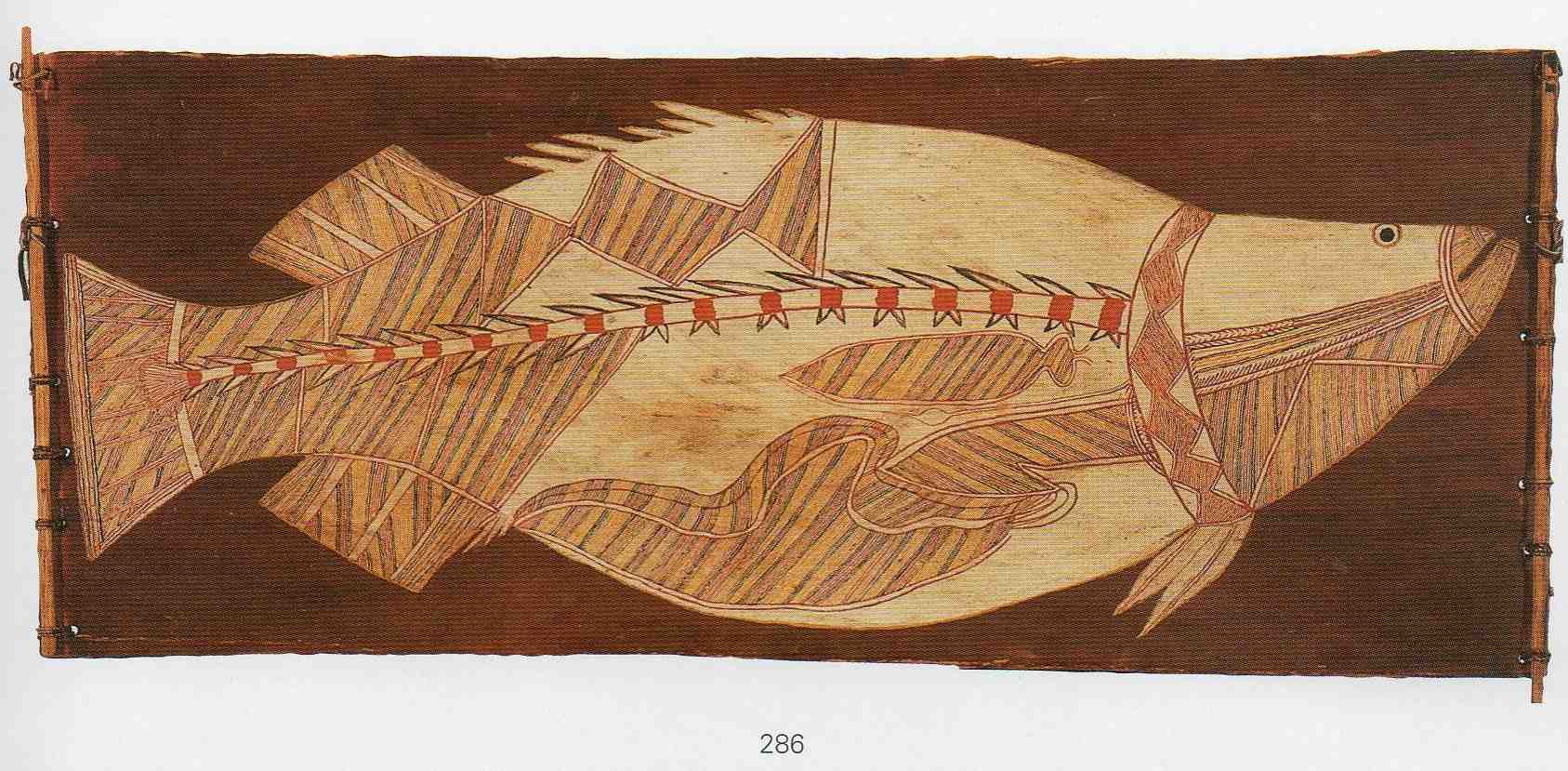 Mathaman Marika
Mathaman Marika started bark painting in the early 1960's and became one of the most sort after bark painters of North East Arnhem Land. When Mawalan his older brother died he became the leader of the Rirratjingu clan of the Dhuwa moiety. His bark paintings are depictions of different ancestor stories of his people. They include its creatures, places, and totems.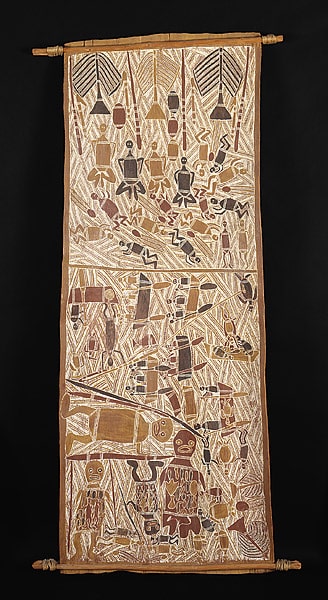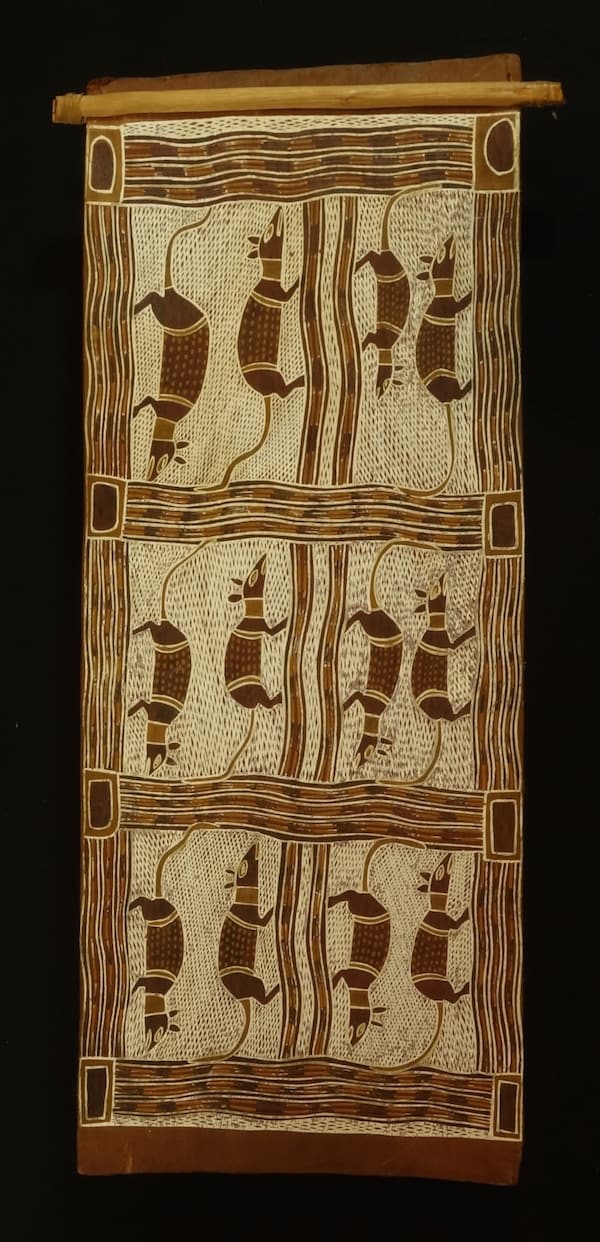 Narritjun Maymuru
Narritjin Maymuru is one of the best-known and most prolific Yirrkala artists.  His artwork tells of the movements of the ancestral beings. The most notably the Guwak (koel cuckoo). Guwak while traveling with the Marrngu (possum), created the lagoon and sand dunes of Narritjin's homelands.
Narritjin Maymuru often separated his bark paintings into schematic panels. Vertical and horizontal features separate these Schematic panels. He painted backgrounds completely in rarrk crosshatching and in traditional motifs. These motifs include diamonds, rows of dashes, anvil shapes and an X pattern.
Mithinari Gurruwiwi
Mithinari Gurruwiwi was an exceptional and prolific bark painter from the Blue Mud Bay area of Northeast Arnhem Land.
Gurruwiwi works are different to many Northeast Arnhem Land artists. He often uses small dots to infill areas. His rarrk crosshatching is fine but he often leaves large areas of single bold color. Mithinari's paintings have a diversity of forms but also have an overall coherence of stylistic elements.
He often repeats figures be they of fish or birds or snakes. Many of his paintings are of the inland area of Garrimala. This area is bursting with the vibrant life of the rich inland lake as snakes, birds and fish compete with each other among the waterlilies. This feeling of plenty is reflected in his paintings of this area.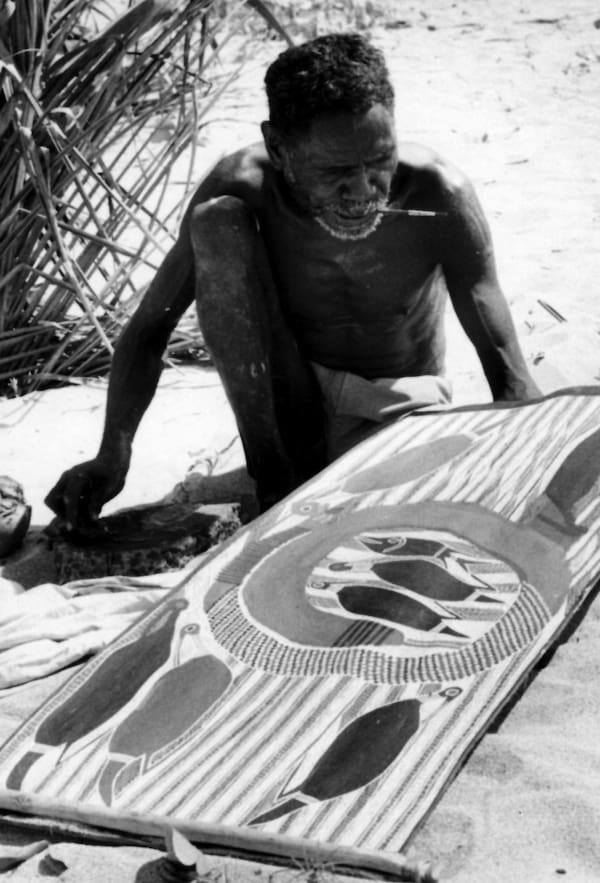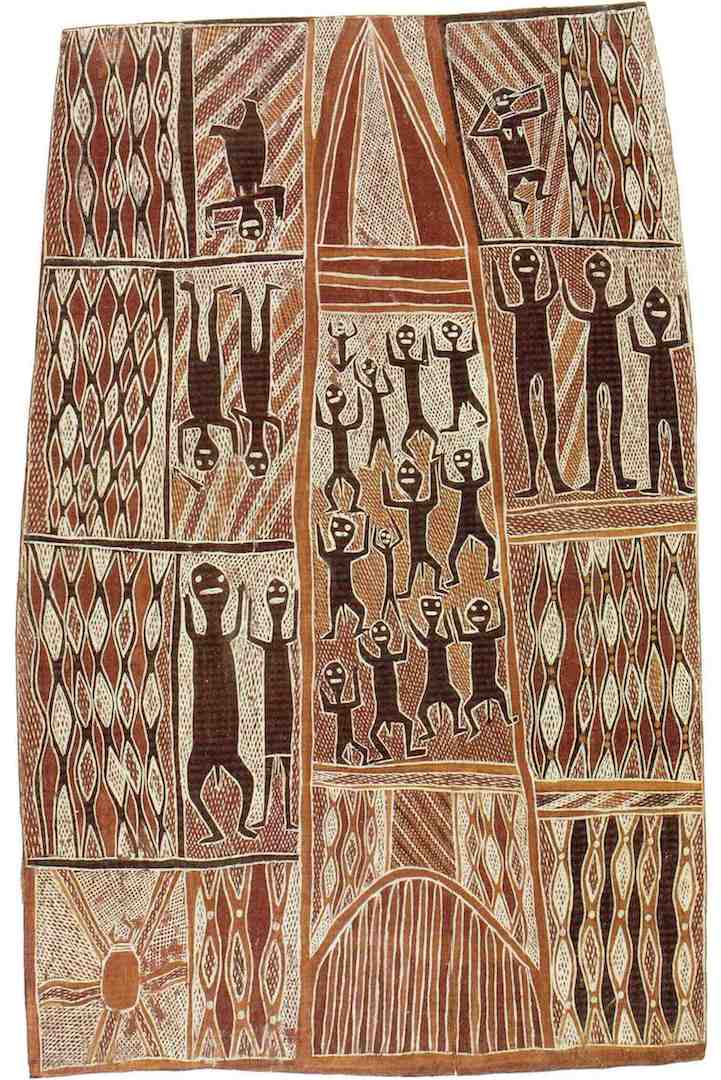 Munggurrawuy Yunupingu
Munggurrawuy Yunupingu was a prolific bark painter and sculpture artist. He was a master of both bark painting and figurative carving. He was one of the first Yirrkala artists to produce bark paintings for sale.
Munggurrawuy Yunupingu early works are very traditional. They consist of geometric schematic clan patterns. It is within these background schematic patterns, that his great skill and control of crosshatching is best demonstrated. He probably along with Mawalan Marika developed an episodic or panel style of bark paintings.
All images in this article are most importantly for educational purposes only.
This site may contain copyrighted material the use of which was not specified by the copyright owner.
If this post has been informative please take the time and make the effort to share it on social media

. By clicking any of the share buttons below you create a link from your social site to this article. Links are what google uses to calculate what information on the web is useful. By sharing this article you are letting google know you found my article / images of some value. Thanks!