Rover Thomas was the seminal figure in establishing the East Kimberley Art School of Aboriginal painting
.
His art was completely different from aboriginal dot art painting in other parts of Australia
. His art often characterized by areas of ochre color separated by a line of white dots.
Rover Thomas did not start painting until his fifties after spending a lifetime as a stockman
. 
His earliest works were dance boards used in the Krill Krill ceremony and were on board.
The aim of this article is to assist readers in identifying if their Aboriginal painting is by Rover Thomas
. It compares examples of his work. It also gives some background to the life of this fascinating artist.
If you have a Rover Thomas Aboriginal painting to sell please contact me. If you want to know what your Rover Thomas painting is worth please feel free to send me a Jpeg. I would love to see it.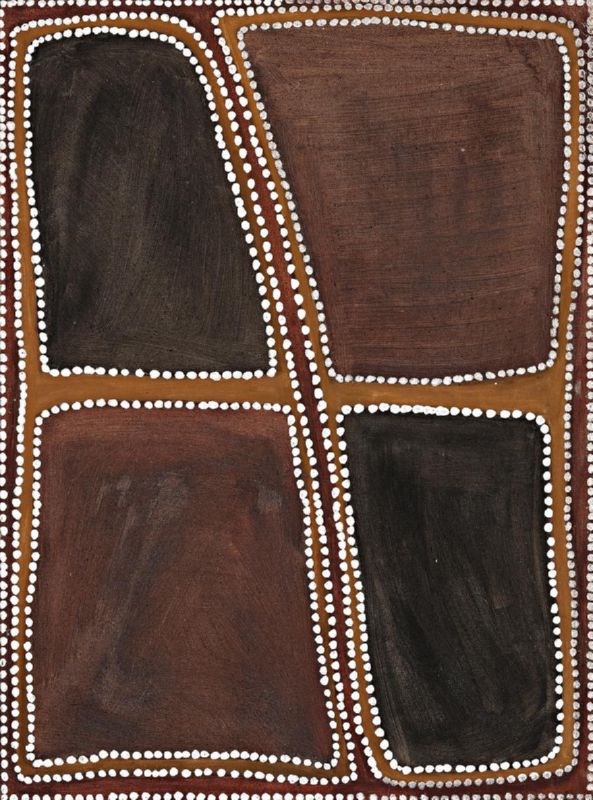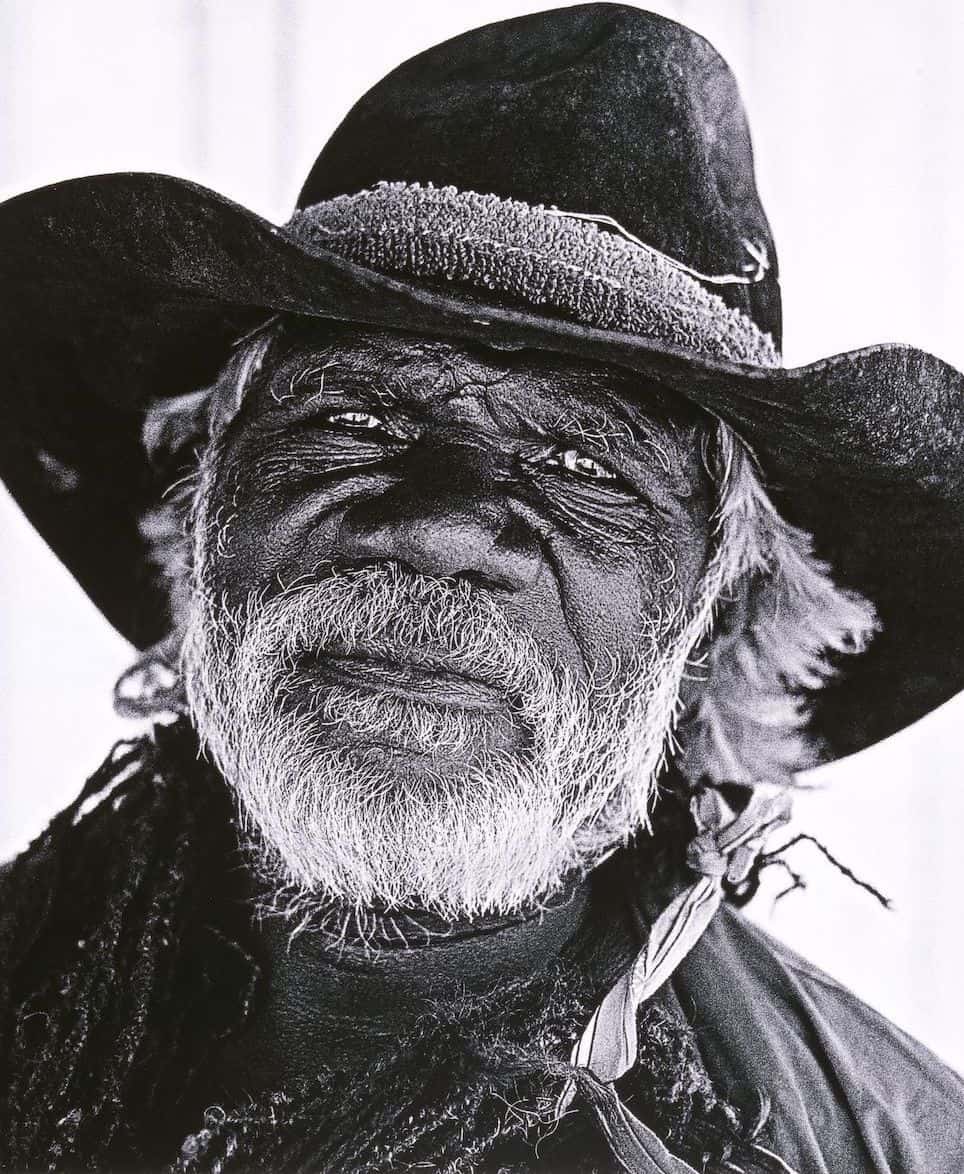 Rover Thomas Early Life
Rover Thomas was born in 1926 at Gunawaggi near Well 33 on the Canning Stock Route in the Great Sandy. He was of the Wangkajunga people on his father's side, and Kukatja from his mother's people. From an East Kimberley perspective, he belonged to the Joolama skin group.
Rover Thomas grew up in his tribal culture, moving with his family to various pastoral stations. In his teens, he began work as a stockman in the Kimberley and the Northern Territory. In the 1940s while living at Billiluna Station in the south Kimberley he became initiated into traditional lore.

Rover's life a stockman allowed him to travel extensively. He worked just about everywhere in the Kimberley. He settled at Warmun in 1975 after work as a stockman dried up.
Rover Thomas and the Krill Krill dreaming
In 1976 Rover Thomas had a profound dreaming vision where he communicated with the spirit of his dead aunt. This dream inspired him to create a song and dance cycle that evolved into the Krill Krill ceremony. The spirit of Rover's aunt described the details of a journey. A journey she and other spirit beings had undertaken after her death. Rover Thomas created a song cycle that represents the places and the characters involved in the saga. At the end of the song cycle, the traveling spirit looks from Wyndham. It looks across the waters to witnesses the Rainbow Serpent's vengeful destruction of Darwin (Cyclone Tracy).
The ceremonial re-enactment of his vision took place for the first time in 1977. This ceremony involved dancers carrying painted boards depicting important sites and spirit beings. The ceremony repeated across the Kimberley region and in Arnhem Land.
Rover's uncle and spiritual teacher Paddy Jaminji painted the dancer's boards. Rover learned to paint while helping with the painting of these ceremonial boards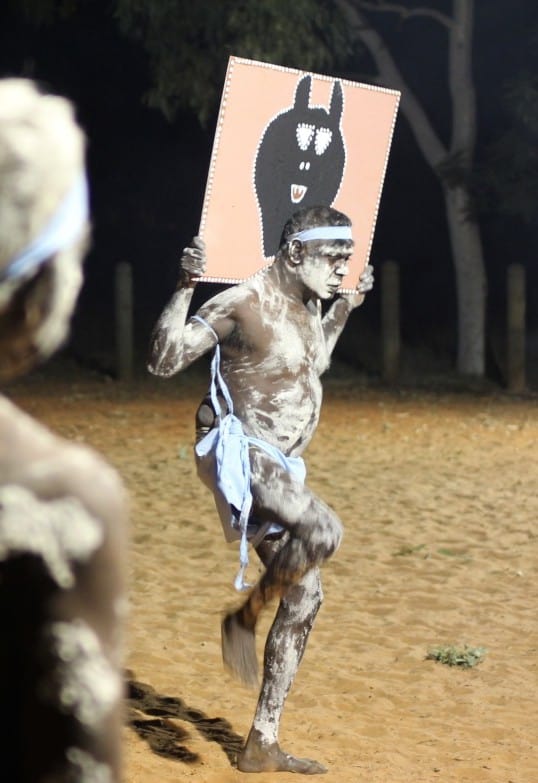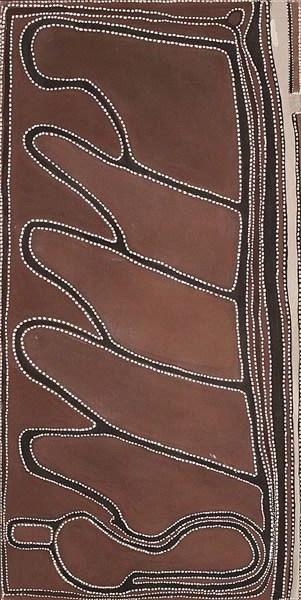 Painting style
Rover had an intense awareness of the land and a special affinity with pigments. He preferring the pigments found for him, rather than obtaining them for himself.
Although he paints blocks of natural ochre color there are variations within the blocks of color. It is this subtle variation in pigment color along with the ochre colors themselves that give his works a very natural feel
His early paintings were on board. The bush gums he initially collected and used with the natural pigments and charcoal were inherently unstable. This resulted in rough, loose textured surfaces that often had a slight sheen. This surface made for poor adhesion of elements of overpainting, such as the white dots, which over time would break down or lift off.
He was later introduced to a virtually colorless water-soluble gum from the Kurrajong tree. This is a method common to the Aboriginal people like Mingelmanganu and Numbelmoore at Kalumburu. This gum enabled him to achieve more stable surfaces and importantly, to maintain the matt finish of the natural pigments that he desired.
His art is both abstract and yet not unstructured. It is painted with a deliberate purpose that is often just out of the viewers reach.
Painting Career
Rover Thomas could well have gone unnoticed if not for his uncle Paddy Jaminji. Paddy was selling painted boomerangs and carved owls to the federal marketing company Aboriginal Arts Australia. In 1981 Mary Macha from Aboriginal Arts Australia took a field trip to Turkey Creek and saw Krill Krill boards for the first time. She immediately recognized their inherent artistic uniqueness and purchased them from paddy. She agreed to help Paddy Jaminji by supplying him boards on which to paint.
By 1983 Mary Macha had left Aboriginal Arts Australia to become an independent agent for Paddy Jaminji. Having seen his uncles success as a painter Rover Thomas introduced himself to Macha and simply said: "Rover Thomas I want to paint".
In 1984 Macha bought Thomas and Jaminji to her home in Perth and turned her garage into a studio and promoted their work. The artists enjoyed their Perth visit but soon returned home to be with their community in Turkey Creek.
By 1986 Rover Thomas work was being promoted by exhibitions held in Kununurra and in Broome. Despite this most of Rover Thomas works were sold at  Turkey Creek to travelers.
In 1990 he won the John McCaughey prize, which greatly increased his national and international prominence.
In 1995 Rover and members of his extended family traveled with Kevin Kelly, the manager of Warringari Arts, back to his birthplace. This trip back to his birthplace on the Canning Stock Route inspired an impressive body of work.
Rover Thomas died on April 11, 1998. He was posthumously awarded an honorary doctorate from the University of Western Australia.
Rover Thomas was a pioneer artist who was an inspiration to later artists like Queenie Mckenzie, Paddy Bedford and Eubena Nampitjin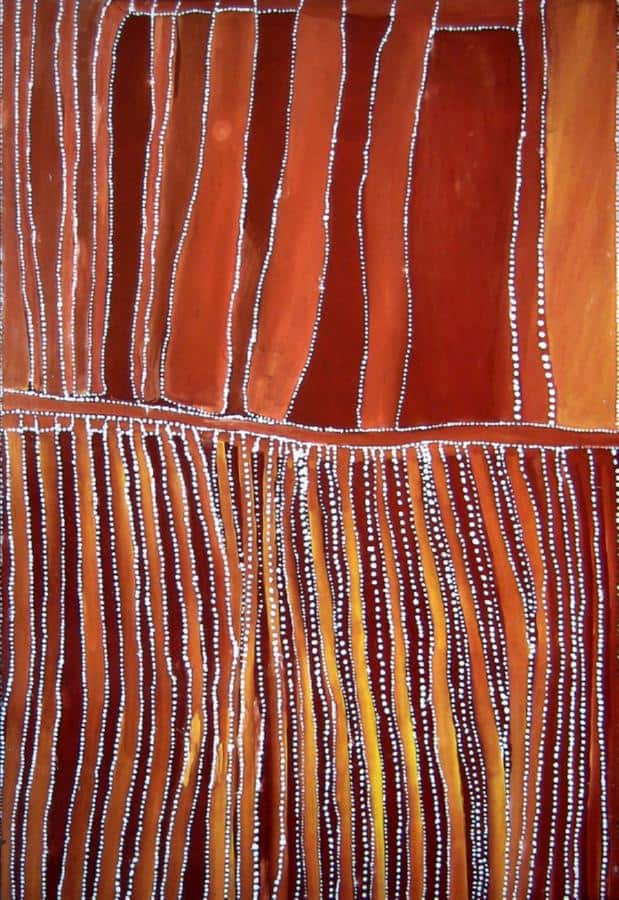 More Kimberley
Artworks and Articles
All images in this article are for educational purposes only.
This site may contain copyrighted material the use of which was not specified by the copyright owner. 
Rover Thomas Julama Images
The following images of the Artworks of Rover thomas Julama are not a complete list of his works. They do however give a good idea of the style and variety of this Aboriginal Artist.
If this post has been informative please take the time and make the effort to share it on social media

. By clicking any of the share buttons below you create a link from your social site to this article. Links are what google uses to calculate what information on the web is useful. By sharing this article you are letting google know you found my article / images of some value. Thanks!