The East Kimberley art style is typically blocks of ochre colours separated by rows of white dots. This style is certainly similar to earlier dance boards body painting and sacred boards used in this region.
The Kimberley Art Movement began in 1976. It was a result of an new dance performance called the Gurirr Gurirr or Krill Krill. The Krill Krill dance involved painted boards held on the shoulders of dancers. The ceremony was therefore a way for the Kimberley people to reconnect to country.
Paddy Jaminji painted most of the early Krill Krill boards. These boards depicted the places visited by a dead nieces spirit. Rover Thomas composed the songs and dances and later became the most renowned painter of this art movement.
I buy early Kimberley art and Wandjina and if you have an example feel free to send me an image. Happy to give you an idea on it's potential value.
The later art of the East Kimberley demonstrates an affinity with earlier Kimberley rock art traditions. Kimberley art is also famous for its Wandjina figures, on which there is a separate page.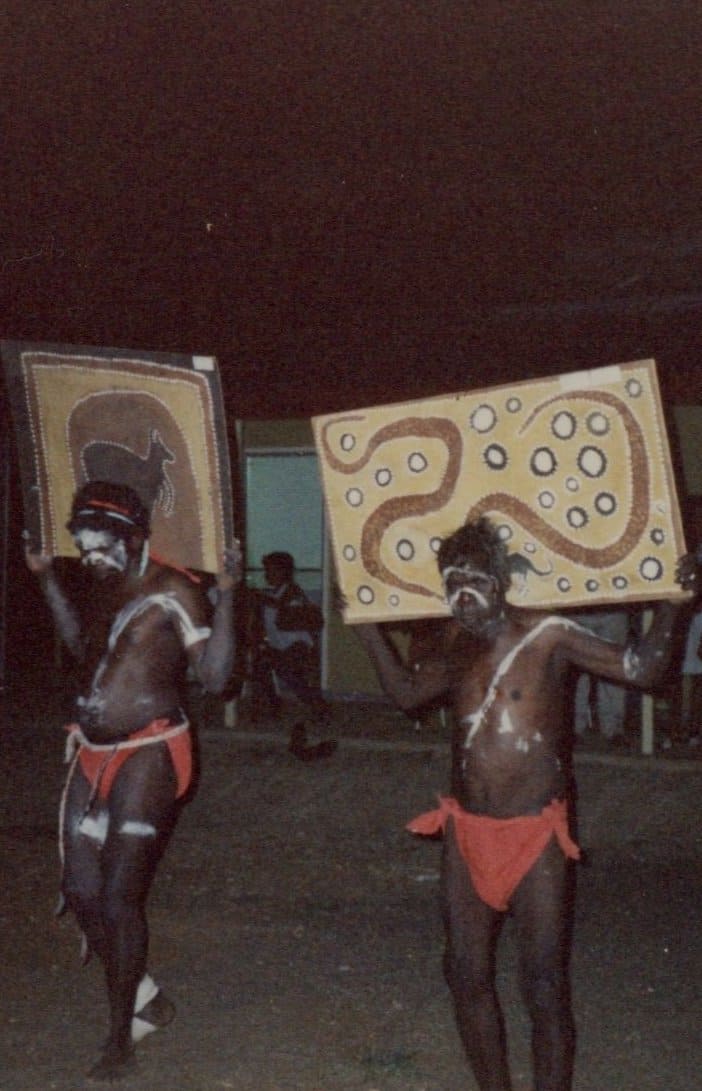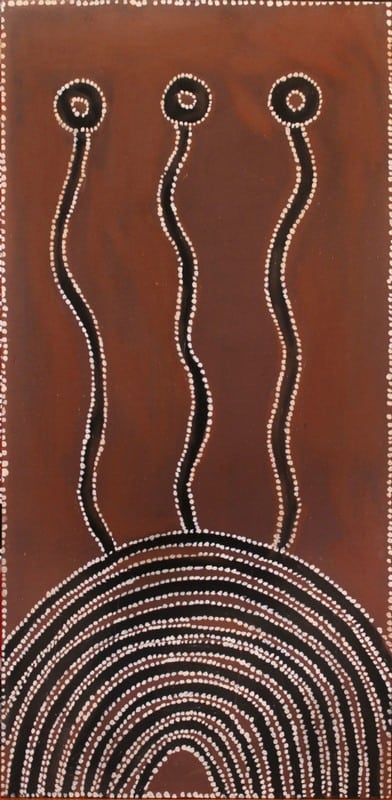 East Kimberley Art and the Krill Krill dance ceremony
The Kimberley art movement started in 1974 with a car accident near Turkey Creek. This accident caused by the Rainbow Serpent killed Rover Thomas' Auntie. The spirit of his Auntie visited Rover Thomas and gave him profound dreams that he should start a new dance ceremony. The dance ceremony included dance boards that relate to traditional sites. These were sites of importance and visited by the dead woman in her spirit travels. Paddy Jamanji using recycled building materials painted the spiritual sites and spirits on board. These boards then designated the characters and sites during a choreographed dance.
The spirit of Rover's aunt described the details of a journey. A journey she and other spirit beings had undertaken after her death. Rover Thomas created a song cycle that represents the places and the characters involved in the saga. At the end of the song cycle, the traveling spirit looks from Wyndham. It looks across the waters to witnesses the Rainbow Serpent's vengeful destruction of Darwin by Cyclone Tracy.
The ceremonial re-enactment of his vision took place for the first time in 1977. This ceremony involved dancers carrying painted boards depicting important sites and spirit beings. The ceremony became popular across the Kimberley region and in Arnhem Land.
Early Krill Krill or Giriir Girirr boards are collectable. They are not only exciting art objects, they are an important part of Australia's art history.
Kimberley Arts a new school of Australian Art
The original dancing boards inspired Rover Thomas to start painting in his own right from 1981/2 onwards. Initially he copied the krill Krill boards in response to commercial demand. In 1981 Mary Macha from Aboriginal Arts Australia took a field trip to Turkey Creek and saw Krill Krill boards for the first time. She immediately recognized their inherent artistic uniqueness and purchased some from Paddy. She agreed to help Paddy Jaminji by supplying him boards on which to paint. By 1983 Mary Macha had left Aboriginal Arts Australia to become an independent agent for Paddy Jaminji. Having seen his uncles success as a painter Rover Thomas introduced himself to Macha with the simple phrase "Rover Thomas I want to paint".
In 1984 Macha bought Thomas and Jaminji to her home in Perth. She turned her garage into a studio and promoted their work. The artists enjoyed their Perth visit but soon returned home to be with their community in Turkey Creek.
The success these Artists had gained in Perth did not go unnoticed and soon other artists soon emerged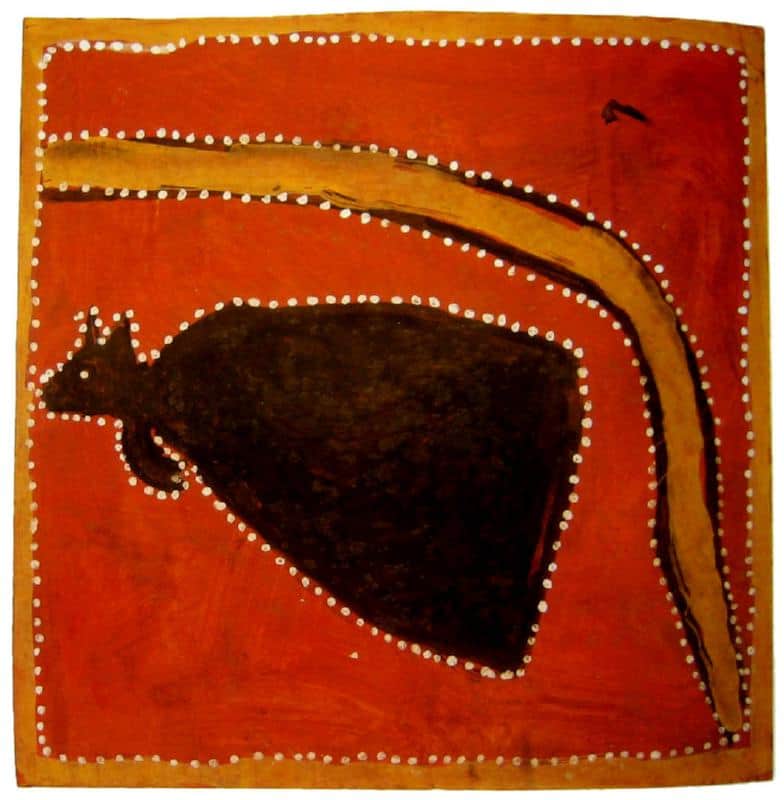 Early Style East Kimberley Art
Early Kimberley Art is often on second hand material like builders board. The boards painted in the typical Kimberley palette. The colour of the country red, brown and yellow ochre tones. These boards often have uneven edges and pigments can be fragile due to the binding agents used.
It was in a large part due to the commercial success of these two pioneer artists that other artists were soon to follow. These artists development adapted and developed, personal styles. The artists styles are unique but maintained the characteristic of earlier Kimberley painting.
Later Kimberley Art is on Canvas.
Paddy Jaminji
Paddy was born around 1912 and was a Kija speaker. He spent his youth living a traditional nomadic lifestyle and in his teens became a stockman. Paddy spent most of his life in and around his home country near Bedford Downs.
He was one of the first people to resettle at Turkey Creek when patrol jobs ended in the mid-1970s. In Turkey Creek, he was the old man of the settlement and a respected elder. He carved owls and painted boomerangs for sale.
He was the main painter of Krill Krill ceremonial boards between 1976 and 1980 and his works depict places and spirits. His works are simple but and almost always relate directly to the travels of his dead niece.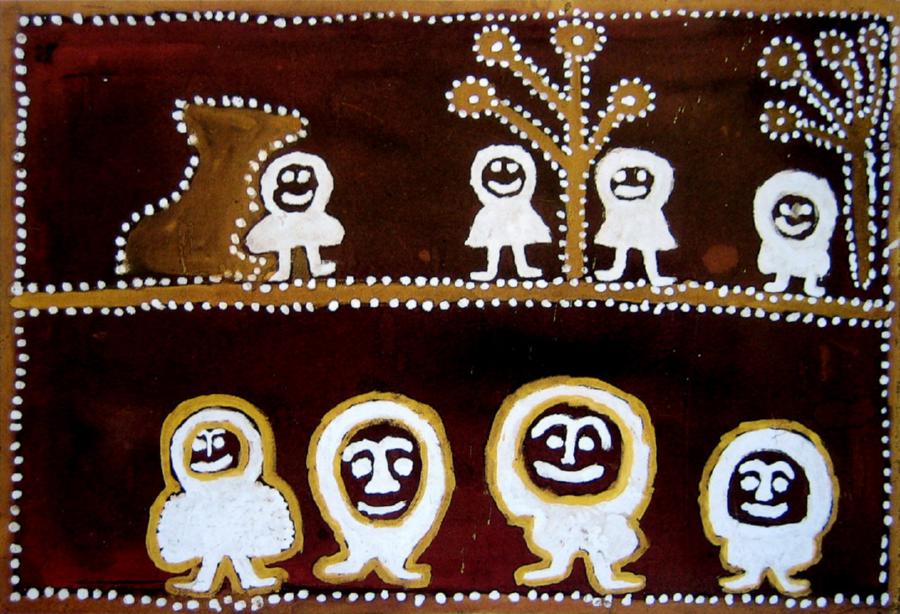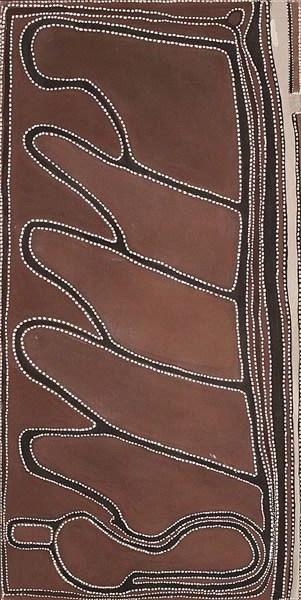 Rover Thomas Joolama
Rover had an intense awareness of the land and a special affinity with pigments. He preferring the pigments found for him, rather than obtaining them for himself.
Rover Thomas interest shifted to exploring innovative stylisation. by which to render the landscape. Being a stockman Rover Thomas had travelled and soon began to paint far beyond the boundaries of his own country. Rover later include references to historical events in his paintings.
Although he paints blocks of natural ochre color there are variations within the blocks of color. It is this subtle variation in pigment color along with the ochre colors themselves that give his works a very natural feel
His early paintings were on board. The bush gums he first collected and used with the natural pigments and charcoal were unstable. This resulted in rough, loose textured surfaces that often had a slight sheen. This surface made for poor adhesion of elements of overpainting, such as the white dots, which over time would break down or lift off.
Paddy Bedford
It was not until he was in his late 70's that by chance an Aboriginal art dealer discovered some of his art destined for the Rubbish tip. Paddy encouraged to paint on canvas instead of board found his place amongst aboriginal artists.
Paddy began painting commercially later that year in 1997, with the formation of Jirrawun Aboriginal Arts. He soon became one of the most renowned painters in the East Kimberley.
His works often do not consist of solid blocks of colour but instead have a subtle mix and blend from an adjoining colour
His paintings informed by gruesome events such as the Bedford Downs massacre that occurred some years before the artist's birth.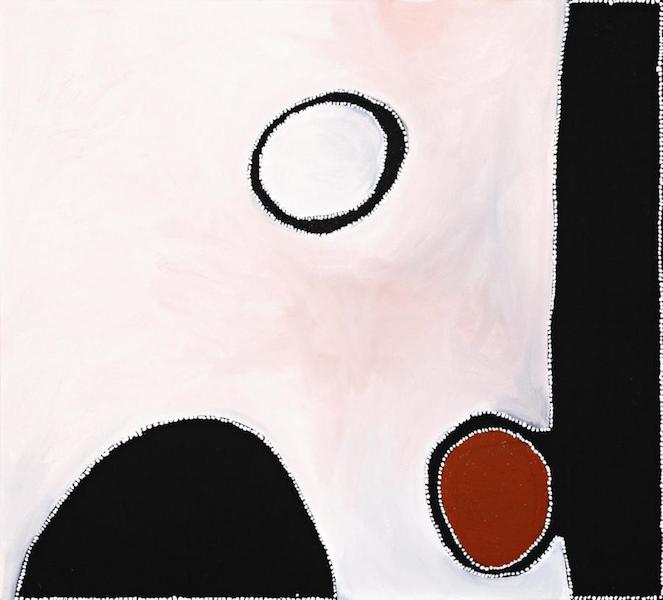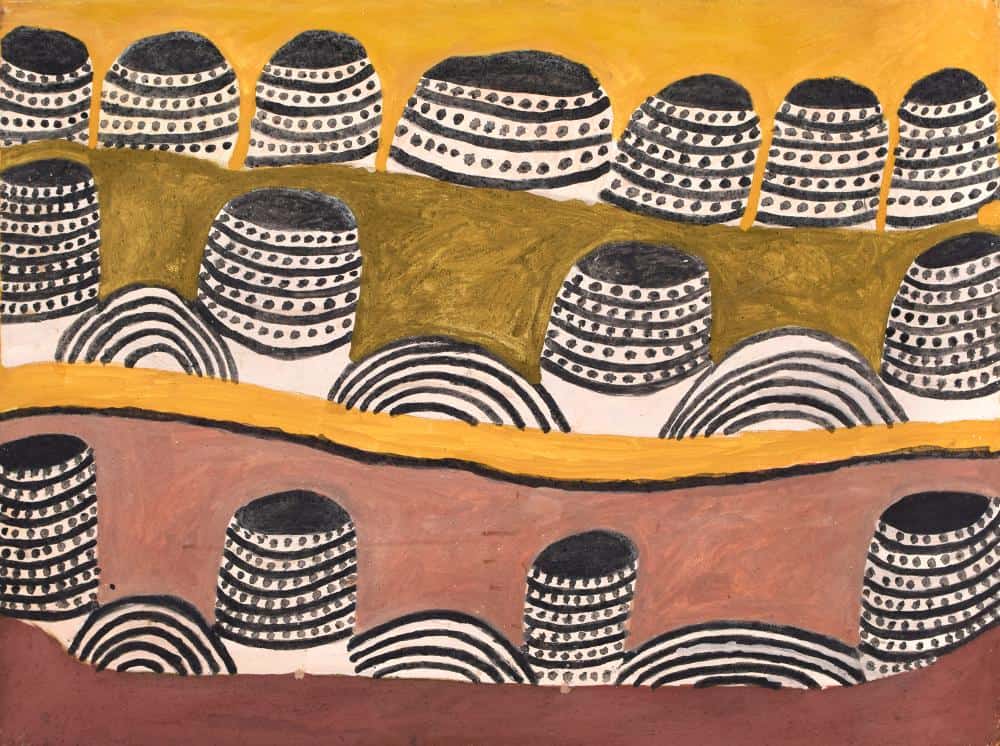 Jack Britten
A principal artist of this individualistic movement is Jack Britten (c1925 – 2002). Jack uses a distinctive horizontal view in his depictions of the spectacular features of the Bungle Bungle ranges. His paintings map out the country as a series of rows of striated hills and valleys. Circles represent in his painting show specific sites seen in bird's-eye perspective.
Hector Jandany
The authoritative paintings of Hector Jandany often depict his maternal grandmother's country.  He paints in a horizontal perspective, with sparseness of forms. His paintings show an outspoken balance between figurative elements, such as hills, and space.
Using a stone as an unconventional tool to smooth the surface of the painted canvas results in a washed-out, hazy finish. This hazy finish most importantly is peculiar to this artist. As a strong lawman concerned with upholding cultural knowledge. He taught the children of the Warmun community through his paintings. Jandany's landscape paintings pictures, evoce emotion and feeling.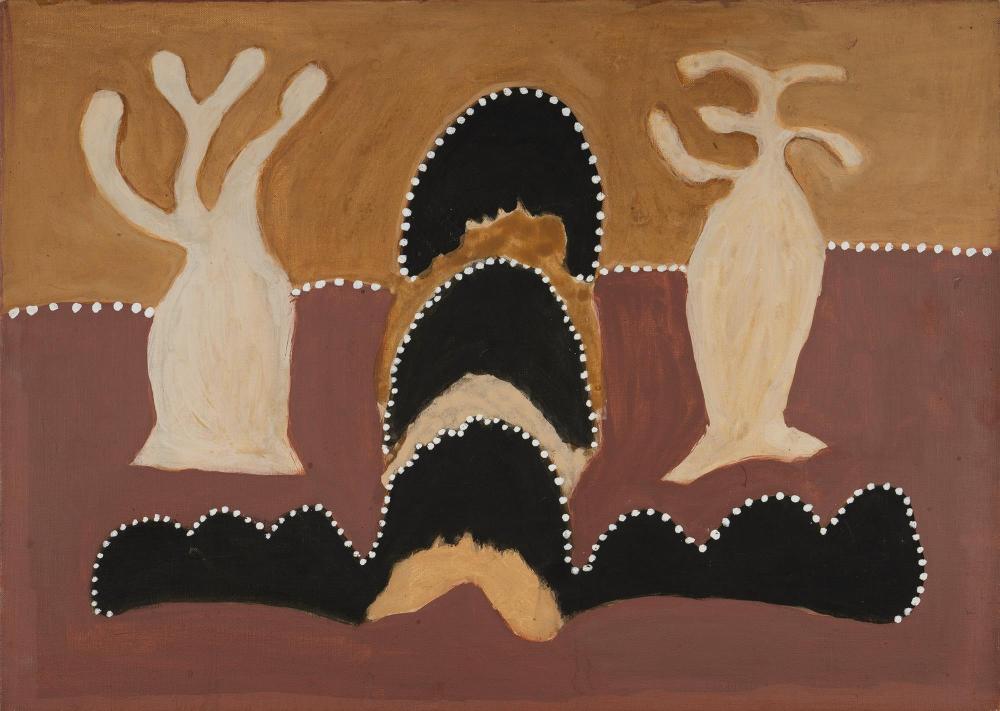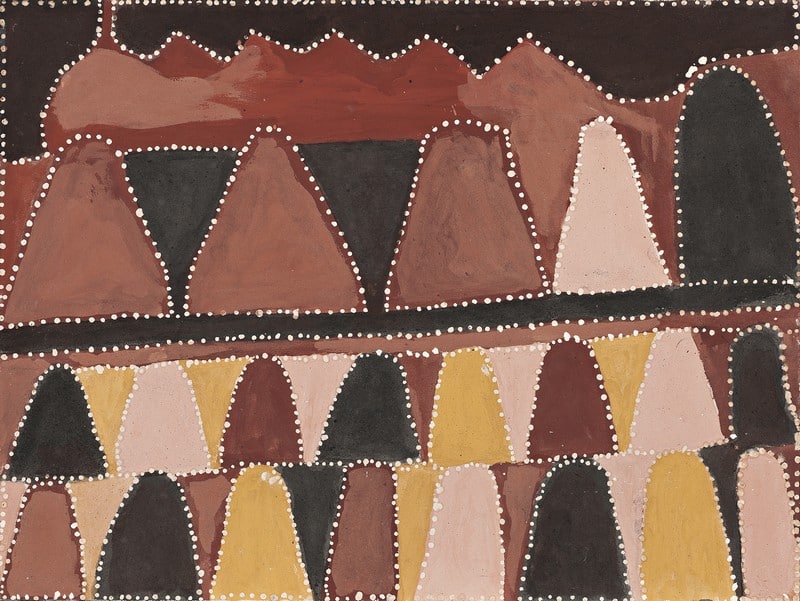 Queenie McKenzie
During the second half of the 1980s, the women of the East Kimberley took up brushes. Queenie McKenzie was the first recognized female artist that painted in Kimberley style. Her soft pinks and subtle purples often distinguish her works. Asserting that she could paint as the men did as a result paved the way for a group of women.
Queenie paintings often compress and rearranging features of the landscape. Often she paints the rugged hills in and around Texas Downs Station.
All images in this article are for educational purposes only.
This site may contain copyrighted material the use of which was not specified by the copyright owner.
Other Aboriginal Art and Artists
If this post has been informative please take the time and make the effort to share it on social media

. By clicking any of the share buttons below you create a link from your social site to this article. Links are what google uses to calculate what information on the web is useful. By sharing this article you are letting google know you found my article / images of some value. Thanks!