John Kipara Tjakamarra was one of the original artists painting in Papunya at the start of the Aboriginal art movement.
His early paintings were similar to traditional sand mosaics. These sand mosaics were instrumental in the preparation of a corroboree site. His designs were simple but powerful. His later paintings were full of color and based on stories and designs of the Tingari ceremony.
In the early part of his career, John Kipara Tjakamarra painted on small bits of board in ochred colors. His later works are on medium sized canvasses and colorful. Some of his early works are ritual and contain secret imagery meant only for the eyes of initiated men.
The aim of this article is to assist readers in identifying if their Aboriginal painting is by Kipara Tjakamarra. It compares examples of his work. It also gives some background to the life of this fascinating artist.
If you have a John Kipara Tjakamarra Aboriginal painting to sell please contact me. If you want to know what your John Kipara Tjakamarra painting is worth please feel free to send me a Jpeg. I would love to see it.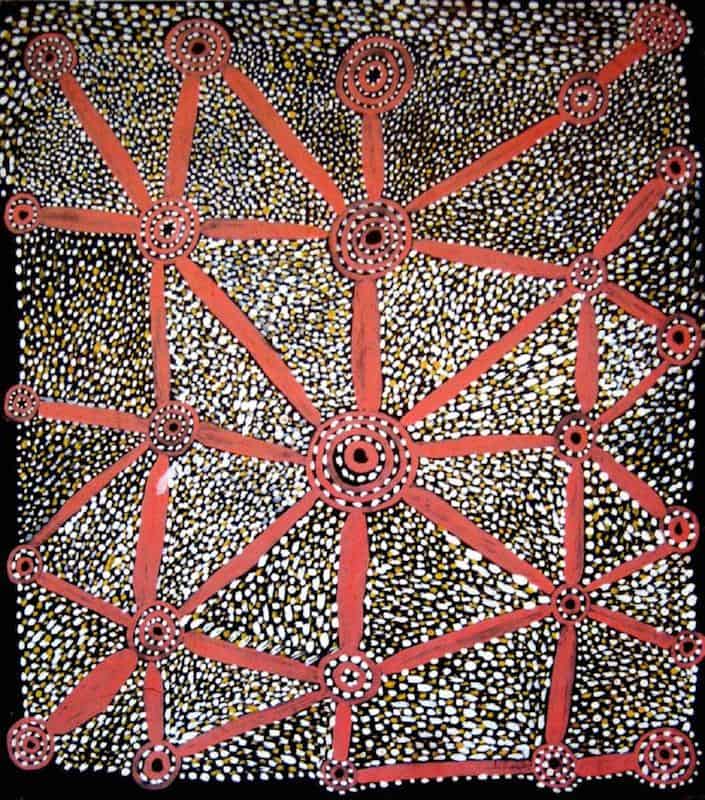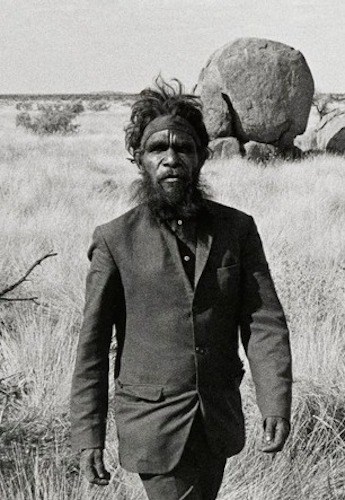 John Kipara Tjakamarra Early Life
John Kipara Tjakamarra was born near Kulkuta west of Tjukurla. He was fully initiated and lived around Kulkuta before moving to the salt lake country southwest of Lake Macdonald. John encountered Europeans for the first time in his early 30's.
He and his family decided to re-settled at Papunya in the early sixties. In Papunya, John Tjakamarra worked with Anatjari, Yala Yala and Freddy West as a farm laborer.
Kipara Tjakamarra early paintings
In 1971 Geoff Bardon became a local school teacher at Papunya primary school. He tried to encourage local children to paint in their sale. traditional style. When he found out only older men could paint these stories he started a men's painting group.
John Kipara Tjakamarra joined this group of emerging painters. He painted on composite board while sitting with the board on his knees.
He always used earthy ochre tones similar to those found in his home country. His paintings were simple yet powerful in their composition. In many of his early paintings, he depicted five-circle grids linked by traveling lines from concentric circle to circle. This design was similar to traditional sand mosaics. Sand mosaics designs were for use during corroborees and are spiritual in nature.
His early paintings reflected the life force and spiritual essence he associated with his homeland area of Kulkuta.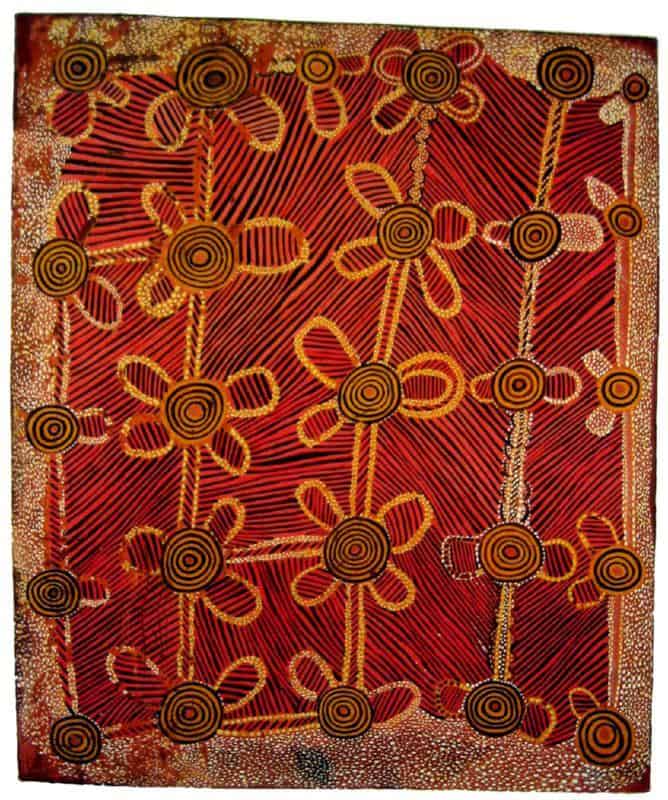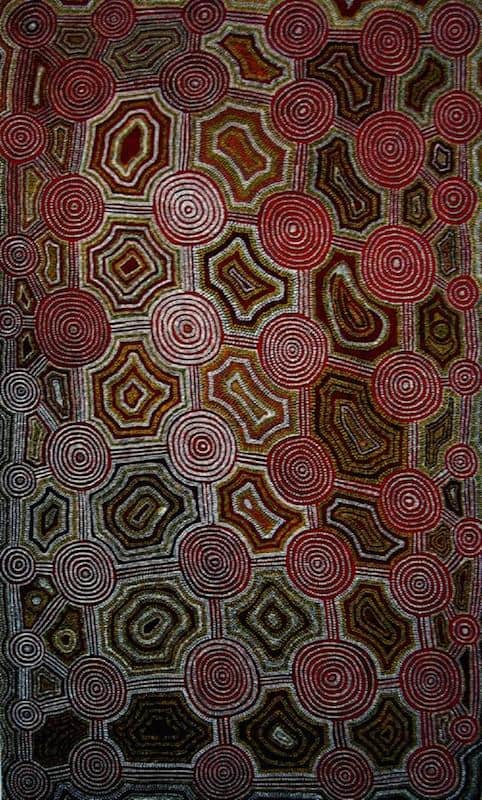 John Kipara Tjakamarra Middle Period
Kipara Tjakamarra middle period works often embraced the stories and designs of the Tingari ceremony and ancestors. The mythical travels and actions of the Tingari men and women were less culturally sensitive. As a subject matter for saleable art were more suitable than those of a secret and sacred nature.
As Kipara became more commercial he turned away from ochred tones and adopted vibrant color.
In 1972 he was one of four Pintupi men who assisted an Italian crew to make a film that dealt with the last traditional hunter-gatherers on earth. He was a lithe, handsome man at the time and unmatched at reading the tracks of animals.
During the seventies, as the Papunya painting movement gathered momentum, John lived and worked at Yayayi. Yayayi was a small outstation 40 kilometers from Papunya. Peter Fannin would drive out to Yayayi to deliver supplies and pick up pieces of art for sale.
John Kipara Tjakamarra worked closely with Yala Yala Gibbs and Freddy West who were from his homeland area. They would often work together on joint canvases
Later period
In June 1974 Kipara Tjakamarra traveled back to Kulkuta and Yawalyurru with a group of men. It was the first of several trips made with the intent of establishing a community there. In 1981 John Kipara Tjakamarra leads 300 men, women and children back to their Pintupi homelands to establish the community of Kintore.
The same year one of his joint artworks with Freddy West was included in Australian Perspecta. This was an important moment in the legitimization of Western Desert painting by the art establishment. It caused international interest and became a catalyst for a re-appraisal of the identity of Australian art.
After his move to Kintore, Kipara Tjakamarra painted fewer and fewer works. These works although very colorful lack the meaning of his earlier works. They are not highly regarded by collectors.
He continued to hunt and track until well into his 60's. John Kipara Tjakamarra spent the remainder of his life at his small outstation Walungurru. He died in 2002 at the age of seventy-two.
Kipara Tjakamarra can also be spelled Kipara Jakamarra, Kipara Djakamarra or Kipara Jagamara.
His Christian names were John or John John and a tribal name is also recorded as Kiparra, Kuparu, Kurrpurra. Wingantjirri, Wanyuma, and Tanalga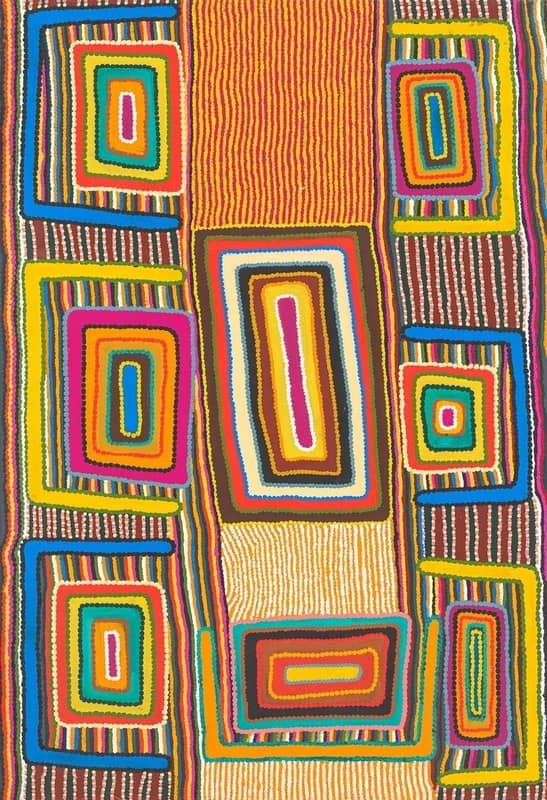 John Kipara Tjakamarra references
John Kipara Tjakamarra Value
My Database contains 30 artworks by John Kipara that vary in value from $900 AUD – $91,000 AUD.

Many factors go into influencing the value of an artwork much more than only the visual image. The provenance, date painted, size, and importance of the work within the canon of work are also often crucial factors.
If you have a John Kipara Tjakamarra artwork and wish to get a valuation please send me an image. Please include the size and any labels or extra information available.
Two John Kipara Tjakamarra Artworks explained
Sacred Body design
In this painting John Tjakamarra depicts a man's ritual body decoration. The central set of concentric circles represents the man. The alternating bands of red ochre and white dots or feather down represent the body design. The diagonal lines of repeated chevrons represent feather down applied to the body.
The composition is a split-representation. It simultaneously shows the front and back of the figure wearing the ceremonial decoration.
Ritual body painting designs and ceremonial sand mosaics both have highly textured surfaces of wamulu. Wamulu is the impasto paint made from a combination of ochre colours and pulped vegetable matter. This painting like wamulu has a tactile painted surface.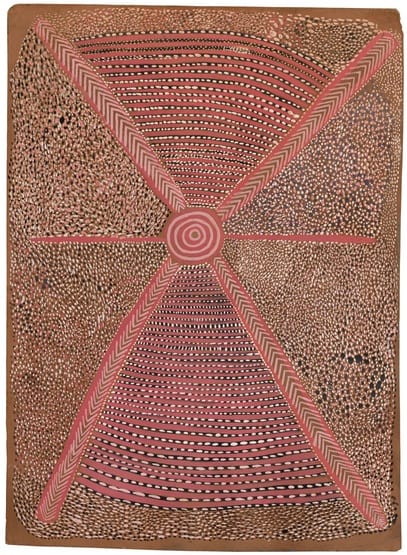 Untitled Body Design
1972
66 X 47 cm
Ulluratjarra
This is a depiction of the womens's dreaming mythology at Ulluratjarra. Ulluratjarra is a soakage site far to the North North West of Alice springs, south of Hooker Creek.
The Kungka Kutjarra are two women ( symbolized by two semi circles). The women made the epic journey from Ulluratjarra (central concentric circle) to a site on Bond Springs station, north of Alice springs. This was a journey of over 500 kilometres on foot through some of the harshest terrain on earth.
This mythology is now associated with the Malliarra a post initiatory instruction of the young men in tribal law.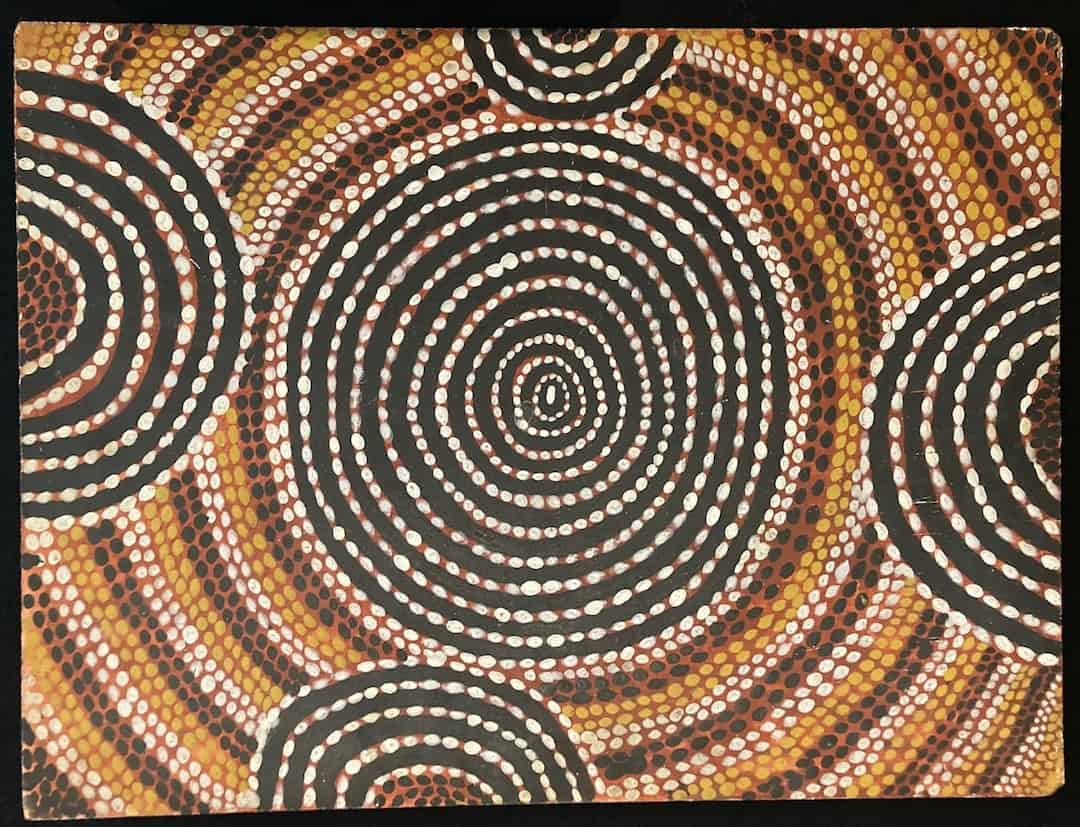 Early Papunya Artworks and Articles
All images in this article are for educational purposes only.
This site may contain copyrighted material the use of which was not specified by the copyright owner.
John Kipara Tjakamarra Images
The following images are not the complete known work by this artist but give a good idea of his style and range.
If this post has been informative please take the time and make the effort to share it on social media

. By clicking any of the share buttons below you create a link from your social site to this article. Links are what google uses to calculate what information on the web is useful. By sharing this article you are letting google know you found my article / images of some value. Thanks!