George Milpurrurru Aboriginal Art
George Milpurrurru is an Indigenous Australian artist who painted on bark in the 1970s. He is best known for his paintings of the birds and animals of Arafura swamp. He uses repetition of images to give the impression of abundance and this gives his work a distinctive style.
If you have an indigenous aboriginal bark painting by George Milpurrurru please send me an image. I would love to see it. If you want to know what your artwork by this artist is worth or wish to sell your artwork please send me an email with some images.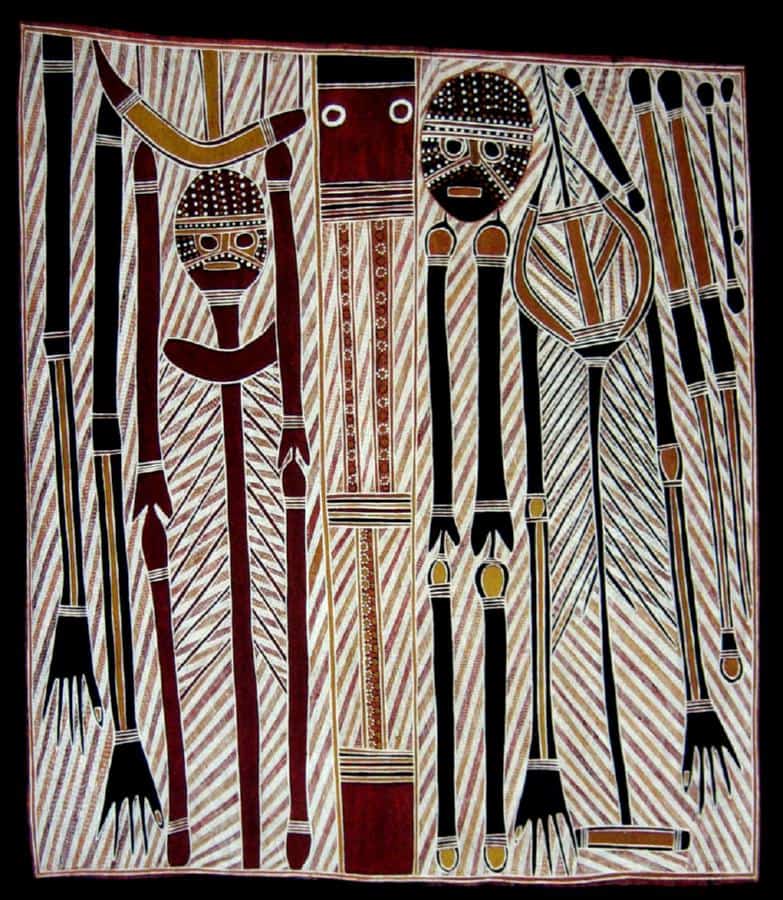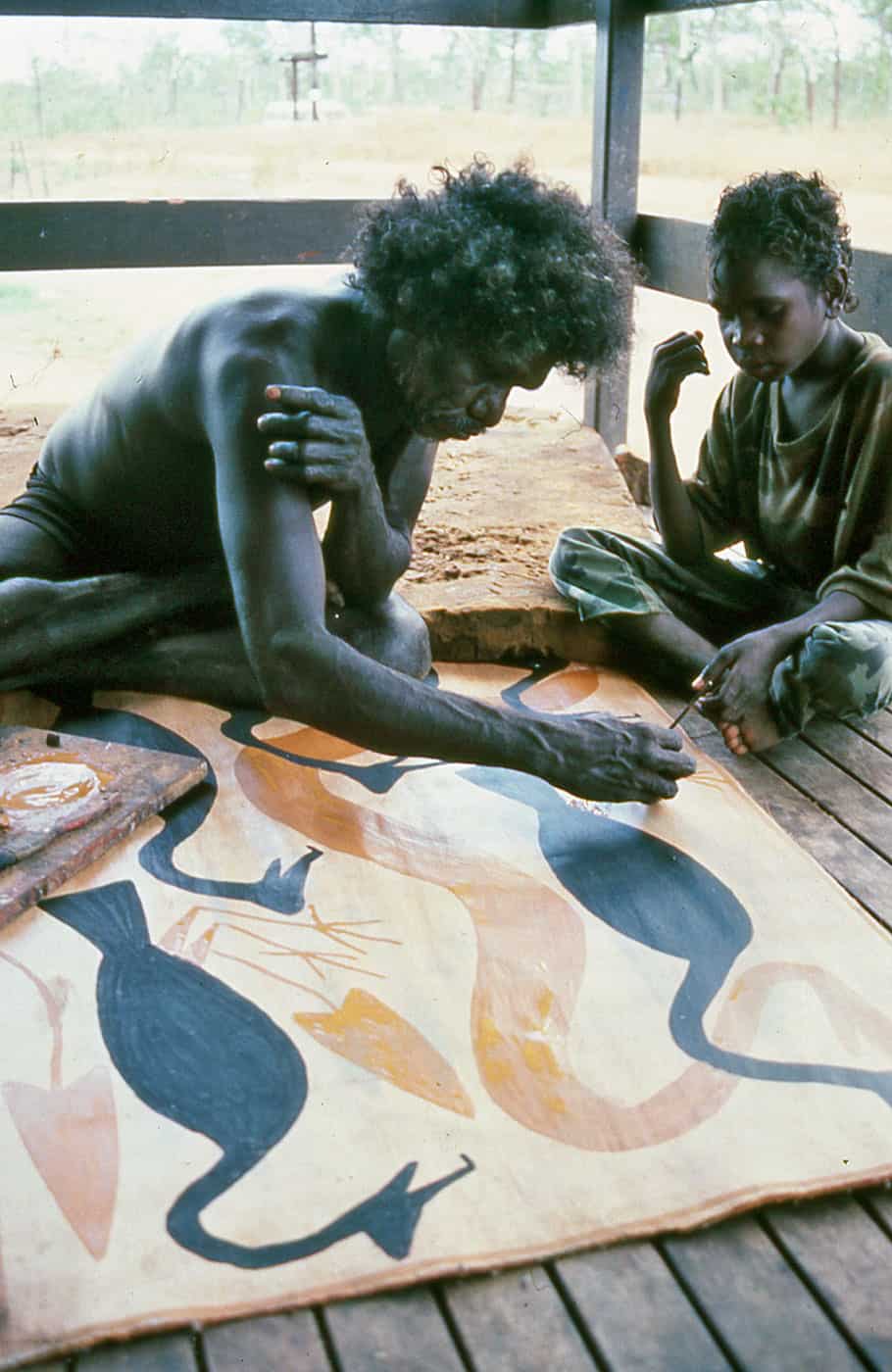 Biography of George Milpurrurru
George Milpurrurru grew up in his father's country Ngalyindi on the Ganalbingu outstation. The outstation is on a ridge to the east side of the Arafura swamp. The Arafura swamp is home to flocks of geese, flying foxes goannas, and edible waterlilies. It is a swamp rich in bush foods and the subject of Milpurrurru's paintings. George learned to paint by watching his father Nhulmarmar and he adopted much of his father's style. Milpurrurru traditionally initiated not only mastered painting. He was also a ceremonial dance leader and renowned for his ability to make canoes and woven fish traps.
In the 1970's George sold his first selling his paintings to the mission superintendent at Milingimbi. His work was then regularly purchased by art dealers visiting the mission. His artwork found its way into the hands of Dorothy Bennett and Alan Fidock. He became a near full-time artist when the Bula Bula Arts center at Ramingining opened in the late 1970s. In 1979 one of Milpurrurru's paintings, of men hunting in their canoes, was commissioned for the 1979 Biennale of Sydney.
George Milpurrurru and his contemporaries like Binyinyuwuy and Mick Magani placed Central Arnhem Land firmly on the art map.
He held his first solo exhibition in 1985 at the Aboriginal Arts Australia Gallery in Sydney. A year later he exhibited again in the Biennale of Sydney. In 1988 he was a major contributor to the 200-pole Aboriginal Memorial housed in the National Gallery of Canberra. In 1993 he became the first Aboriginal artist to have the honor of a solo retrospective.
George Milpurrurru Art Style
Milpurrurru painted in a Ramingining art style. He was contemporary with others such as David Malangi, Jimmy Wululu, and Jack Wunuwun.
Milpurrurru's artworks cannot be easily distinguished by a set of simple stylistic conventions. His works were subject to experimentations and individual innovation. He often used different techniques between foreground and background. The background is often intricate rarrk cross-hatching in which blocks of flat colour used in the foreground. This technique results in a strong graphic effect typical of his work
A common theme for George though is to repeat the image of a single species many times. The main species were the magpie goose, the flying fox, lizards, and kangaroos. He also painted images of his countrymen at a ceremony related to the rainbow serpent and burial customs.
Milpurrurru was an artistic pioneer. He soon redefined the structural parameters of his ancestors. Realizing larger paintings sold for more he created barks of grand scale. He painted these large barks with greater clarity and detail. He had an eye for colour and his art was sympathetic with European aesthetics. His art has graphic powers achieved by a marked transition of both colour and texture.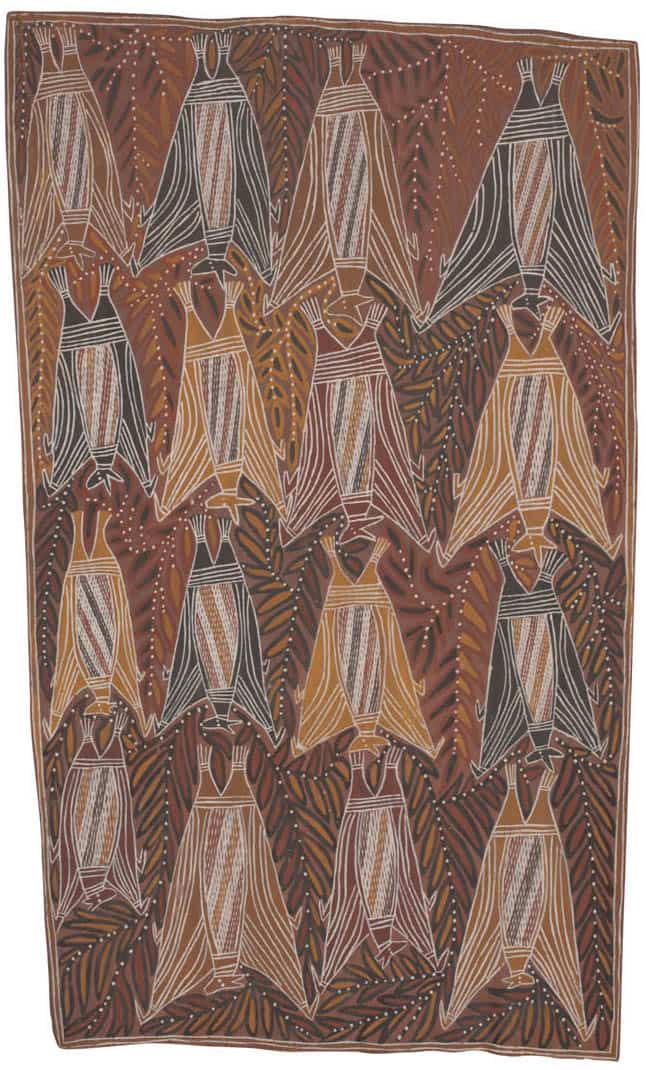 Arafura Swamp The geese dreaming ceremony
One of Milpurrurru's central narratives is that of the Magpie Geese. It is a Dreaming that lies at the heart of Ganalbingu ceremonial life. At the end of the monsoon period, the geese lay their eggs. The Ganalbingu then venture out in stringybark canoes to hunt the eggs. A ceremony called Gurrumbumbungu held in conjunction with the hunting to ensure the geese will lay again. During the ceremony, men perform the Goose dance with cooked eggs, which are later given to the women to rub over their newborn babies. Milpurrurru not only painted depictions of this ceremony he performed this dance as a ceremonial leader of his people.
The swamp was also home to other bush foods like wallabies, flying foxes and edible tubers. These also often feature in his paintings. These bush foods depicted many times to ensure plentiful supply to future generations.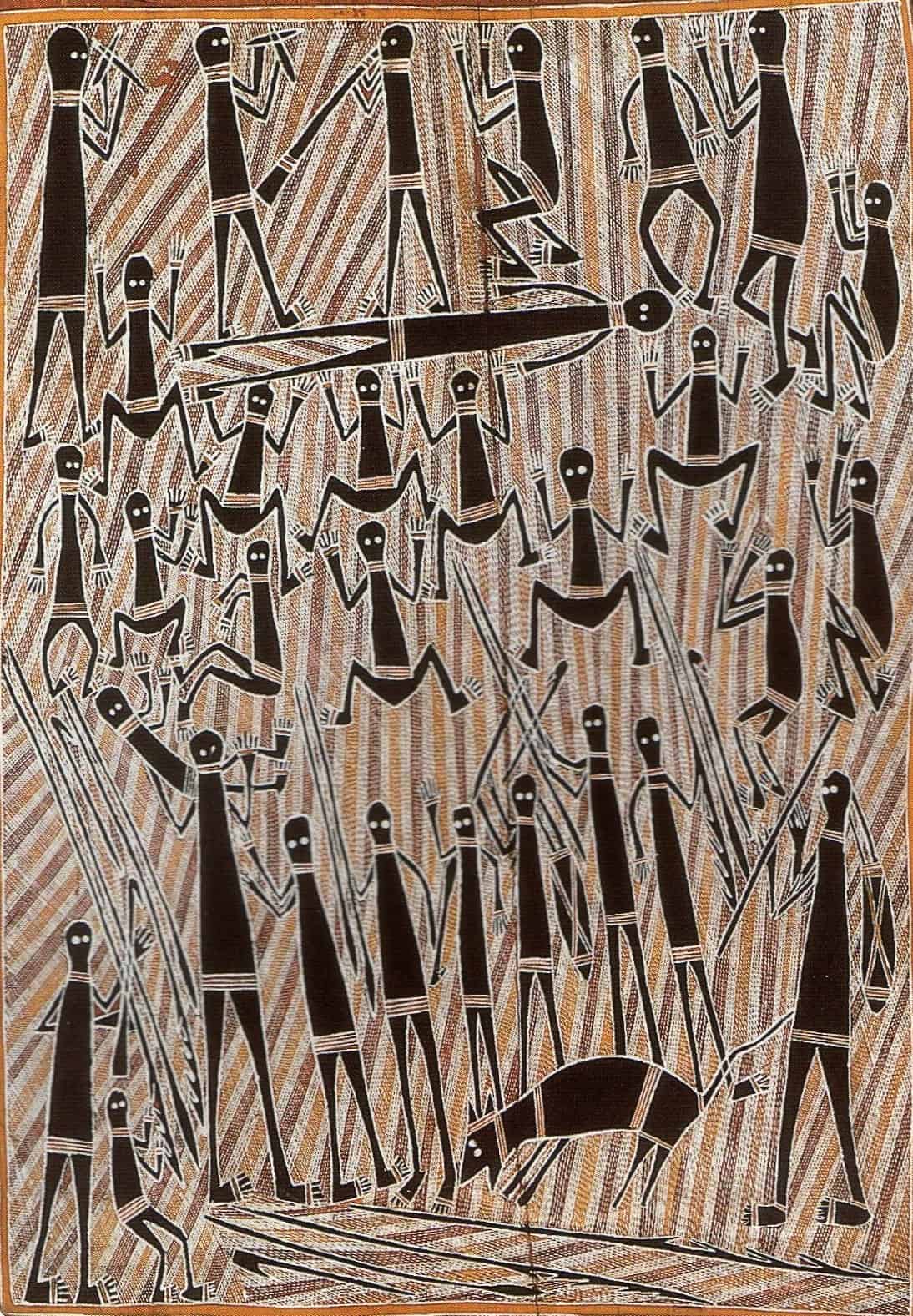 Other Aboriginal Art and Artists
All images in this article are for educational purposes only.
This site may contain copyrighted material the use of which was not specified by the copyright owner.
George Milpurrurru artwork Images
The following images are of the Artwork of George Milpurrurru. It is not a complete list of his works. They do however give a good idea of the style and above all the variety of this Aboriginal Artist.
If this post has been informative please take the time and make the effort to share it on social media

. By clicking any of the share buttons below you create a link from your social site to this article. Links are what google uses to calculate what information on the web is useful. By sharing this article you are letting google know you found my article / images of some value. Thanks!