Alec Mingelmanganu : Master of the Wandjina
Alec Mingelmanganu is an Aboriginal Artist who painted depictions of Wandjina in the Kimberley of Western Australia. His bark paintings and paintings are some of the most enigmatic and haunting pieces of Aboriginal art ever made for commercial sale. The aim of this article is to assist readers in identifying if their aboriginal bark painting is by Alec Mingelmanganu by comparing examples of his work.
Mingelmanganu went from repainting Wandjina Kimberley Rock art in the 1960s to painting canvasses on commission for galleries in the early 1980s.
If you have a  Alec Mingelmanganu painting to sell please contact me. If you just want to know what your bark painting is worth to me please feel free to send me a Jpeg because I would love to see it.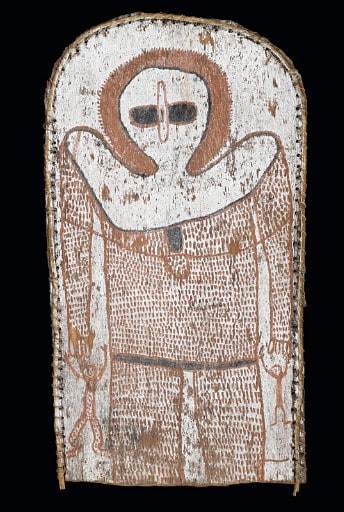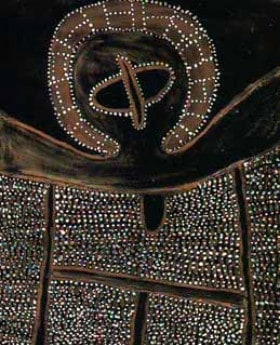 Style
Alec Mingelmanganu's images of Wandjina can be differentiated from many other artists by the way he depicts the eyes, as two base to base arches. These eyes are separated by a thin nose. His figures have pointed shoulders higher than the neck. His bark paintings are on an arch-shaped piece of bark and not square. He usually depicts the full figure. His works are usually large and near life-sized when on canvass or board.
Biography
Alec Mingelmanganu lived mainly in and around Kalumbaru in the Kimberleys in Western Australia. He began painting in the early 1970s. Most of his early paintings and some of the best examples of his work were on pieces of Bark and on composite board.
Other Kalumbaru artists working at the same time as Alec include Charlie Numbelmoore, Jack Karadada, and Mickey Bungkuni.
In 1979 Alec Mingelmanganu did his first paintings on canvass. He also did a few smaller wandjina on slate and although collectable these are not as desirable as his other paintings. Alecs motivation to do Wandjina paintings was to encourage the continuation of cultural practices and religious beliefs. His works have a strong spiritual presence and are collectable. Alec Died in 1982.
Mingelmanganu is sometimes spelled Mintjilmanganu or Mijelmarngu
More Kimberley
Artworks and Articles
All images in this article are for educational purposes only.
This site may contain copyrighted material the use of which was not specified by the copyright owner. 
Alec Mingelmanganu Bark painting images
The following bark painting are not a complete list of works but give a good feel for the variety and style of this artist.
If this post has been informative please take the time and make the effort to share it on social media

. By clicking any of the share buttons below you create a link from your social site to this article. Links are what google uses to calculate what information on the web is useful. By sharing this article you are letting google know you found my article / images of some value. Thanks!