Peter Marralwanga was an aboriginal artist from Oenpelli who started painting on bark in the 1970's. Marralwanga and Yirawala established an outstation at Marrkolidjban. It was at Marrkolidjban that Yirawala acted as Marralwanga's tutor and mentor and taught him to paint.
Marralwanga was greatly influenced by Yirawala style. He adopted the cross-hatching or rarrk in-fill, derived from the designs of the Mardayin ceremony. His barks are usually large and consist of Animals or spirits filled with intense design.
If you have a bark painting by Peter Marralwanga that you want to know the value of or wish to sell please send me an image and the dimensions.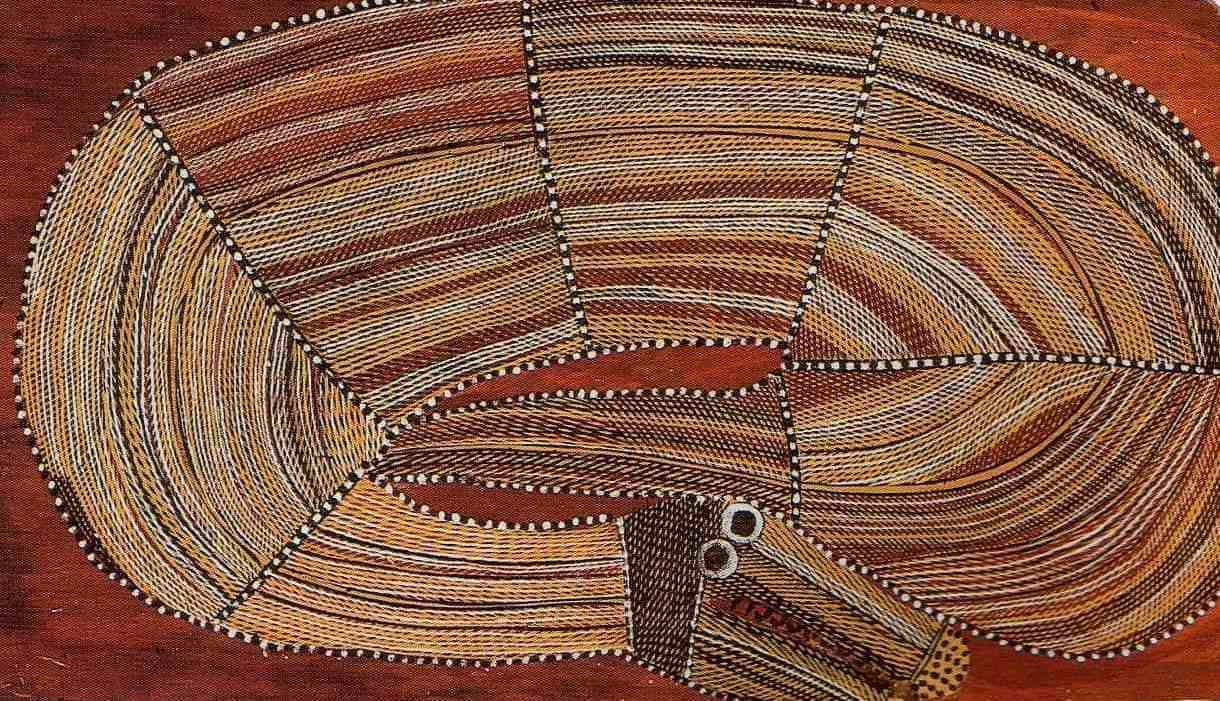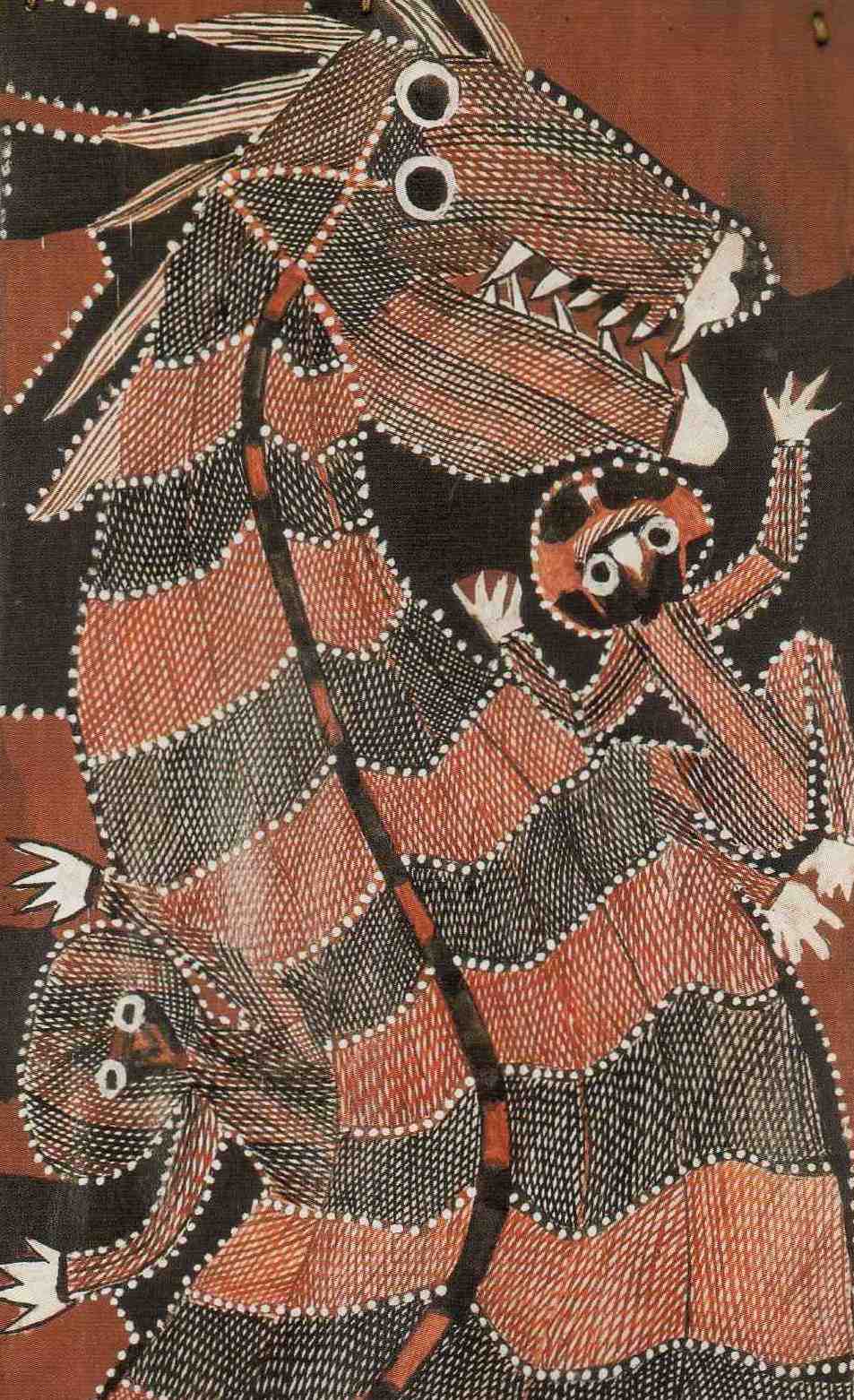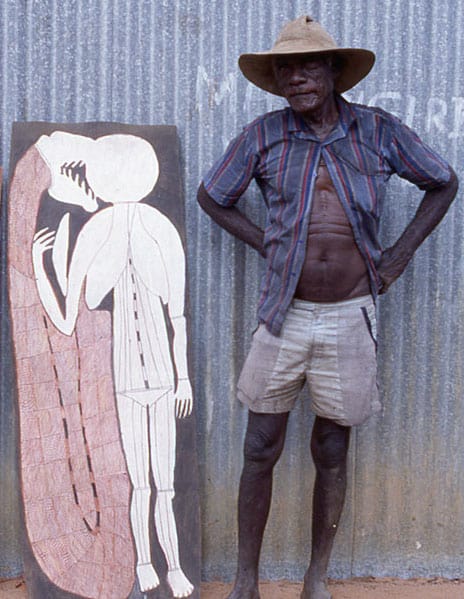 Peter Marralwanga Biography
Peter Marralwanga was born around 1917 and belonged to the Kardbam clan and the Yirridjdja Moiety. Like some other well known artists like Curly Bardkadubbu and Bob Balirrbalirr he spoke Kuninjku language. Initiated traditionally he was the guardian of several important Arnhem land dreamings. He lived a traditional lifestyle and accumulated great ceremonial knowledge. In 1949 he moved from the Marrkolidjban bush into the Mission station at Oenpelli. In 1959 he travelled to Maningrida to lobby for formal recognition of his traditional land at Marrkolidjban. He did not stay long in Maningrida disliking town life.
In the early 1970's he met up with his clansman Yirawala. Together they built an out station in Marralwanga's home country. Yirawala was already earning money through his art and mentored Marralwanga. Marralwanga in turn acted as a mentor for John Marwurndjul. In 1982 his art went on exhibit in a group exhibition called Aboriginal Art at the top. The exhibition was in Darwin and dominated by Marralwanga and Yirawala's artworks.
Peter Marralwanga Art style
Marralwanga's style shares many similarities to those of Yirawala and Curly Bardkadubba. This is not suprising as all these artists were working. The artists gaining inspiration from each others work. Unlike John Marwurndjul, Marralwanga never went completely abstract. Peter's artwork always confine the Rarrk to a figurative element. He uses a variety of techniques including dotting, monochrome, rarrk, solid blocks of colour and parallel rarrk. This works very well in some of his artworks. In other paintings it gets confused and messy..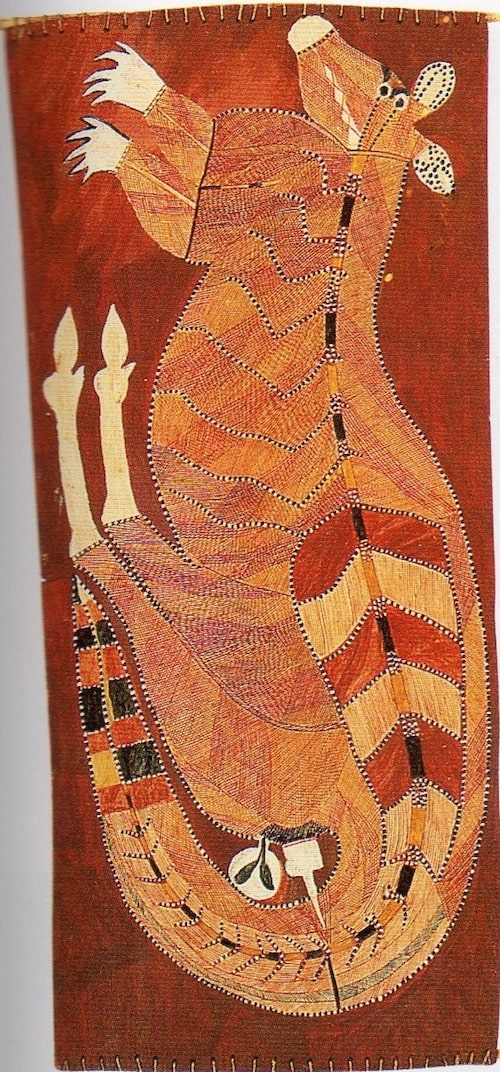 Kangaroo by
Peter Marralwanga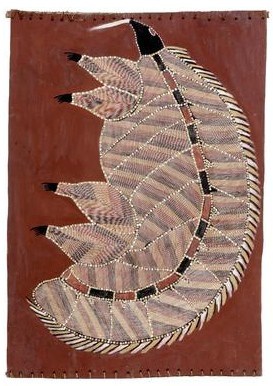 Echidna with Mardayin style rarrk
by Peter
It is difficult to attribute a particular style because his canon of work shows an artist forever experimenting and evolving. This experimentation lead to elements filled with cross hatching that take up almost all the bark canvas. Peter abandoned the formal convention of the Mardayin ceremony cross hatched colour sequencing and orientation. He used whatever worked to illuminate the flow and movement of the figurative element
It is likely these experimental works pivotaly influenced john Marwurndjul and his son Ivan Namirrki. Both these artists later abandon the element in favour of pure crosshatched abstractions
Marralwanga's scope of subjects was diverse reflecting his deep cultural knowledge. He painted the rainbow serpent, barramundi, crocodile, Yawk yawk Mimih Luma Luma and kangaroo.
Peter Marralwanga was a truly great painter who lived and died before Aboriginal art gained prominence. In 1981 and 1983 he had solo exhibitions with Mary Macha at Aboriginal Traditional Arts in Perth. At that time he was second only to Yirawala as the most influential Kunwinjku artists of their
Ngalyod The Rainbow Serpent
Aboriginal people believe that Ngalyod, the Rainbow Serpent, created many sacred sites in Arnhem Land. Characteristics of Ngalyod vary from group to group and also depend on the site. He can change into a female serpent, and has both, powers of creation and destruction. Ngalyod is most strongly associated with rain, monsoon seasons, and the rainbows that arc across the sky like a giant serpent. He is most active in the wet season. In the dry season, he rests in billabongs and freshwater springs. When he rests he handles the production of water plants such as waterlilies, vines, algae, and cabbage tree palms.

When waterfalls roar down deep gorges, that Ngalyod is calling out. Large holes in stony banks of rivers and cliff faces are his tracks.
The rainbow serpent is deeply respected because it will swallow people who offend him. If Ngalyod swallows people during floods that he has created, he regurgitates them and they transform into new beings through his blood.

Aboriginal people respect sacred sites where the Rainbow Serpent resides. Near these sites, cooking is not allowed. Cooking near the resting place of the great serpent will incur his wrath. Ngalyod can cause sickness, accidents and great floods, which make it easier for him to swallow his victims.
Although Ngalyod is generally feared throughout Stone Country, he is a friend and protector of the tiny Mimi Spirits.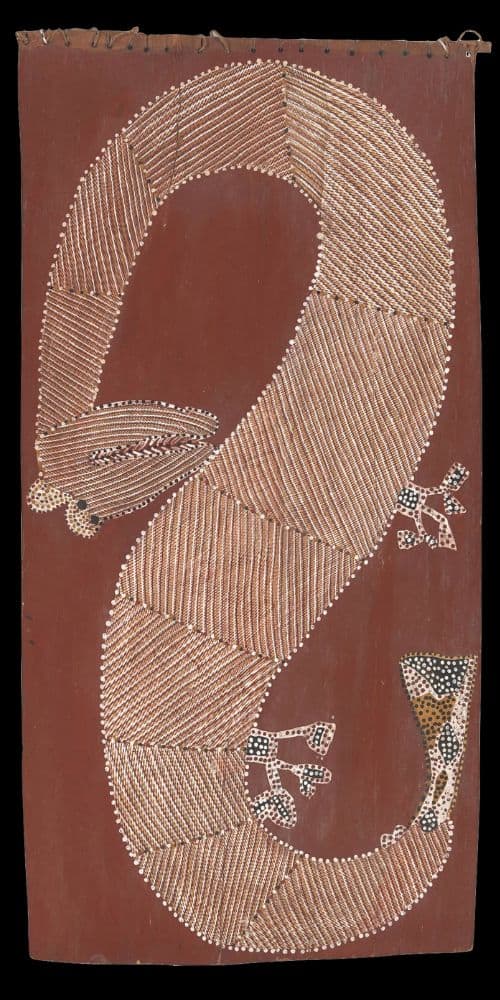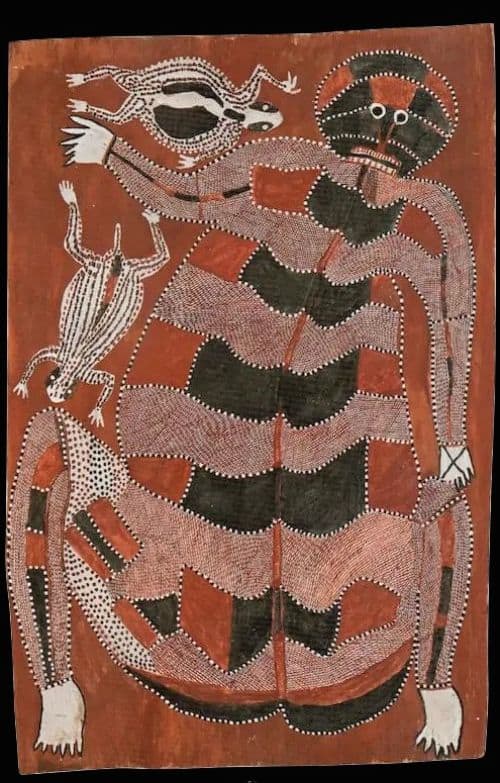 Lumah Lumah
The chronicle of the giant Lumah Lumah is one of the apical creation dramas of Kunwinjku and Kuninjku peoples of western Arnhem Land for it relates to the coming of sacred power, Mardayin, and the establishment of ritual practices. Luma Luma also introduced the ritual paraphernalia and the sacred clan patterns that are painted onto these objects and onto the torsos of the ceremonial participants, as well as onto sheets of bark today.
 Luma Luma came to the lands of the Kunwinjku and Kuninjku from far to the east with his two wives  Luma Luma carried with him a stone axe, a spear and a power bag (a woven dilly bag containing sacred objects). Wherever he travelled, Luma Luma claimed the country and established the laws which governed the first peoples. He taught people to perform sacred rituals and showed them the sacred objects that were the source of his power.
Luma Luma instilled fear in the first peoples, as his absolute authority was coupled with a degree of greed which was to be his downfall. Whatever foods his wives collected and cooked, he would declare to be taboo, thus they were prohibited from eating these. He would do the same with the game caught by the men. And while the men were away on their hunting expeditions, he would sleep with their wives. While Lumah Lumah prospered, the others starved. Some of the husbands sought retribution but were no match for Luma Luma.
Eventually the ancestors of the Kunwinjku and Kuninjku decided to take their revenge on the giant. They laid a trap and the giant was engulfed by fire. As he burned, the clansmen peppered his body with spears. Yet Luma Luma begged to be spared so that he could show the men how to draw the sacred rarrk or ancestral clan cross-hatched designs by cutting them into his flesh. Once his task was complete, Luma Luma retreated to the sea from whence he came and transformed himself back into the form of a sea creature
Other Aboriginal Art and Artists
All images in this article are for educational purposes only.
This site may contain copyrighted material the use of which was not specified by the copyright owner.
Peter Maralwanga artwork Images
The following images of the Artworks of Peter Marralwanga. It is not a complete list of his works. They do however give a good idea of the style and above all the variety of this Aboriginal Artist.
If this post has been informative please take the time and make the effort to share it on social media

. By clicking any of the share buttons below you create a link from your social site to this article. Links are what google uses to calculate what information on the web is useful. By sharing this article you are letting google know you found my article / images of some value. Thanks!