Long Jack Phillipus Tjakamarra
Long Jack Phillipus Tjakamarra was one of the painters to paint the historic mural at Papunya primary school. This mural was the first spark of the Western Desert art movement.
In the early part of his career, Long Jack Phillipus Tjakamarra painted on small bits of board. He went on to become one of the most vital figures of the aboriginal art movement. Many of his early works are ritual and contain secret imagery meant only for the eyes of initiated men. His later works are on Canvass and vary from masterpieces down to simplistic.
The aim of this article is to assist readers in identifying if their Aboriginal painting is by Long Jack Phillipus Tjakamarr. It compares examples of his work. It also gives some background to the life of this fascinating artist.
If you have a Long Jack Phillipus Tjakamarra painting to sell please contact me. If you want to know what your Long Jack Phillipus Tjakamarra painting is worth please feel free to send me a Jpeg. I would love to see it.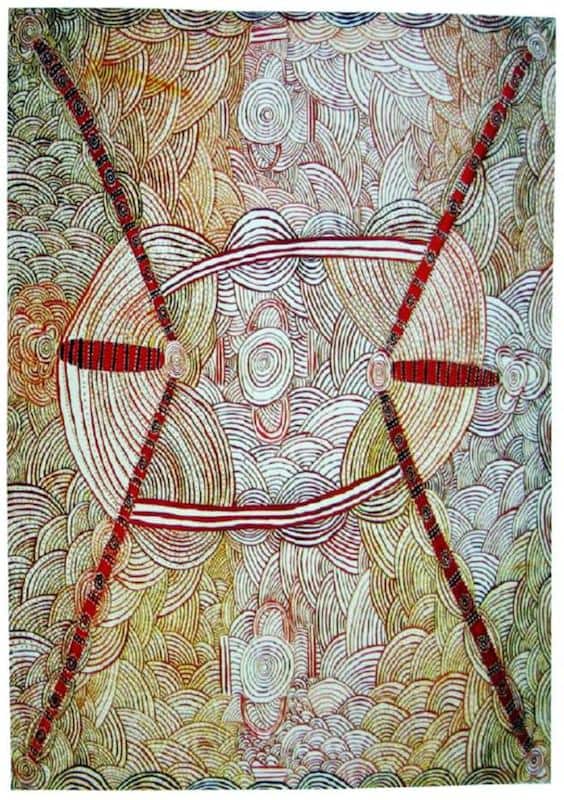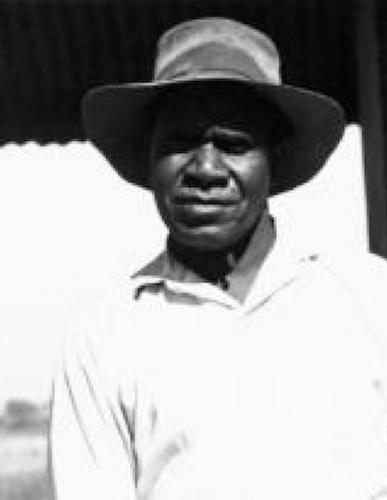 Long Jack Phillipus Tjakamarra Early years
Long Jack Phillipus Tjakamarra was born around 1932 at the important Rain Dreaming site of Kalipinypa. He grew up in the bush west of Pilininyanu until his teenage years when his family settled in Haasts Bluff. At Haasts bluff he worked as a Stockman until in 1959. In 1960 he moved to Papunya and worked as a councilor like Johnny Warankula and Mick  Tjapaltjarri  and as a school yardman with Uta Uta and Anatjari.
He was an initiated aboriginal lawman and would often go walkabout to go hunting. He had reasonable English and was competent in his dealings with white people.
Long Jack Phillipus Tjakamarra Early Art
In 1971 Geoff Bardon became a local school teacher at Papunya primary. He tried to encourage local children to paint in their own traditional style. When he found out only older men could paint these stories he decided to enlist some local men to paint a mural on the school wall.
LongJack Phillipus Tjakamarra participated in the discussions amongst the senior lawmen to decide on a mural design. as a yardman he prepared the walls with cement rendering and coats of white primer. He also assisted Kaapa and Billy Stockman in the mural painting itself. This mural was the spark that started the Western Desert Aboriginal art movement.
After the success of the mural Bardon decide to start a men's painting group. Long Jack Phillipus Tjakamarra was a part of this enthusiastic group that began to paint regularly at the back of the school art room.
Long Jack's art was some of the first to sell in Alice Springs, spurring the other men on in their efforts and commitment.
His early painting style had symmetrical balance and often stylised figurative elements. He used traditional earth colours and leaned towards a softer, slightly more decorative approach.
In 1972 the government established the Aboriginal Arts Board. Long Jack was part of a delegation of Papunya artists who went to Sydney to provide advice and support on board policies. He was also a shareholder in an art company for aboriginal artists called Papunya Tula.
Long Jack was a principal owner of the water dreaming site of Kalipinypa. He shared this ownership with 'Old' Walter Tjampitjinpa and Johnny Warangkula.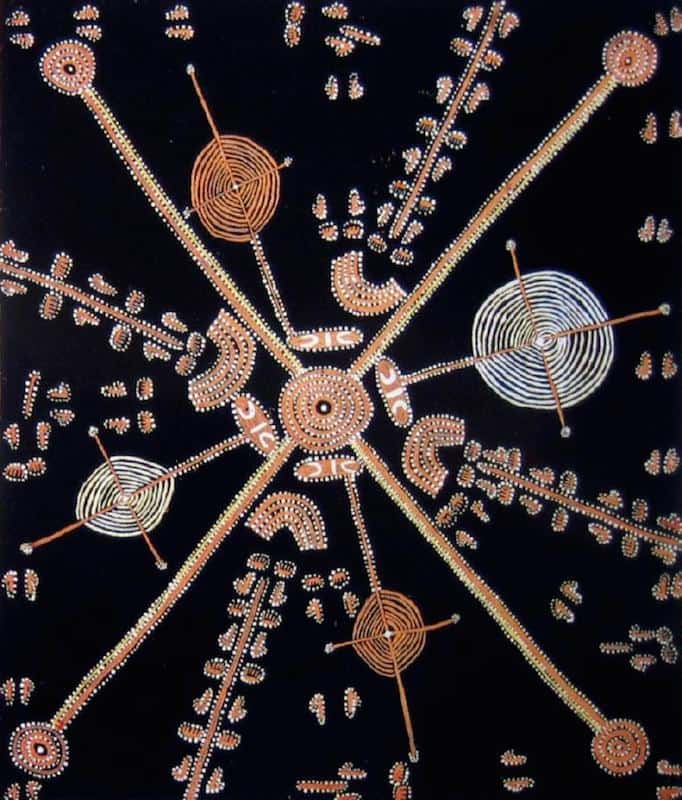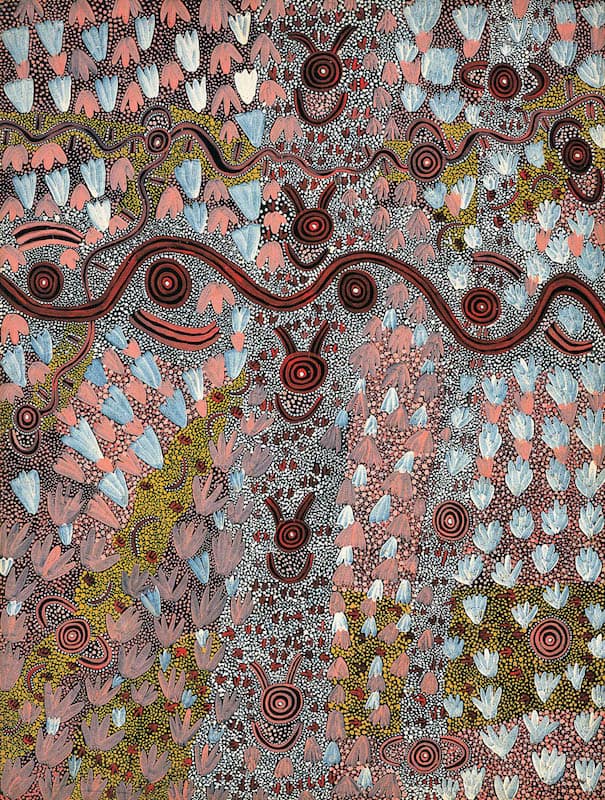 Middle Carrer
In 1974 artworks for sale in Alice springs cause disagreements between aboriginal groups. Many aboriginals felt that Papunya paintings revealed to much secret and sacred imagery. After this time he was no longer able to paint the Kadaitcha Dreaming or the Water Dreamings.
Aboriginal art changed. Sacred references were now concealed under a veil of dots. Many of the important dreamings were no longer depicted.
Despite this Long Jack Phillipus Tjakamarra produced some great works between 1975 and 1980. He had good access to materials and produced some fantastic large works on canvass.
In 1983 he was got first prize in the Northern Territory Golden Jubilee Art Award and then first prize in the Alice Art award in 1984.
Long Jack Phillipus Tjakamarra
Later Works
By the late 1980's many aboriginal art-works had a high degree of abstract minimalism. This style suited many younger emerging artists but did not suite Long Jacks's painting style as well.
He became frustrated at seeing the art of younger emerging artists sell more regularly and at higher prices than his own.
In the late 1980's he was instrumental along with Dinny Nolan in establishing Warumpi Arts. Warumpi Arts operated a gallery in Alice Springs throughout the 1990's and Long Jack's works were regularly featured there.
Several important landmark exhibitions included his works throughout the 1980s and early 1990's. These include The Face of the Centre, Mythscapes, and Power of the Land, both curated by the National Gallery of Victoria.
Long Jack Phillipus Tjakamarra continued to paint into the late 1990's. Many of these late paintings seem to be commercial and have little soul in them. His art continued to provide his family with a steady income until his death.
Long Jack Phillipus Tjakamarra can also be spelled Long Jack Phillipus Jakamarra or Long Jack Phillipus Djakamarra. Sometimes he is just called Long Jack Tjakamarra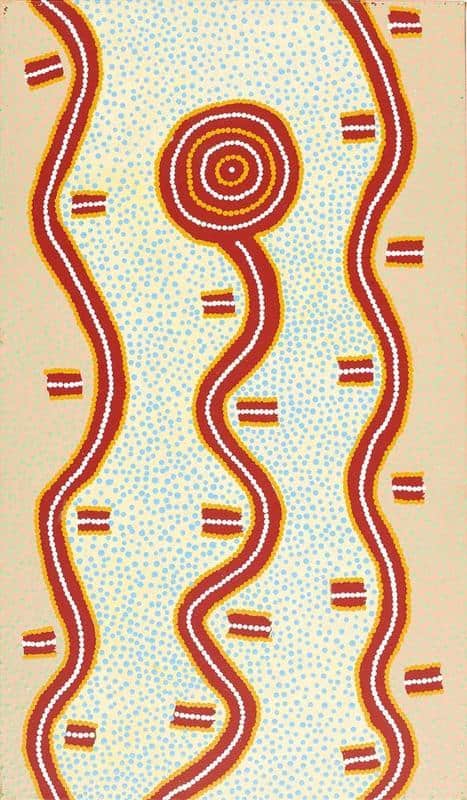 Long Jack Phillipus Tjakamarra artwork values
My Database contains 72 artworks by Long Jack that vary in value from $200 AUD – $125,000 AUD.
Many factors influence the value of artwork much more than only the visual image. The provenance, date painted size, and importance of the work within the canon of work are also often crucial factors
If you have Long Jack Phillipus Tjakamarra artwork and wish to get a valuation please send me an image. Please include the size and any labels or extra information available.
Water Story (Version 7)
Geoff Bardon notes that 'Water Dreamings is a concept of significant and ritual celebration. It often contained secret knowledge, unlike more secular subject matter like bush tucker stories. Symmetrical designs form the patterns and motifs of Long Jack's Water Story.
The Concentric circles depict important Waterholes. Running water between these Waterholes is shown in the painting as undulating lines. The running water connects these waterholes in the wet season.
A sweeping arched segment runs vertically through the center of the painting. This segment represents men dancing in a ceremony. The clusters of dots on the left are body paint for the Water Men at the ceremony.
The Water dreaming was an important ritual story. Jonny Warangkula Tjupurrula, and Old Walter Tjampitjinpa also painted this dreaming.
The ability to find water in a desert environment is paramount to survival. The knowledge of where springs, rock holes, and other water sources are of paramount importance. As a result, the Water Dreaming stories were secret and only available to initiated men of senior standing.
Based on the description by Crispin Gutteridge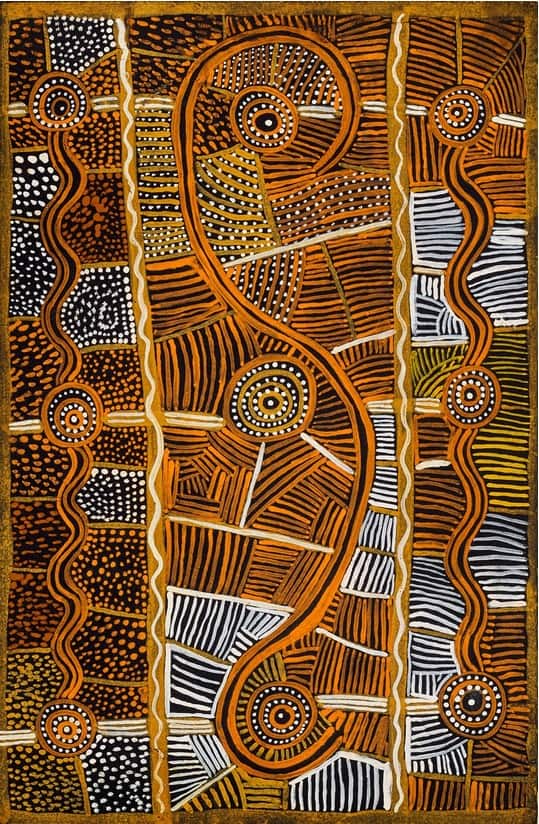 Painted in 1972 on composition board 46.5 x 30.0 cm
Mala Spinifex Wallaby Dreaming
Long Jack Phillipus Tjakamarra's Mala (Spinifex Wallaby), 1972 was likely painted in the Men's Painting Room at Papunya in the first half of 1972. The painting's symmetrical composition, and painted 'frame' suggests Kaapa's strong influence.
Mala (Spinifex Wallaby) encapsulates an episode on the ceremonial ground. The bipedal tracks of the Mala, 'hopping' from the periphery to the center, conveys the paths of the ceremonial dancers. The dancers slowing gait is evident from the marks left by their 'tails', and the impressions made by their front 'paws'. The central roundel represents the epicenter of the ceremony.
The performers are inferred by the presence of their body paint, extending in bands from the stomach, up their chests and over the shoulders. Similar figures, at the top and bottom, are visualised with bullroarers, (attached on taut strings). The uncanny thrum created by bullroarers forewarns the uninitiated to remain clear of the proscribed area. The large ovals in each quadrant are likely to represent the areas in which post-initiate novices stay. The post initiation novices learn the songs, designs and dances associated with the Mala ceremonies.
Based on description by John Kean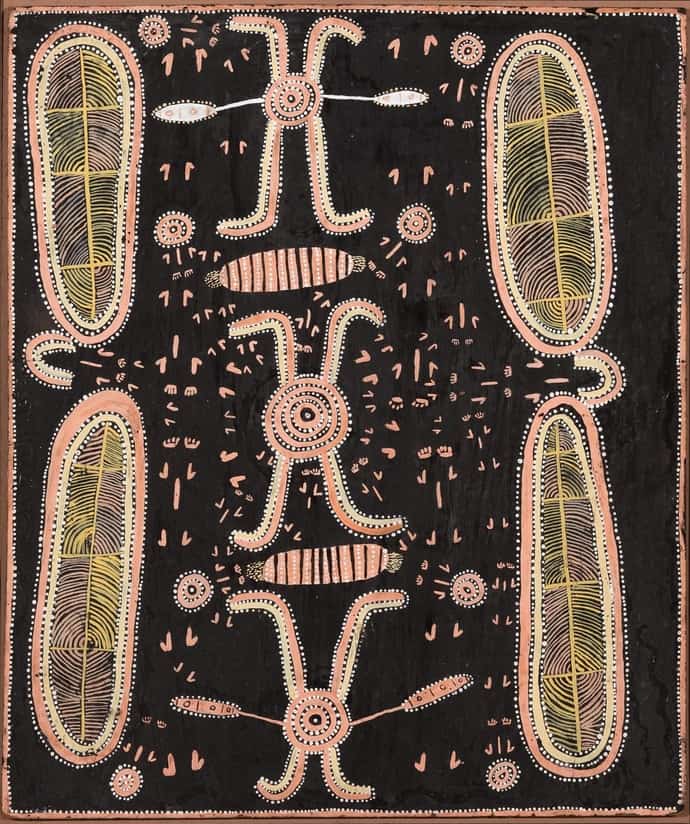 Painted 1972 with synthetic polymer powder paint on composition board 60.5 x 51.0 cm
Old Mans Medicine Story
This painting clearly relates to the Old Man Dreaming which has also been depicted by Uta Uta Tjangala and Charlie Tararu Tjungurrayi.
Anthropologist Fred Myers who worked extensively with Pintupi artists has recorded this myth. He notes that the Old Man was powerful and dangerous. The old man carried dangerous sorcery objects in his headdress. The Old Man had illicit sexual relations with his classificatory Mother in law which was forbidden. The Old Man moved on but his penis swelled up and he suffered painful torment. The pain increased as he moved west until his genitals fell off or went walkabout. The old man's genitals created many natural features of the landscape.
Opposite
Old man's Medicine Dreaming
Painted 1971 synthetic polymer powder paint on composition board 72.0 x 46.0 cm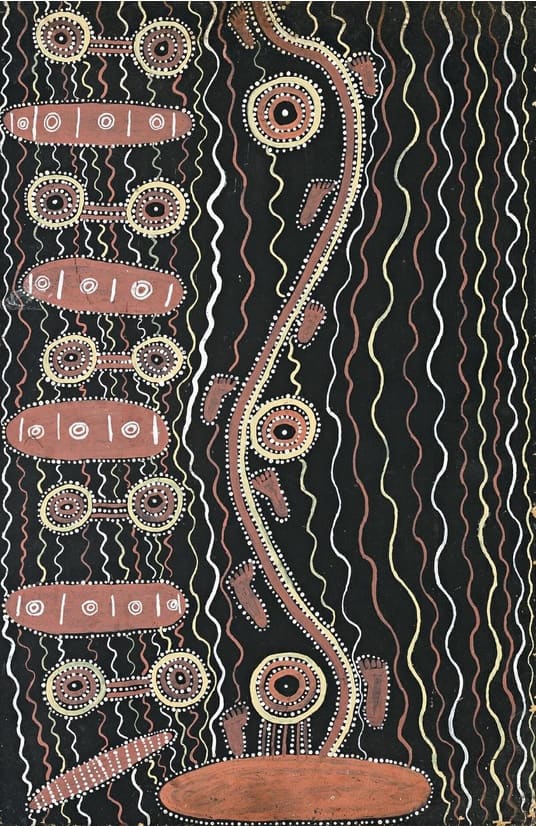 Early Papunya Artworks and Articles
All images in this article are for educational purposes only.
This site may contain copyrighted material the use of which was not specified by the copyright owner.
Long Jack Phillipus Tjakamarra Images
The following images are not the complete known work by this artist but give a good idea of his style and range.
If this post has been informative please take the time and make the effort to share it on social media

. By clicking any of the share buttons below you create a link from your social site to this article. Links are what google uses to calculate what information on the web is useful. By sharing this article you are letting google know you found my article / images of some value. Thanks!