Long Jack Phillipus Tjakamarra
Long Jack Phillipus Tjakamarra was one of the painters to paint the historic mural at Papunya primary school. This mural was the first spark of the Western Desert art movement.
In the early part of his career, Long Jack Phillipus Tjakamarra painted on small bits of board. He went on to become one of the most vital figures of the aboriginal art movement. Many of his early works are ritual and contain secret imagery meant only for the eyes of initiated men. His later works are on Canvass and vary from masterpieces down to simplistic.
The aim of this article is to assist readers in identifying if their Aboriginal painting is by Long Jack Phillipus Tjakamarr. It compares examples of his work. It also gives some background to the life of this fascinating artist.
If you have a Long Jack Phillipus Tjakamarra painting to sell please contact me. If you want to know what your Long Jack Phillipus Tjakamarra painting is worth please feel free to send me a Jpeg. I would love to see it.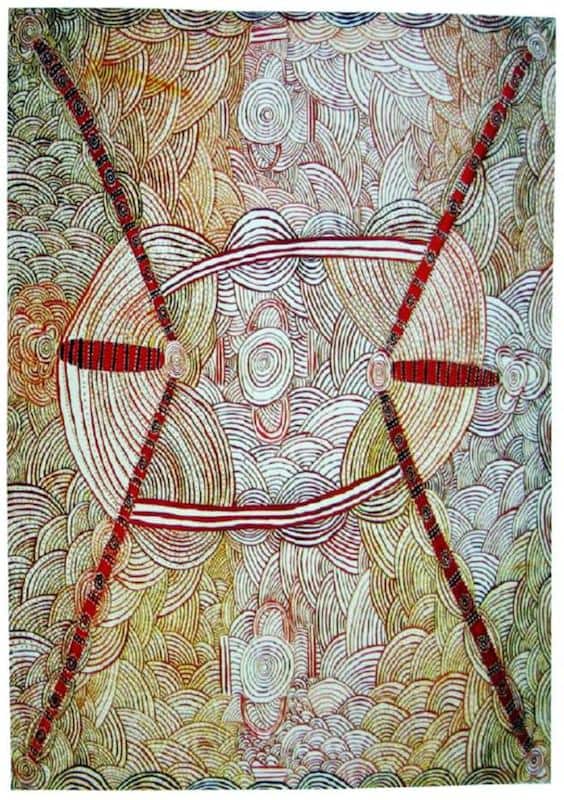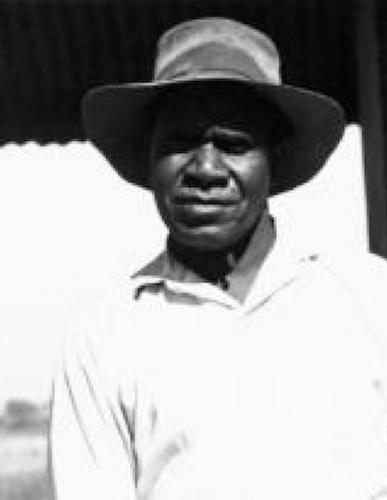 Long Jack Phillipus Tjakamarra Early years
Long Jack Phillipus Tjakamarra was born around 1932 at the important Rain Dreaming site of Kalipinypa. He grew up in the bush west of Pilininyanu until his teenage years when his family settled in Haasts Bluff. At Haasts bluff he worked as a Stockman until in 1959. In 1960 he moved to Papunya and worked as a councilor like Johnny Warankula and Mick  Tjapaltjarri  and as a school yardman with Uta Uta and Anatjari.
He was an initiated aboriginal lawman and would often go walkabout to go hunting. He had reasonable English and was competent in his dealings with white people.
Long Jack Phillipus Tjakamarra Early Art
In 1971 Geoff Bardon became a local school teacher at Papunya primary. He tried to encourage local children to paint in their own traditional style. When he found out only older men could paint these stories he decided to enlist some local men to paint a mural on the school wall.
LongJack Phillipus Tjakamarra participated in the discussions amongst the senior lawmen to decide on a mural design. as a yardman he prepared the walls with cement rendering and coats of white primer. He also assisted Kaapa and Billy Stockman in the mural painting itself. This mural was the spark that started the Western Desert Aboriginal art movement.
After the success of the mural Bardon decide to start a men's painting group. Long Jack Phillipus Tjakamarra was a part of this enthusiastic group that began to paint regularly at the back of the school art room.
Long Jack's art was some of the first to sell in Alice Springs, spurring the other men on in their efforts and commitment.
His early painting style had symmetrical balance and often stylised figurative elements. He used traditional earth colours and leaned towards a softer, slightly more decorative approach.
In 1972 the government established the Aboriginal Arts Board. Long Jack was part of a delegation of Papunya artists who went to Sydney to provide advice and support on board policies. He was also a shareholder in an art company for aboriginal artists called Papunya Tula.
Long Jack was a principal owner of the water dreaming site of Kalipinypa. He shared this ownership with 'Old' Walter Tjampitjinpa and Johnny Warangkula.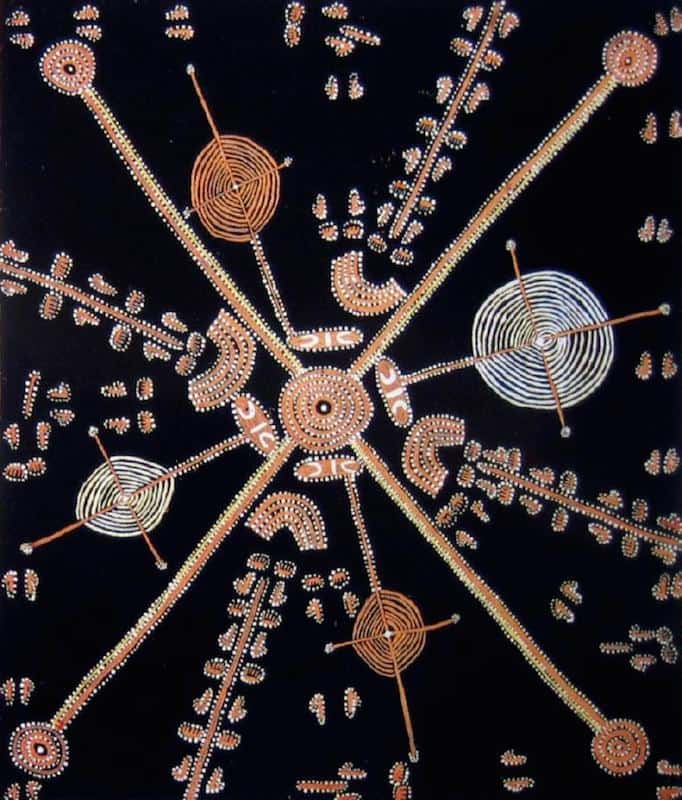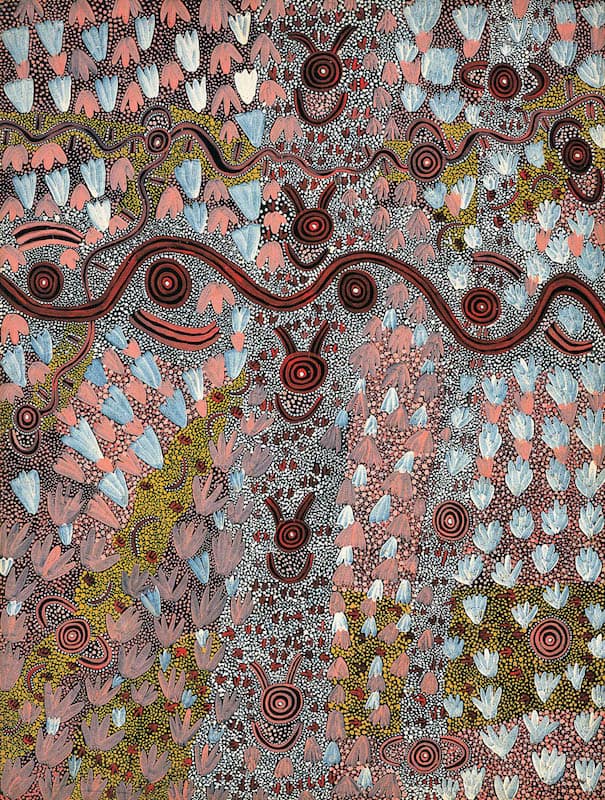 Middle Carrer
In 1974 artworks for sale in Alice springs cause disagreements between aboriginal groups. Many aboriginals felt that Papunya paintings revealed to much secret and sacred imagery. After this time he was no longer able to paint the Kadaitcha Dreaming or the Water Dreamings.
Aboriginal art changed. Sacred references were now concealed under a veil of dots. Many of the important dreamings were no longer depicted.
Despite this Long Jack Phillipus Tjakamarra produced some great works between 1975 and 1980. He had good access to materials and produced some fantastic large works on canvass.
In 1983 he was got first prize in the Northern Territory Golden Jubilee Art Award and then first prize in the Alice Art award in 1984.
Long Jack Phillipus Tjakamarra
Later Works
By the late 1980's many aboriginal art-works had a high degree of abstract minimalism. This style suited many younger emerging artists but did not suite Long Jacks's painting style as well.
He became frustrated at seeing the art of younger emerging artists sell more regularly and at higher prices than his own.
In the late 1980's he was instrumental along with Dinny Nolan in establishing Warumpi Arts. Warumpi Arts operated a gallery in Alice Springs throughout the 1990's and Long Jack's works were regularly featured there.
Several important landmark exhibitions included his works throughout the 1980s and early 1990's. These include The Face of the Centre, Mythscapes, and Power of the Land, both curated by the National Gallery of Victoria.
Long Jack Phillipus Tjakamarra continued to paint into the late 1990's. Many of these late paintings seem to be commercial and have little soul in them. His art continued to provide his family with a steady income until his death.
Long Jack Phillipus Tjakamarra can also be spelled Long Jack Phillipus Jakamarra or Long Jack Phillipus Djakamarra. Sometimes he is just called Long Jack Tjakamarra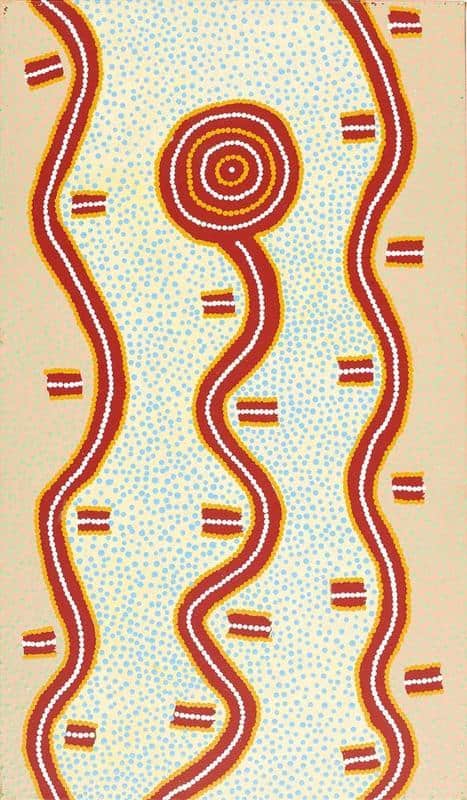 Early Papunya Artworks and Articles
All images in this article are for educational purposes only.
This site may contain copyrighted material the use of which was not specified by the copyright owner. 
Long Jack Phillipus Tjakamarra Images
The following images are not the complete known work by this artist but give a good idea of his style and range.
If this post has been informative please take the time and make the effort to share it on social media

. By clicking any of the share buttons below you create a link from your social site to this article. Links are what google uses to calculate what information on the web is useful. By sharing this article you are letting google know you found my article / images of some value. Thanks!