Crusoe Kuningbal Sculpture and bark paintings
Crusoe Kuningbal was an Oenpelli Artist who is best known for his painted sculpture. He was also an accomplished bark painter.
The aim of this article is to assist readers in identifying if their sculpture or bark painting is by Crusoe Kuningbal. It compares known examples of his work.
If you have a Crusoe Kuningbal sculpture or bark painting to sell please contact me. If you want to know what your Crusoe Kuningbal is worth to me please feel free to send me a Jpeg. I would love to see it.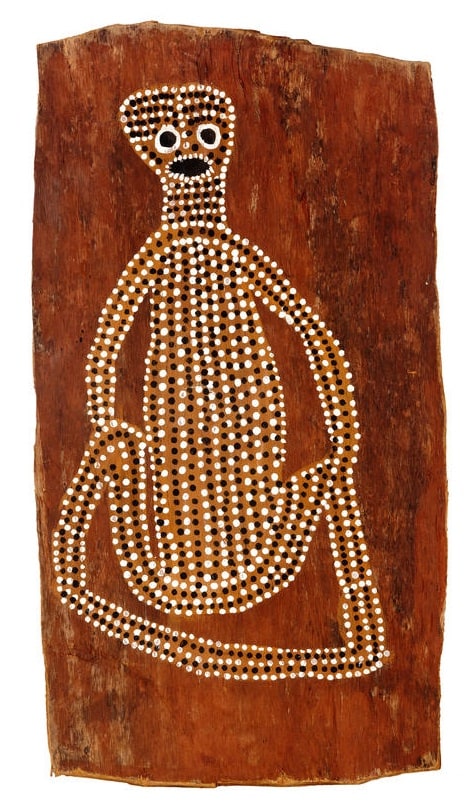 Style
Crusoe Kuningbal Aboriginal sculptures are very distinctive. They are all painted red and covered in white and black spots. From the knees down he often leaves the wood either not painted or painted in one color. The same is true in most cases for the hands.
He greatly elongates the body of his figures, with short arms and legs. The head is round with nose and eyes depicted in paint rather than carved. His bark paintings have very similar looking figures. He rarely uses Rarrk cross-hatching or stripling. He prefers to use closely spaced dots to define his figures.
Crusoe Kuningbals  Mimih spirit sculptures that were an innovation and inspiration. These figures lead to many other artists from this area to make painted sculpture.
Biography
Crusoe Kuningbal was born in the Middle Liverpool River region. He spent his early life working in buffalo shooters camps in Western Arnhem Land. During WWII he and other people from his tribe the Kuninjku moved to Milingimbi mission. After the war, Kuningbal returned to the Maningrida region and started to make bark paintings to sell at the local trading post. He later set up camp at Barrihdjowkkeng. He lived here with his wife Lena Kuriniya and raised his sons Crusoe Kurddal, Owen Yalandja and Tim Wulanibirr.
In 1968 Kuningbal produced the first of many tall slender Mimih spirit sculptures. These figures were originally used in the Mamurrng trade ceremony but it was Kuningbal who first depicted them in a sculptural form. He was an accomplished traditional singer and dancer. Kuningbal performed with his Mimih sculptures on occasions. He produced these sculptures until his death in 1984.
Other artist who paint Mimih spirits on bark include Spider Nabuna and January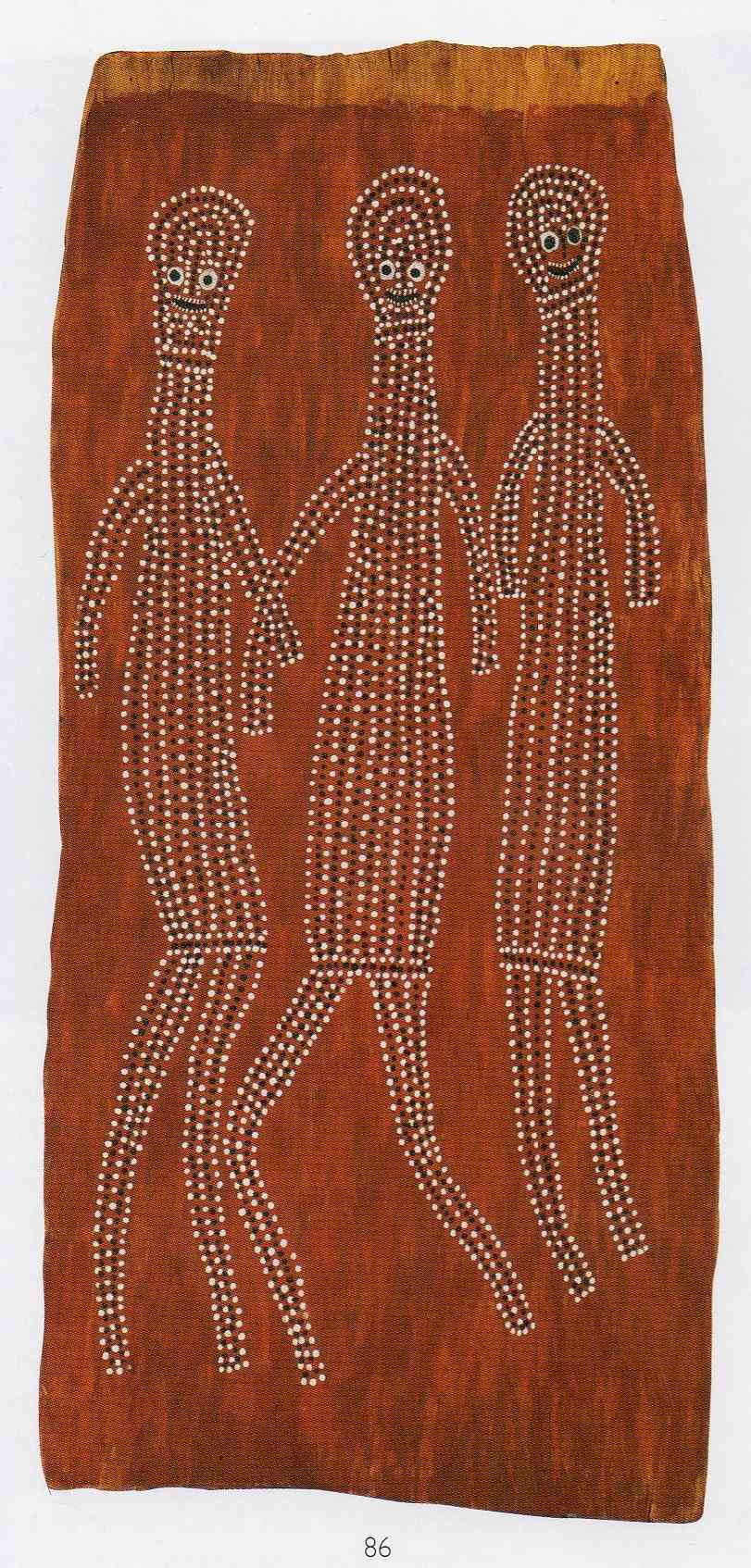 All images in this article are for educational purposes only.
This site may contain copyrighted material the use of which was not specified by the copyright owner. 
The Rainbow Serpent
Aboriginal people believe that Ngalyod, the Rainbow Serpent, created many sacred sites in Arnhem Land. Characteristics of Ngalyod vary from group to group and also depend on the site. He can change into a female serpent, and has both, powers of creation and destruction. Ngalyod is most strongly associated with rain, monsoon seasons, and the rainbows that arc across the sky like a giant serpent. He is most active in the wet season. In the dry season, he rests in billabongs and freshwater springs. When he rests he handles the production of water plants such as waterlilies, vines, algae, and cabbage tree palms.

When waterfalls roar down deep gorges, that Ngalyod is calling out. Large holes in stony banks of rivers and cliff faces are his tracks.
The rainbow serpent is deeply respected because it will swallow people who offend him. If Ngalyod swallows people during floods that he has created, he regurgitates them and they transform into new beings by his blood.

Aboriginal people respect sacred sites where the Rainbow Serpent resides. Near these sites, cooking is not allowed. Cooking near the resting place of the great serpent will incur his wrath. Ngalyod can cause sickness, accidents and great floods, which make it easier for him to swallow his victims.
Although Ngalyod is generally feared throughout the Stone Country, he is a friend and protector of the tiny Mimi Spirits.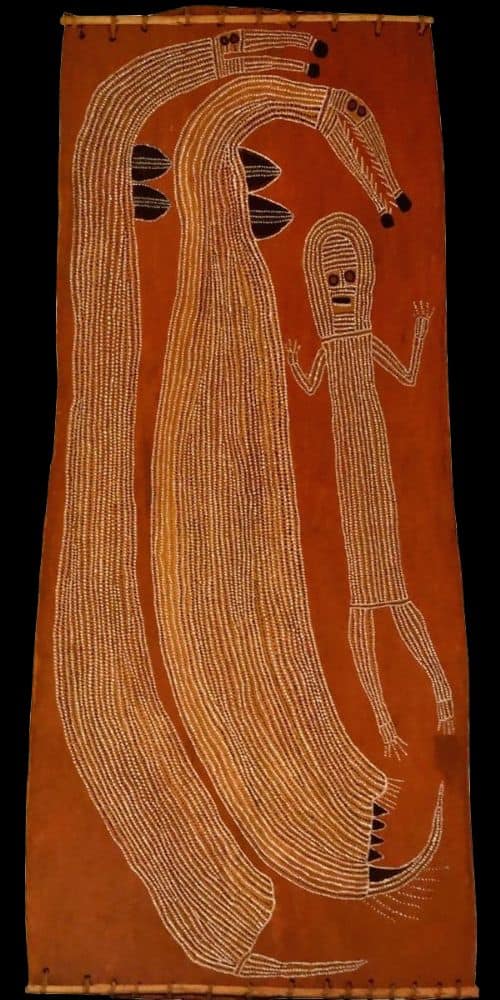 Western Arnhem land Artists and Artworks
Crusoe Kuningbal  Sculpture and Bark Painting images
The following images are not a complete list of the artist's works but give a very good idea of his style and variety.
If this post has been informative please take the time and make the effort to share it on social media

. By clicking any of the share buttons below you create a link from your social site to this article. Links are what google uses to calculate what information on the web is useful. By sharing this article you are letting google know you found my article / images of some value. Thanks!