Queenie McKenzie was the first recognized female artist that painted in East Kimberley Art style. Their soft pinks and subtle purples often distinguish her works.
Queenie did not start painting until late in her life but inspired a generation of younger female artists
The aim of this article is to assist readers in identifying if their Aboriginal painting is by Queenie McKenzie. It compares examples of her work. It also gives some background to the life of this fascinating artist.
If you have a Queenie McKenzie Aboriginal painting to sell please contact me. If you want to know what your Queenie McKenzie painting is worth please feel free to send me a Jpeg. I would love to see it.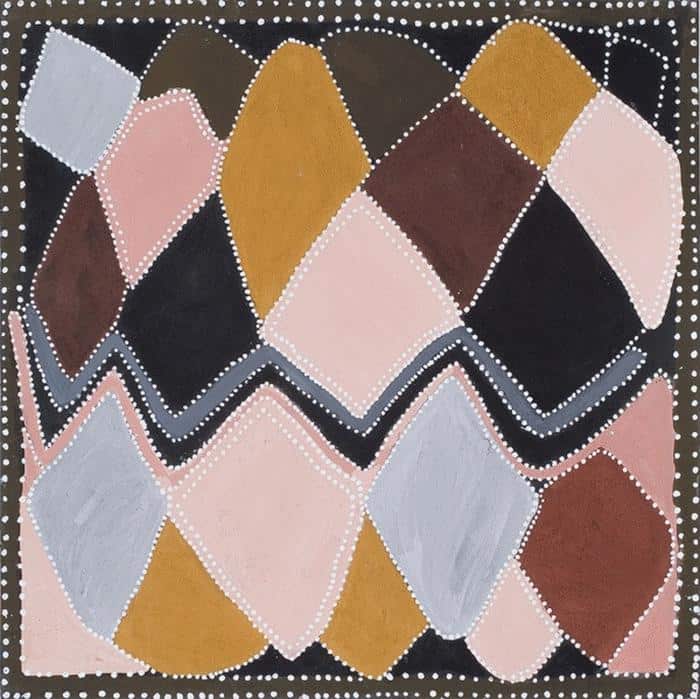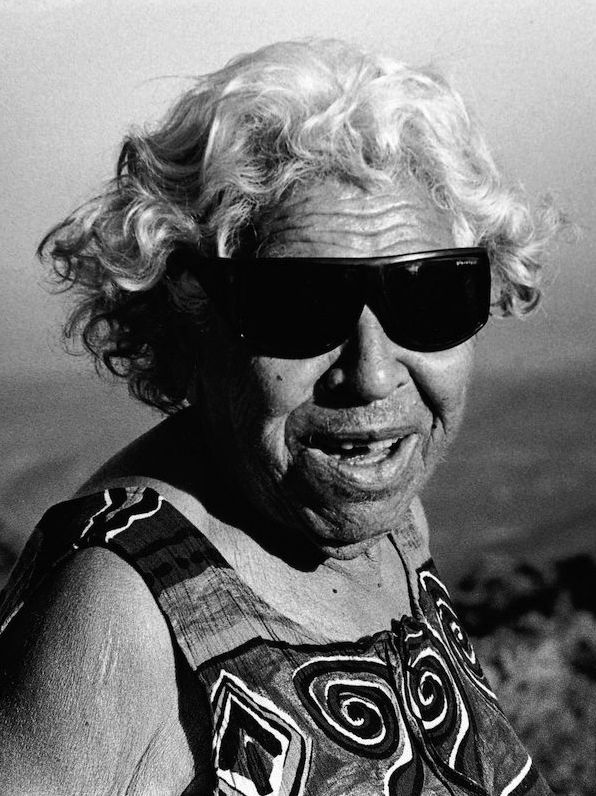 Queenie McKenzie Early Life
Queenie McKenzie was born around1930 at the Old Texas station on the Ord River in the north west of Western Australia. She was mix race and her mother protected her from removal to an orphanage, which was government policy at the time.
Her youth she spent cooking, tending and riding horses, and journeying as stockmen drove cattle. One of those aboriginal stockmen was Rover Thomas who arrived at Old Texas looking for work when 14 years of age.
She became close to Rover Thomas after saving his life after a riding accident. She washing his wounds and sewing him up with a darning needle.
In the 1970's she moved to Warmun community at Turkey Creek. Queenie was a respected guardian of aboriginal women knowledge and culture,
Painting career
Queenie got work at the local school teaching Gidja language and cultural traditions. It was here she first started to experiment with representational art as an educational tool
She used art to maintain Dreaming mythology and knowledge of sacred sites.
By the mid 1980s, her old friend Rover Thomas was making money from art and encouraged Queenie to paint.
It wasn't long before she became the first woman to gain prominence in the East Kimberley painting movement.
Queenie sold her painting through a variety of galleries and to people she met. Many of her earlier works were on small canvasses and quite simple.
It wasn't until the 1990's that her work took off and became recognized. She started painting on larger canvasses. Her style strengthened becoming more decisive and vigorous.
Throughout the mature phase of her career, Queenie painted for a variety of people and galleries. She sold art through Waringarri Arts but also painted for anyone who commissioned her works.
The last two years of her life she painted beneath the art center building. She spent her time as an equal with old but well-known painters like Rover Thomas and Jack Britten.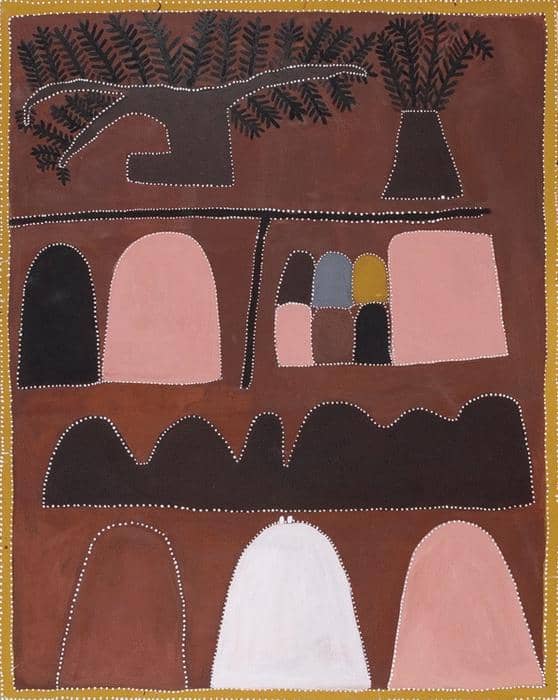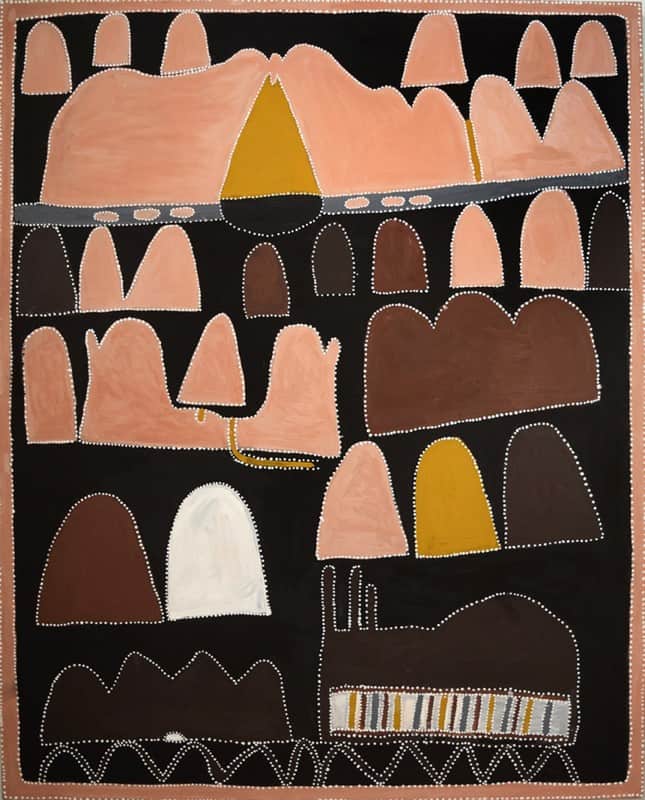 Queenie McKenzie's Artworks
Paddy Jaminji and Rover Thomas inspired Queenie early style. Unlike those artists though she liked to mix her own pigments. It was this love of mixing pigments lead to her using a lot of distinctive soft pinks and purples. These colors soon became the hallmark of her art.
Queenie used a bush gum to bind her pigments and this gives her paintings a textured and translucent surface. While Rover Thomas wanted a matt finish, Queenie achieved softness with translucent binders.
She soon moved away from the earlier East Kimberley style of painting from an aerial perspective. She increasing painted in a more European style from above ground level
Her favorite subject was termite mounds and they feature in many of her works. These often-repetitive mounds often give her art an abstract feel
She also painted the sites of the brutal massacres of her people. Her best-known theme was the massacre at Mistake Creek.
More Kimberley
Artworks and Articles
All images in this article are for educational purposes only.
This site may contain copyrighted material the use of which was not specified by the copyright owner. 
The following images of the Artworks of Queenie McKenzie are not a complete list of his works. They do however give a good idea of the style and variety of this Aboriginal Artist.
If this post has been informative please take the time and make the effort to share it on social media

. By clicking any of the share buttons below you create a link from your social site to this article. Links are what google uses to calculate what information on the web is useful. By sharing this article you are letting google know you found my article / images of some value. Thanks!