Charlie Numbulmoore Wandjina Paintings
Charlie Numbulmoore was born near Gibb River Station in the Kimberley. He is famous for his bark painting of Wandjina. He was initiated and repainted Wandjina in rock shelters and caves.
The aim of this article is to assist readers in identifying if their bark painting is by Charlie Numbulmoore by comparing examples of his work.
If you have a Charlie Numbulmoore bark painting to sell please contact me. If you just want to know what your Charlie Numbulmoore painting is worth to me please feel free to send me a Jpeg. I would love to see it.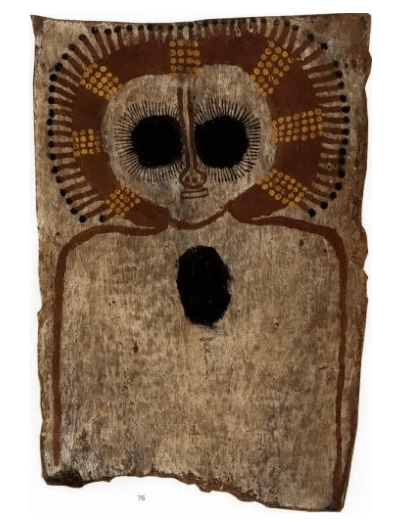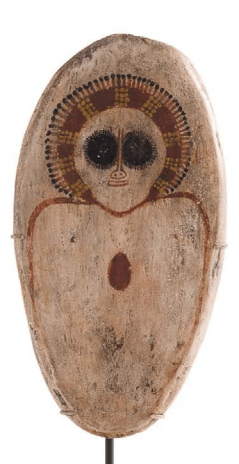 Numbulmoore paintings of the Wandjina are unique and typically have very large black round eyes framed with very fine "eyelashes" in an almost circular head. The eyes are separated by a thin straight nose that flares at the very tip. His earlier works were devoid of a mouth. His later examples have a small mouth that is possibly an addition incorporated after the influence of a European anthropologist. The head is encircled with a red halo with yellow dots. The center of the Wanjina figures sternum is marked in black or red oval representing the heart or a pearl shell.
Although Charlie Numbulmoore did numerous bark painting of Wandjina he also did numerous paintings of Wandjina on slate, coolamons composite board and cardboard. He was commercially active in the 1970's which in terms of Wandjina paintings (not in rock shelters) is early.
Charlie was a pioneer artist for painting Wandjina on bark like Alec Mingelmanganu and Jack Karadada
More Kimberley
Artworks and Articles
All images in this article are for educational purposes only.
This site may contain copyrighted material the use of which was not specified by the copyright owner. 
Charlie Numbulmoore Bark painting images
The following images are not a complete list of works by Charlie Numbelmoore. They do however give a good feel for the very distinctive style of this artist.
If this post has been informative please take the time and make the effort to share it on social media

. By clicking any of the share buttons below you create a link from your social site to this article. Links are what google uses to calculate what information on the web is useful. By sharing this article you are letting google know you found my article / images of some value. Thanks!