Wandjuk Marika Yirrkala Bark Painter
Wandjuk Marika was born in 1927 on Bremer Island in Arnhem Land. He was the eldest son of another famous bark painter Mawalan Marika.  Wandjuk was a member of the Rirratjingu group, Dhuwa moiety of the Yolngu people. The aim of this article is to assist readers in identifying if their aboriginal bark painting is by Wandjuk Marika. It compares examples of his work.
If you have a Wandjuk Marika bark painting to sell please contact me. If you just want to know what your bark painting is worth to me please feel free to send me a Jpeg.  I would love to see it.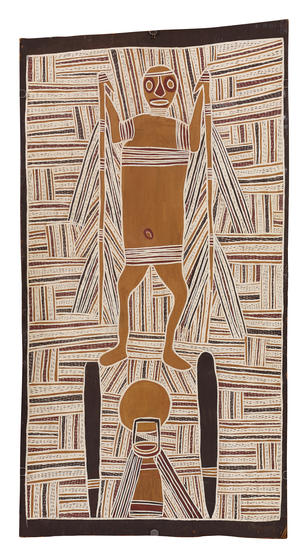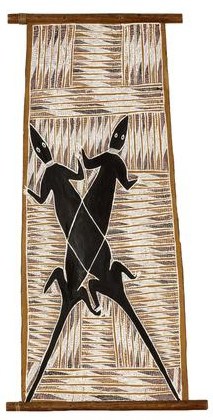 Style
Wanduk Marika painted in an Eastern Arnhem land style covering the entire bark but bordering it on all four sides. His paintings tend to have animals or figures predominantly in a single color surrounded by rarrk. Due to his high clan status, he could use sacred yellow and does so prolifically in many of his works.
Many of his works in separate panels but others are a single panel. His totemic animals include snakes lizards emu turtles and catfish.
He also did some later barks that appear more commercial.
Biography
During childhood, Wandjuk Marika traveled by foot throughout northeast Arnhem Land. He also traveled by canoe around the coast from Melville to Caledon bays.  When his father Mawalan Marika died he became a clan leader and inherited extensive rights to land.
He went to school at the  Mission station at Yirrkala and went on to become a teacher's assistant in the mission school. He translating the Bible into his own language Gumatj. As a young man, he interpreted for his father and others for anthropologists visitors and researchers. His brother Mathaman was also a recognized bark painter
In 1963 Wandjuk Marika was a catalyst for the protests of several clans against the decision to grant mining leases on the Gove Peninsula. In August 1963 he helped to send the first of several bark petitions to the Commonwealth government. These barks were a sign of traditional ownership rights.
Marika learned to paint bark by watching his father. They undertook collaborative paintings of the great Rirratjingu clan themes. Galleries and museums acquired these barks in the 1950s and 1960s. He soon became a major artist like his father. Marika was a member of the Aboriginal arts advisory committee of the Australian Council for the Arts (1970-73). He was also heavily involved in the Aboriginal Arts Board, which he chaired in 1975-80.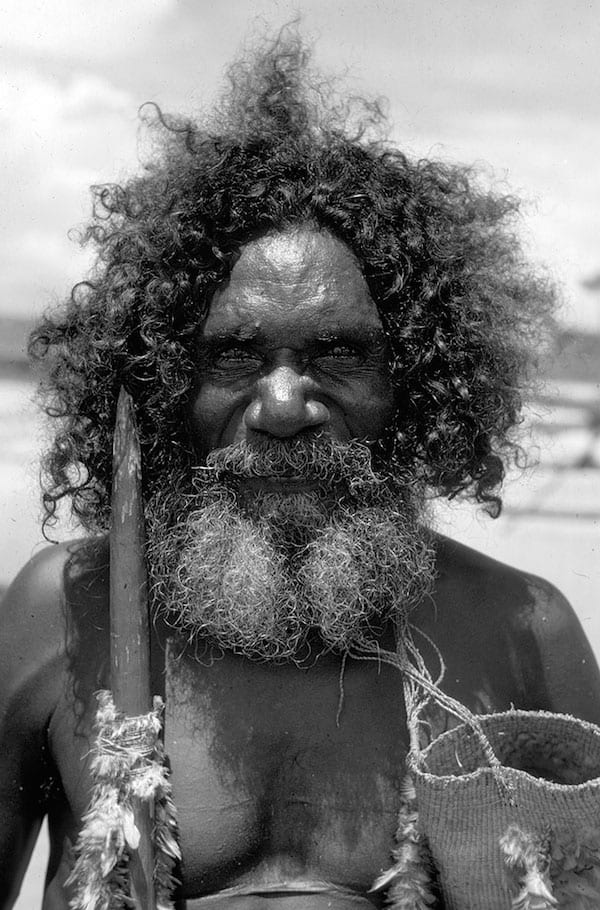 Later Life
He assisted Birrikitji and Munggurrawuy Yunupingu with painting the Yirritja church panels. The church panels are now in the Mulka Museum.
In 1973 he was angry at finding his interpretations of spiritual themes reproduced on souvenir towels. This led him to lobby for the creation of the Aboriginal Artists Agency in 1973 to protect Indigenous intellectual property.
He worked closely with an ethnographic and documentary filmmaker. He also had musical talent and was a powerful didgeridoo player.
In 1979 he got an OBE. He died on 15 June 1987 and buried with full Indigenous rites.
His works were recently exhibited at the Old Masters Exhibition at the National Gallery of Australia.
Wandjuk Marika is sometimes spelled Wondjug Marika, Wondjuk Marika , Wanjug Marika or called Wandjuk Djuakan Marika
All images in this article are for educational purposes only.
This site may contain copyrighted material the use of which was not specified by the copyright owner.
Djankawu and his Sisters
The three figures shown in this painting represent Djankawu and his two sisters. These ancestors are the most important ancestral spirits in the Dua moiety. They came to Arnhem Land from across the sea and landed near Port Bradshaw on the Gulf of Carpentaria. Delighted to be once more on dry land they made a ceremony. Around their necks, they wore sacred dilly bags, and they sang and danced to the rhythm of clapsticks. These clapsticks shaped like short curved boomerangs. This icon repeated throughout the painting.
Alongside the three figures are a Woomera and a spear used by Djankawu to hunt food. Wallaby tracks can
be seen
above the heads of Djankawu and his sisters. The wallaby shown above these tracks, and also a wild mountain cat. In the bottom panel, Wandjuk has painted a fan palm tree and a frill-necked lizard. All these creatures Djankawu saw and named in his travels across Arnhem Land.
Straight cross-hatched lines represent tracks, and other cross-hatching represents grass and sand.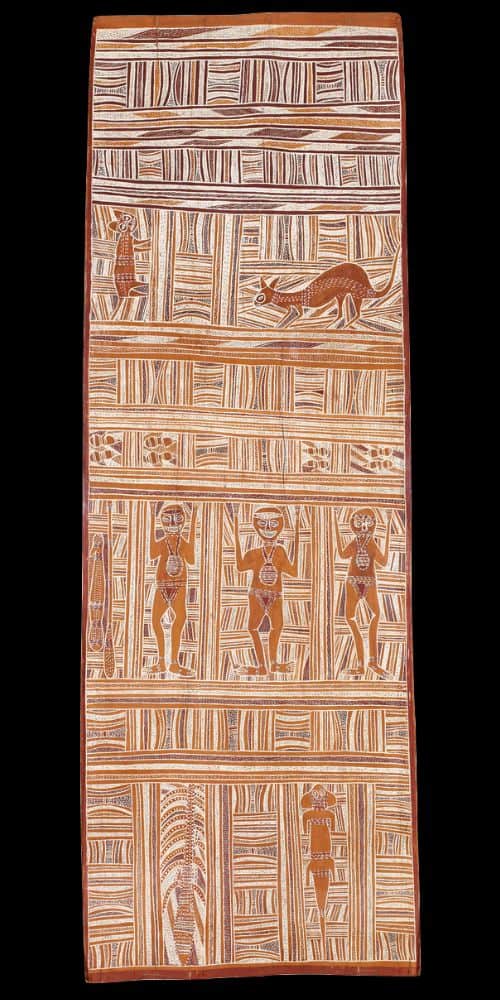 Wandjuk Marika Bark Painting Images
The following images are not a complete list of his bark painting. They do however give a very good idea of the style and variety of the artist
If this post has been informative please take the time and make the effort to share it on social media

. By clicking any of the share buttons below you create a link from your social site to this article. Links are what google uses to calculate what information on the web is useful. By sharing this article you are letting google know you found my article / images of some value. Thanks!