Paddy Henry Ripijingimpi Teeampi Tiwi Art
Paddy Henry Ripijingimpi was a well-known Tiwi artist working in the 1970s and 1980s. The aim of this article is to assist readers in identifying if a Tiwi sculpture or Bark Painting is by Paddy Henry Ripijingimpi teeampi. It compares examples of his work.
If you have a  Ripijingimpi sculpture to sell please contact me. If you want to know what your Paddy Henry Ripijingimpi sculpture is worth please feel free to send me a Jpeg. I would love to see it.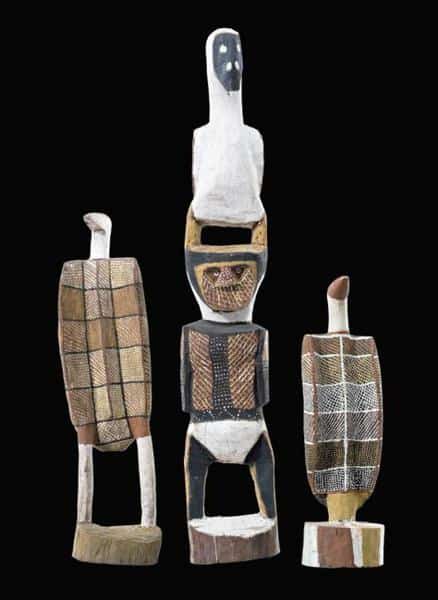 Style
Paddy Henry Ripijingimpi sculptures have a chunky and crude blocky appearance. The face has Incised eyes and mouth. His painting on sculpture is often very fine. The sex on the figures is clearly shown. Paddy has also done several pukumani posts. His carved and painted sea birds are very distinctive and although crudely carved are amongst the best-painted examples.
Paddy has done at least three carvings of the sea bird perched on the spirit figures head.
His paintings on bark are designs of traditional body painting that the Tiwi use during the Pukumani ceremony.
Ripijingimpi works are of the Tiwi creation story. In the Tiwi version of creation, Bima, the wife of Purukapali, makes love to her brother in law while her son Jinani, is lying under a tree. As the sun moves the baby exposed to the full heat of the sun dies. Purukapali becomes enraged and after his wife transforms into a bird and he begins an elaborate mourning ceremony for his son. This was the first Pukumani (mortuary) ceremony and tells how death first came to the Tiwi Islands.
Biography
Paddy Ripijingimpi Teeampi , was born around 1935 and died in 1993. He was father to another Tiwi Artist Nancy Henry Ripijingimpi. Unfortunately s not a lot of information available about Paddy Henry Teeampi Ripijingimpi . If anyone knows more information about the biography of Ripijingimpi, please contact me. I would like to add it to this article.
It is likely that he was a part of the community at Paru and Snake Bay. Here he would have been influenced by other pioneer carvers like Enraeld and Alie Mungatopi
References and further reading

More Tiwi
Artworks and Articles
All images in this article are for educational purposes only.
This site may contain copyrighted material the use of which was not specified by the copyright owner.
Paddy Henry Ripijingimpi Art Images
The following images are not a complete list of the artist's works but give some idea of his style and variety.
If this post has been informative please take the time and make the effort to share it on social media

. By clicking any of the share buttons below you create a link from your social site to this article. Links are what google uses to calculate what information on the web is useful. By sharing this article you are letting google know you found my article / images of some value. Thanks!