Clifford Possum Tjapaltjarri
Clifford Possum Tjapaltjarri was the first recognized star of the Western Desert art movement. He is one of Australia's most distinguished and best-selling painters of the late twentieth century.
Clifford developed his own unique style that included secular non-traditional motifs. He is one aboriginal Australia's best known artists. In his later life he signed other artists works as his own. Many later Clifford Possum Paintings are fakes.
In the peak of his career, he painted huge canvasses that are masterpieces and hang in museums around the world.
The aim of this article is to assist readers in identifying if their Aboriginal painting is by Clifford Possum Tjapaltjarri. It compares examples of his work.
If you have a Clifford Possum Tjapaltjarri Aboriginal painting to sell please contact me. If you want to know what your Clifford Possum Tjapaltjarri painting is worth please feel free to send me a Jpeg. I would love to see it.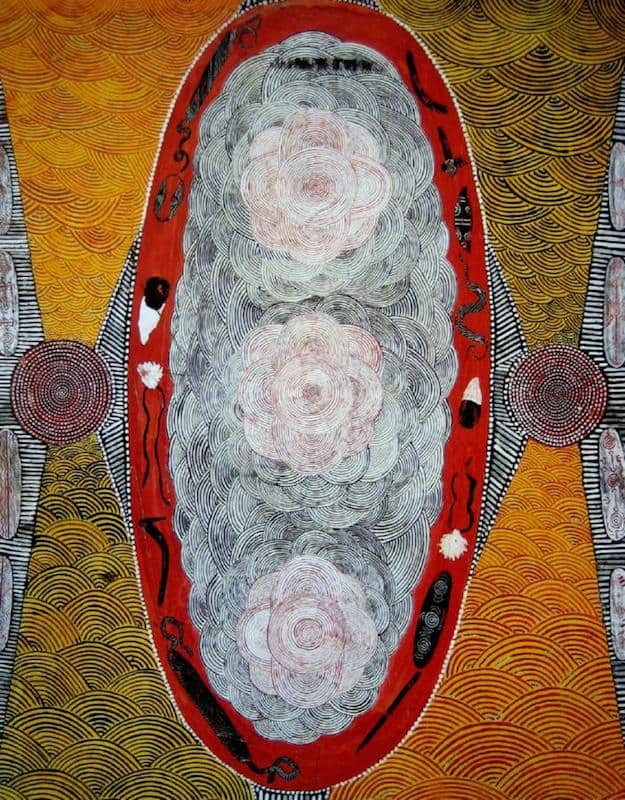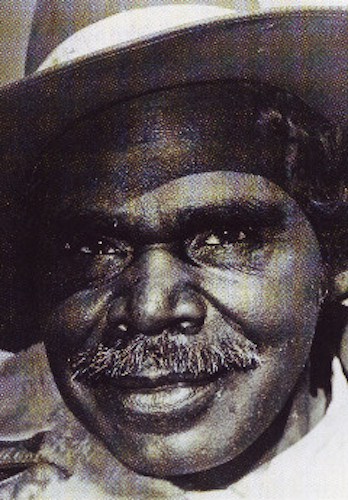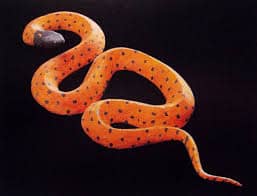 Clifford Possum Tjapaltjarri Early Life
Clifford's father Tjatjiti Tjungurrayai, passed away during Clifford's youth in the 1940's.  His mother, Long Rose Nangala, remarried and settled at Jay Creek with her second husband, One Pound Jim Tjungurrayai.
One Pound Jim was a guide to early travelers and anthropologists and a minor celebrity.  His portrait featured on a stamp and he became the face of the aboriginal desert people
During his early days, Clifford Possum worked as a stockman at Glen Helen, Mount Allan, Mount Wedge, and Napperby Station. At Napperby Station Clifford underwent initiation into aboriginal culture. At Nappeby station he would have worked with Billy Stockman and Kaapa Mbitjana.
Clifford possum started his artistic career at Glen Elen station as a carver. He and his 'brother' Tim Leura soon realized that they could make more through carving snakes and lizards than they could as stockmen.
In the early 1950's Clifford with his cousin Kaapa Tjampitjinpa and Tim Leura worked on the construction of the Papunya settlement.
It was during this period that Clifford married Emily Nakamarra. Emily became the mother of his four children, Daniel, Lionel, Gabriella, and Michelle.
Early paintings
In 1971 Geoff Bardon became a local school teacher at Papunya primary. He tried to encourage local children to paint in their own traditional style. When he realized only older men could paint these stories he decided to start a local men's painting group.
Clifford Possum did not join this group until early 1972 but quickly developed a unique style. His characteristic early style has an innovative use of spatial configuration. He went beyond the more conventional Papunya idiom of dots, circles, and lines.
Clifford had already made money from art during his carving days. He was aware that the market was not just after recordings of traditional stories his art needed to be aesthetically pleasing.
He was also aware of the cultural divide and introduced Western iconography and figurative imagery to convey certain elements in his narratives.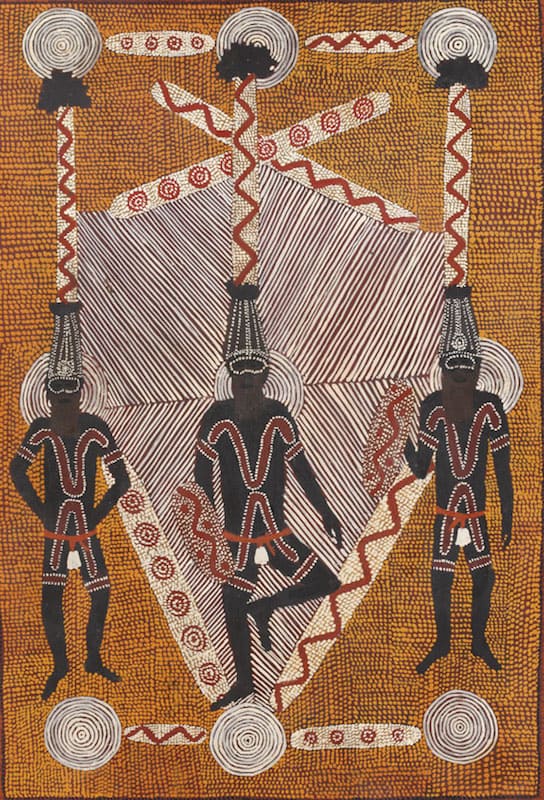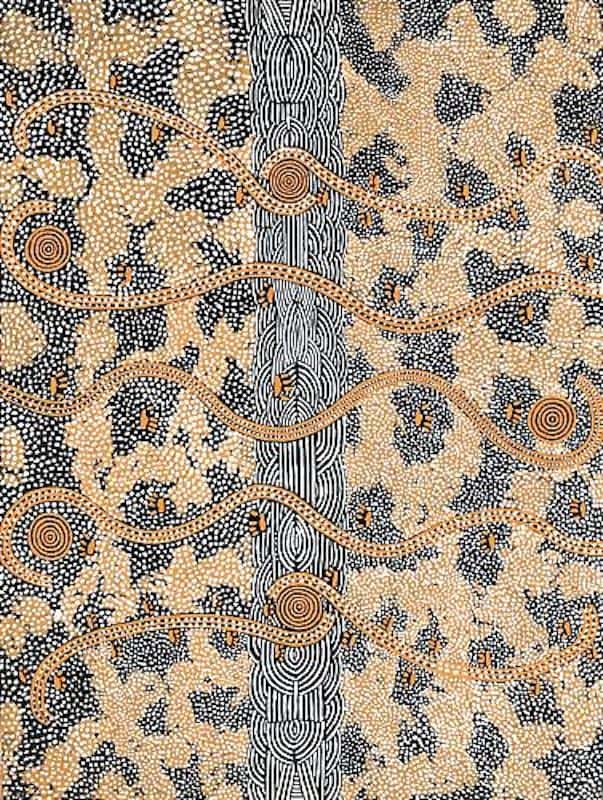 Peak Career
In 1974 aboriginals elders in Alice Springs and in Perth became upset. They felt paintings made visible to much secret and sacred knowledge.
This forced aboriginal artists to change their styles. They had to veil secret information in dots. They had to adapt and paint less important and more secular dreamings. While these hurt artists like Kaapa and Anatjari it suited Clifford Possum's style very well.
Clifford Possum invented and employed his own secular non-traditional motifs. These nontraditional motifs were more intelligible to western audiences.  It allowed him to create imaginative visually interesting compositions without breaking tribal lore.
In the early years, artists had been painting on small pieces of board. By the mid-1970's they were painting on canvas with better paints. Clifford painted prolifically during this period.
Between 1976 and 1979 Clifford Possum painted 5 massive canvasses to map his ancestral lands and their dreamings. He did it in a way that integrated the sacred diagrams of ceremonial ground paintings and the topographical conventions of European maps.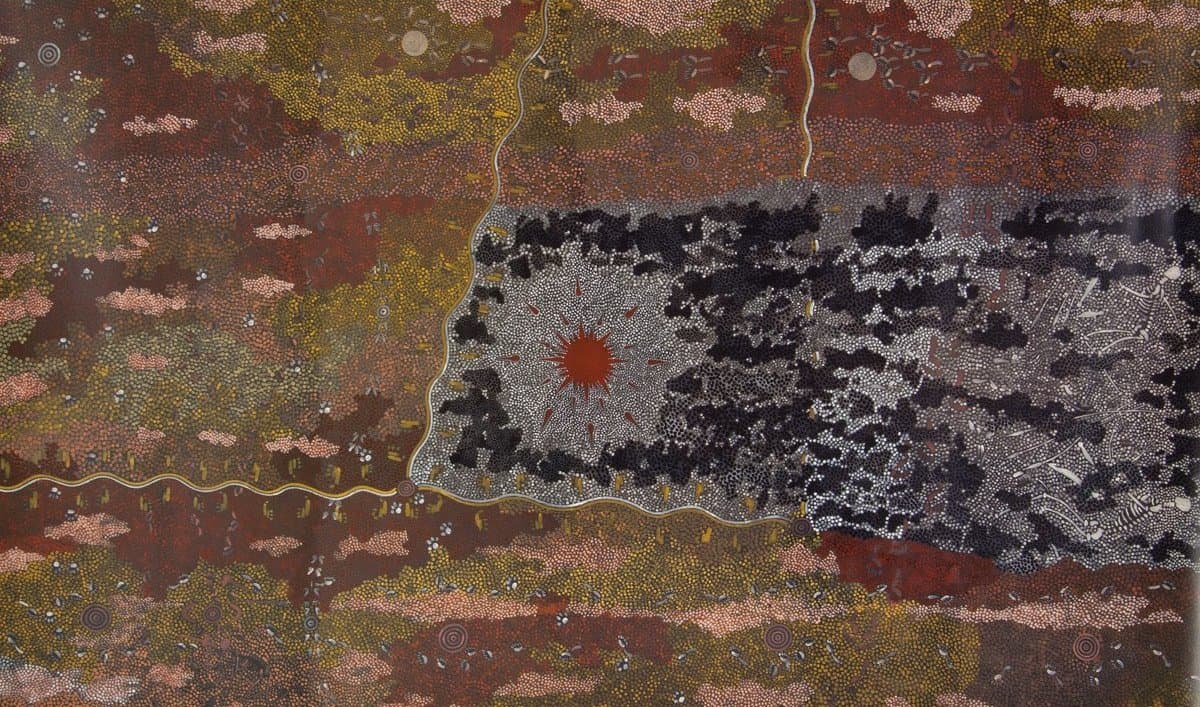 Warlugulong a sacred site wherein ancestral times, Lungkata the Blue-Tongue Lizard Man created the first great bushfire.
The main significance of this Dreaming or Tjukurrpa lies in the fact that it connects a number of language groups across the western deserts
The main subject of the painting is Lungkata's punishment of his two sons who did not share their catch of kangaroo with their father. The skeletons of the two boys are in the atmospheric effect of charred earth, smoke, and ash on the right.
The painting also connects with other dreamings. These Dreamings include a group of women from Aileron dancing across the land, represented by their footprints in the top right running laterally across the canvas. Below these are the tracks of a large group of Emus returning to Napperby. The footprints of the Mala or Rock Wallaby Men, traveling north are in the vertical line of wallaby tracks to the left of center. Further to the left are the tracks left by the legendary Chase of the Goanna Men. The footprints of a Tjungurrayi man who attempted to steal sacred objects run laterally along the lower edge towards a skeleton in the lower left, indicating the man's fate.
Late Career
In the mid-1980's Clifford returned to his Anmatjerre homeland at Mount Allan. He began selling his works directly to the government marketing company, Aboriginal Arts Australia, in Alice Springs.
Unfortunately, now he also signed and passed off many other works by other artists as his own.
In the late 1980's he produced a large body of works for John O'Laughlan who acted as his agent and traveled with him to an exhibition in London. While in London Clifford had an audience with the Queen which he described as a highlight of his career.
By the 1990's Clifford was addicted to alcohol and gambling. He was producing a large number of perfunctory minor works. He was also regularly signing paintings that he 'owned' but did not actually paint.
Clifford's career and standing reached its low point in the 1990s. A solo exhibition exposed as being almost entirely composed of fakes.
When Clifford came down to view the exhibition he visited the Art Gallery of NSW and other institutions. He pointed out countless works which he denied having painted.
Although physically unwell and with failing eyesight Clifford Possum lived throughout his final years in a loving relationship with Milanka Sullivan at Warrandyte in the hills outside of Melbourne.
He died in 2002 and posthumously honored with a solo retrospective by the Art Gallery of South Australia.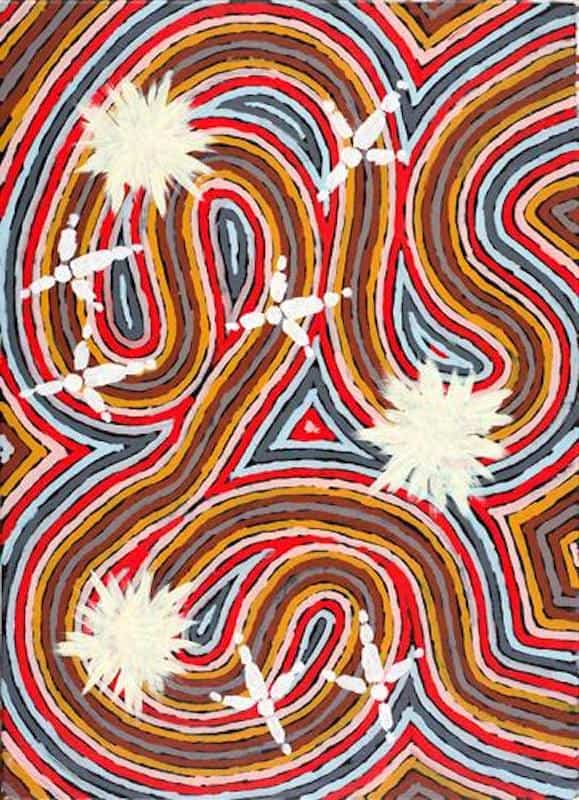 Love Story
Love Story

, 1972 a tale of forbidden love is one of Tjapaltjarri's most significant Dreaming narratives
.
The Dreaming story is set at the sacred rock hole site of Ngarlu, for which the Tjungurrayi and Tjapaltjarri men are custodians
.
Love Story
is the principle Dreaming of this site. The Tjungurrayi man, Liltipililti, seduces a Napangarti woman, a forbidden union. The seduction is through the singing of Love Magic and spinning of hair on a spindle. The spindle looks like a spider's web in the painting's top left quadrant.
The foot prints descending to and from the center, represent the Woman.
The bright orange pointed elliptical shape to the right of the central circle represents her pudenda
. It is a representation of their illicit lovemaking.
The designs at the top and bottom of the composition are sand drawings of the Napaltjarri women who visited the camp during the night
.
The three elliptical forms within the white concentric circles of the right-hand quadrant are the dance boards used by the women
.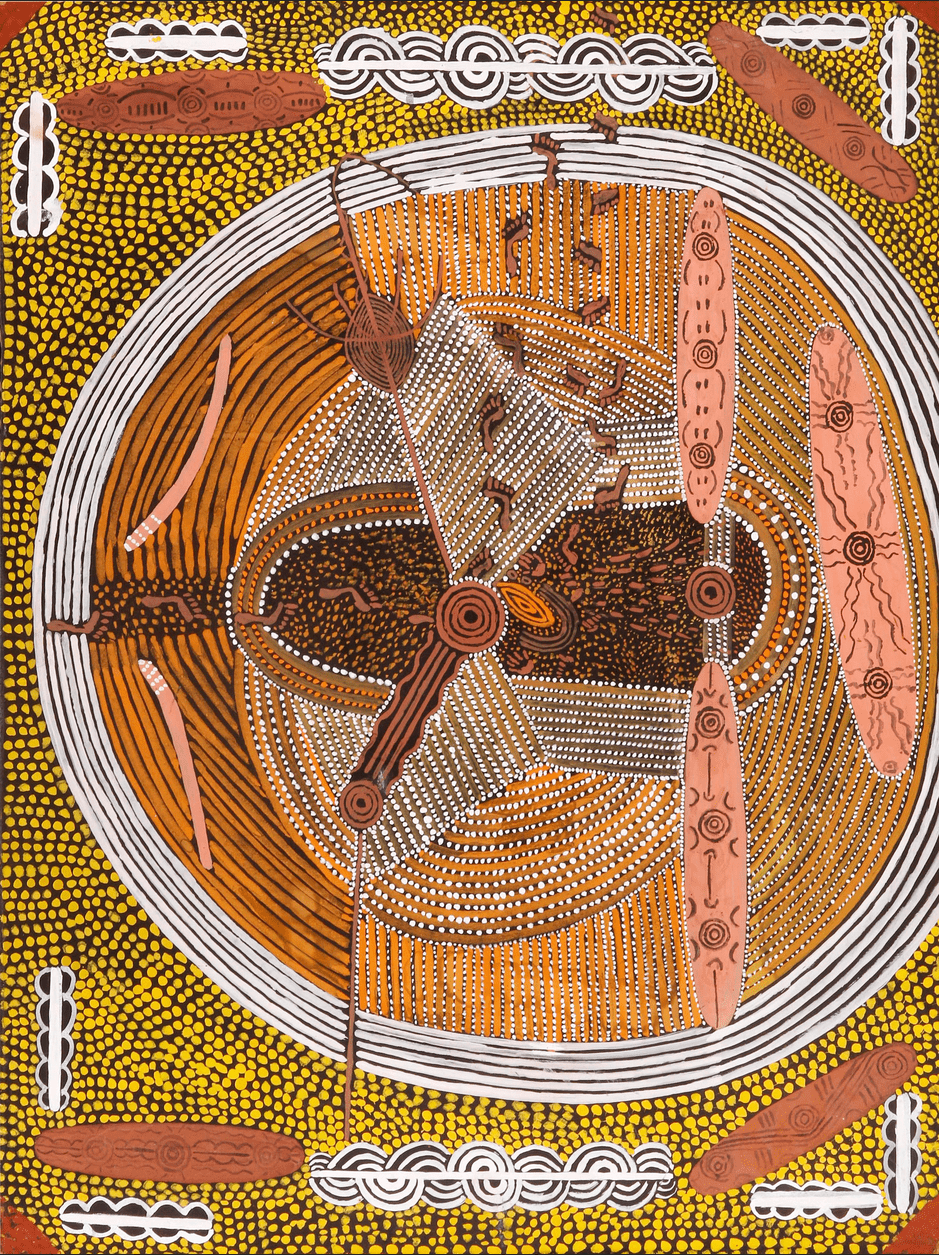 Early Papunya Artworks and Articles
All images in this article are for educational purposes only.
This site may contain copyrighted material the use of which was not specified by the copyright owner.
Clifford Possum Tjapaltjarri Images
The following images are not the complete known work by this artist but give a good idea of his style and range.
If this post has been informative please take the time and make the effort to share it on social media

. By clicking any of the share buttons below you create a link from your social site to this article. Links are what google uses to calculate what information on the web is useful. By sharing this article you are letting google know you found my article / images of some value. Thanks!