Groote Eylandt paintings are usually on a black background and have a characteristic of dashes or dots as infill. They have a strong graphic aesthetic quality with early works usually depicting a single totemic animal. Most paintings are on rectangular sections of stringybark but some are on sawtooth shark bills.
The classic style has a monochrome black background with figurative elements outlined with contrasting red, white, or yellow. The figurative elements infilled with dashes dots.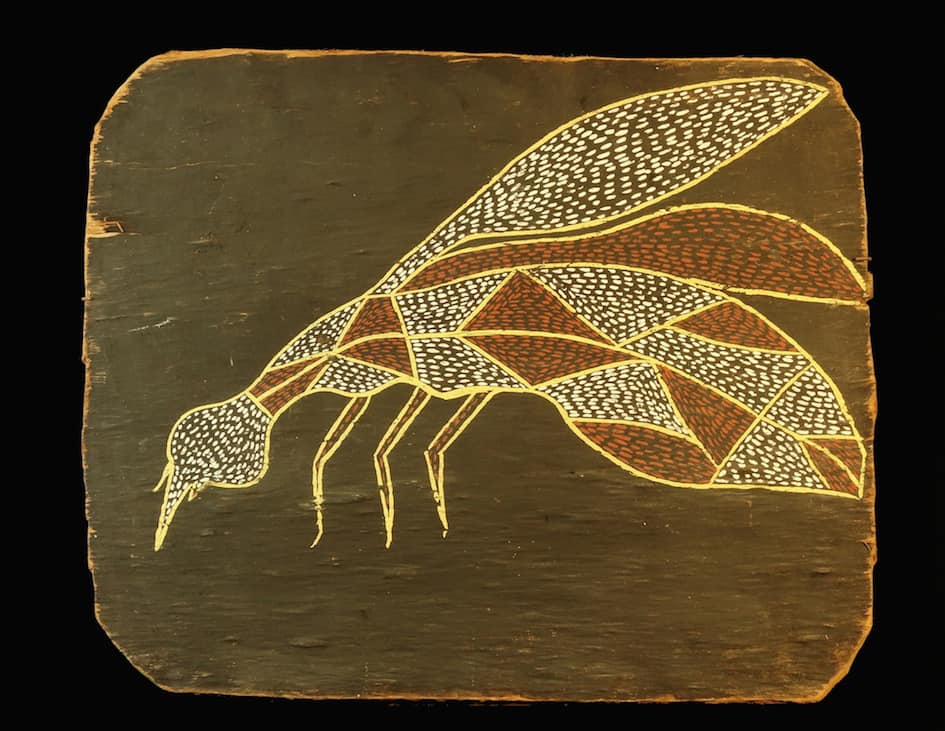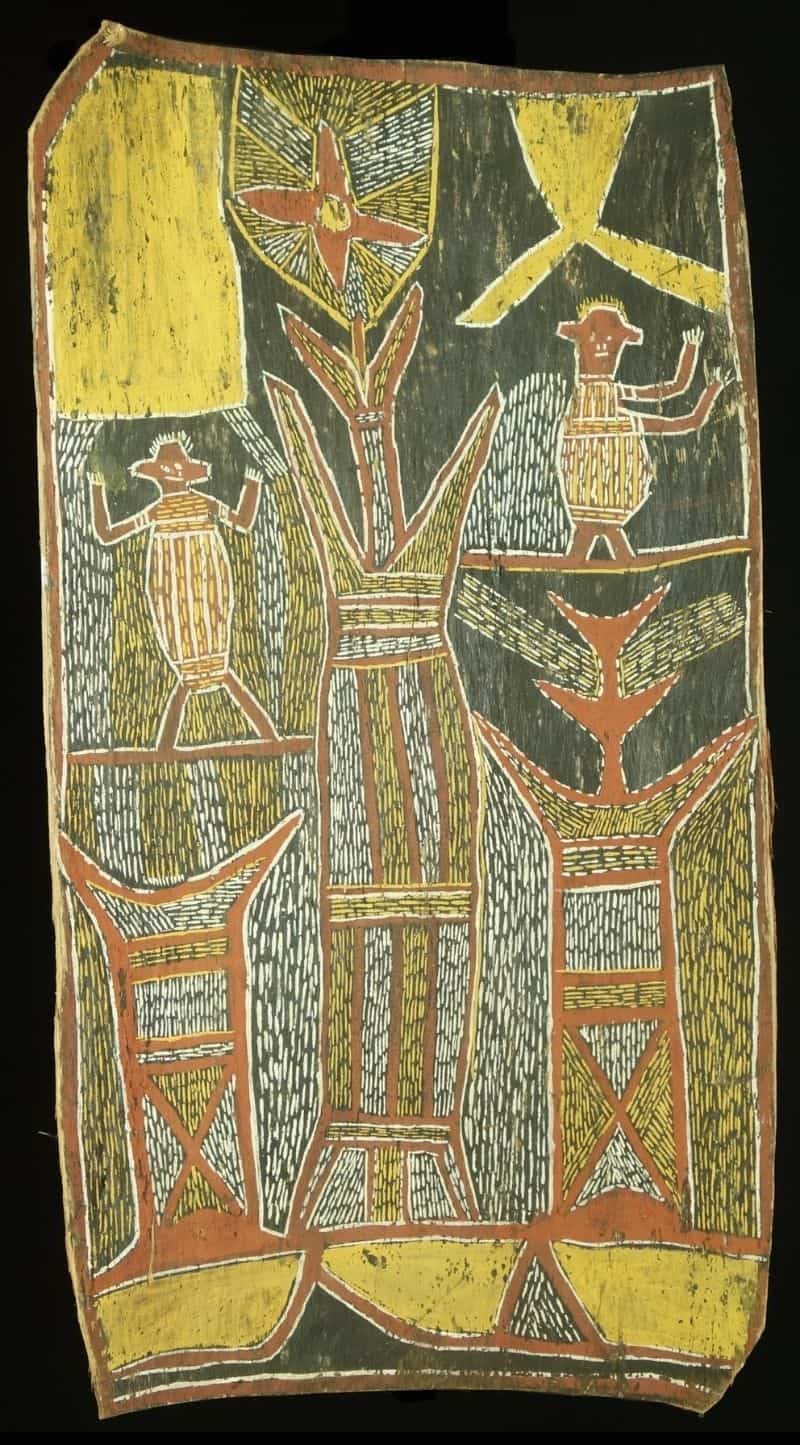 Later Groote Elandt Paintings
Later works depict legends and songlines and often have the background also infilled.
The 1960s and '70s were the period of peak painting production with painting coming to a rapid decline as soon as manganese mining commenced.
Many of the 60-70s bark paintings were sold through the Church mission society at Angurugu.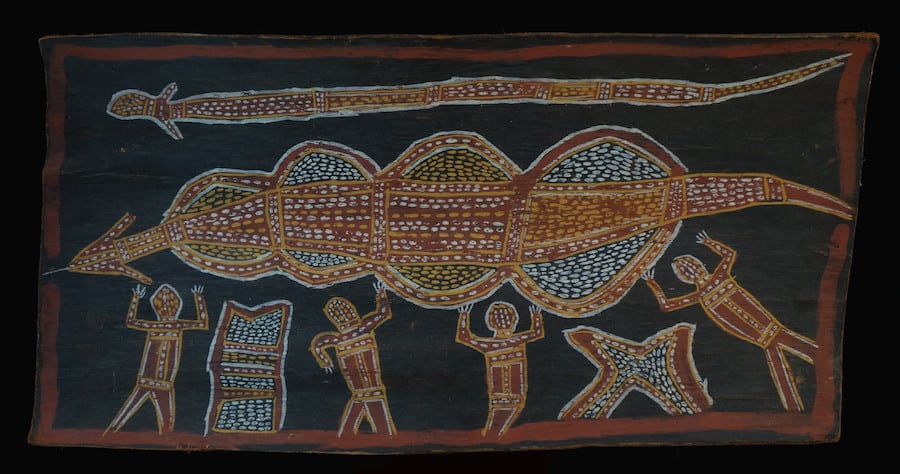 Groote Elandt Rock Art
Groote Eylandt bark painting has its roots in the past. Like other traditions, it developed from rock art and had a magical or ceremonial purpose. Groote Eylandt is well known for several important rock painting sites. The rock art imagery relates directly to that found on sheets of bark.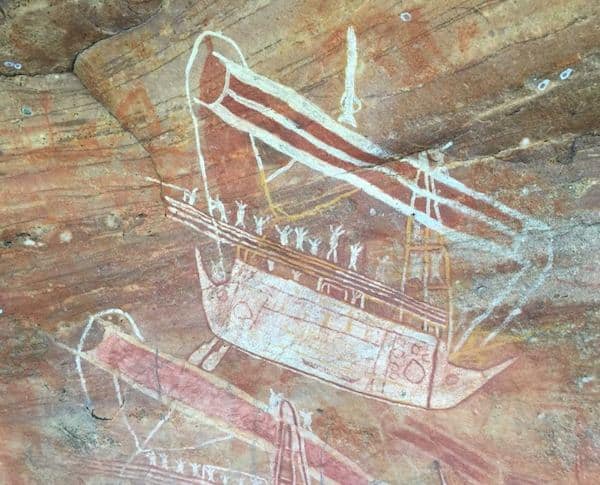 Groote Eylandt paintings history

Europeans have collected the art from Groote island almost as soon as they arrived. Groote Islanders painted and decorated the inside walls of their bark huts. Anthropologist Norman Tindale in 1921-1922 made the first collections of bark paintings. This collection is now in the collection of the South Australian Museum. Frederick Rose made another large collection in 1938, with the help of Fred Gray. Fred Gray encourage local Groote Islanders to paint barks as a means of financial independence.
Charles Mountford collected his work in 1948 during the American Australian Scientific Expedition. In the 1950s, the Rev. L.M. Howell commissioned eight sets of narrative paintings from Thomas Nanjiwarra. Later, Helen Groger-Wurm collected Nandjiwarra's barks and these became the National. Gallery of Australia's first major acquisition of Aboriginal art in 1972.
In the 1960s and 70s, this distinctive and celebrated style reached a peak. It ceased with the advent of manganese mining operations which brought a disruptive influence to the island.
Groote Eylandt bark painting meanings
Without knowing the story the painting opposite is easily interpreted as a fishing scene. It is however a depiction of the traditional dreaming creation story of the Southern cross
This is a Groote Eylandt variation of Aboriginal beliefs about the origin of the heavens.
In the night sky, the stars of the Southern Cross and the Coal Sack
are given
significance in Aboriginal stories
. In the waters of the celestial stream, the Milky Way, a large fish Alakitja, was speared by two brothers. The brothers dragged the fish to the bank. Each brother had his own fire on which he cooked his
portion
of the fish. The two fires are stars of the Southern Cross, Delta, and Gamma.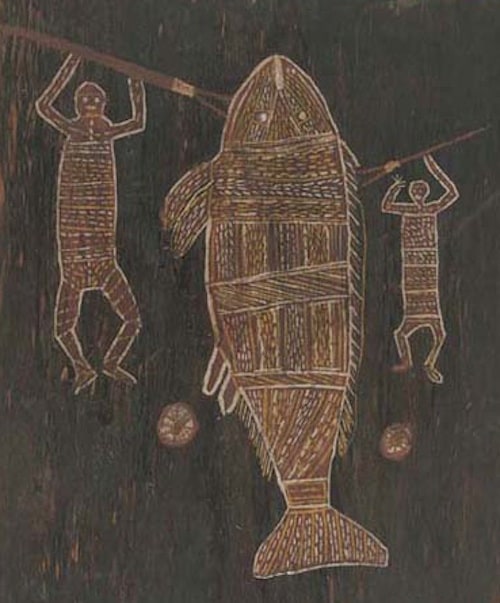 Often the artist's name is not recorded on Bark paintings from Groote Eylandt. This is in part because bark paintings at the time considered ethnographic oddities. This resulted in few pieces with the name of the artist and story accurately recorded. Manganese mining and the associated westernization in the '70s bought painting to a virtual standstill.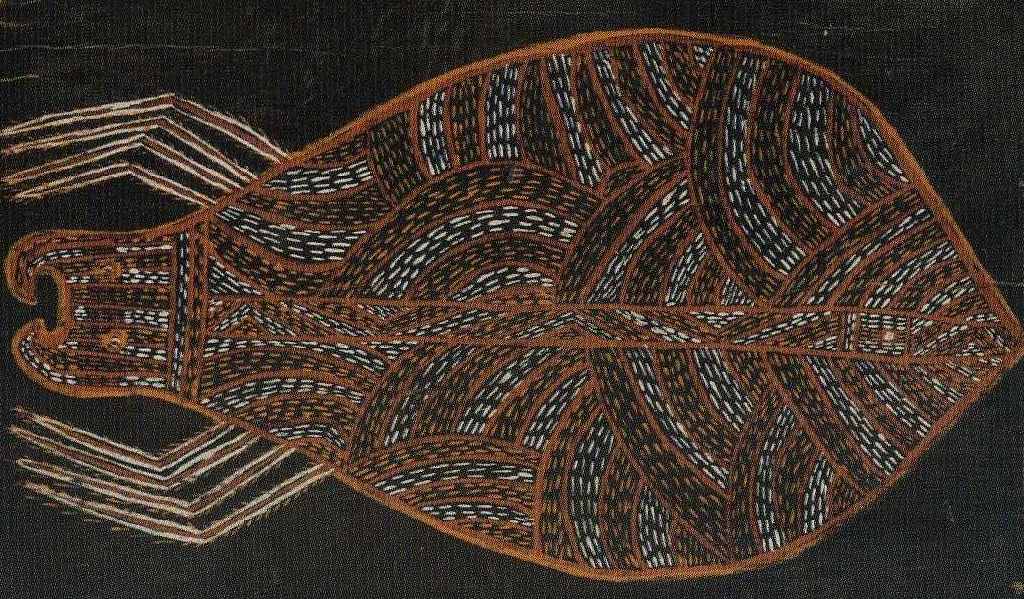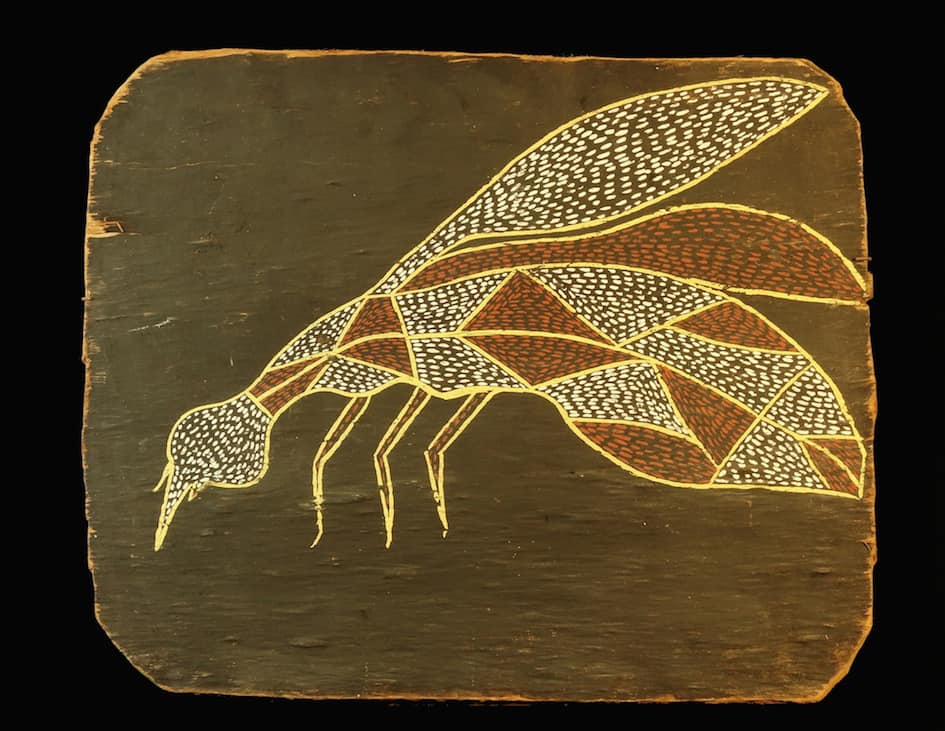 Thomas Nandjiwarra Amagula
Thomas Nandjiwarra Amagula is one of the best-known aboriginal artists from the Groote Eylandt Islands. His most valuable works are those depicting traditional ceremonies and Dreamtime stories.
Amagula painted in the traditional style of Groote Eylandt using colored dashes on a black background. Thomas Nanjiwarra was also a political negotiator and traditional leader. He played a pivotal role in manganese mining agreements. He received an MBE at the age of 45 for service to his community.
Nandabitta Maminyamandja
Nandabitta Maminyamandja artworks depict the origin legend stories of the Anindilyakwa people. He was born before the first Christian mission influence on Groote Eylandt in 1921, and grew up in a traditional lifestyle.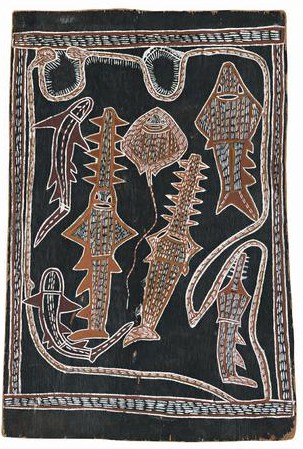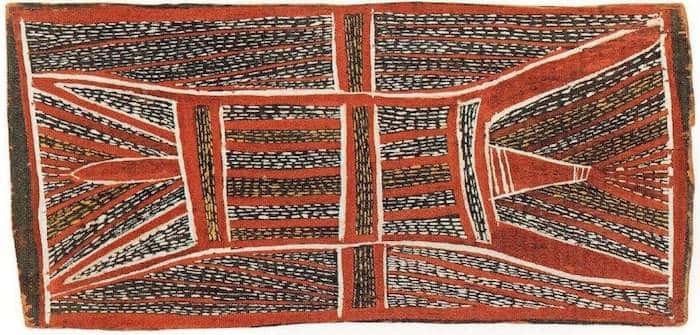 Jabarrgwa (kneepad) Warrabadalumba
Jabarrgwa (kneepad) Warrabadalumba is best known for his depictions of the Dreamtime story of the East Wind. His painting of the bloodwood tree are highly distinctive
Minimini Numalkiyiya Mamarika
Minimini Numalkiyiya Mamarika (1904-1972) is best known for bark paintings depicting maccasan prau (Fishing boats). One of these boats according to legend turned to stone and became a small island. It is likely Minimini was custodian to that dreaming.
Groote Island Prau's on bark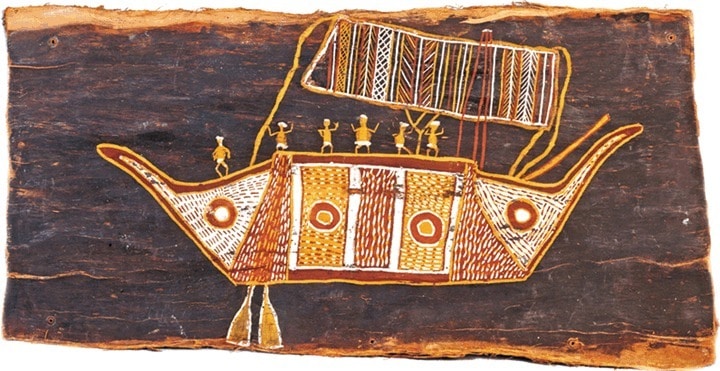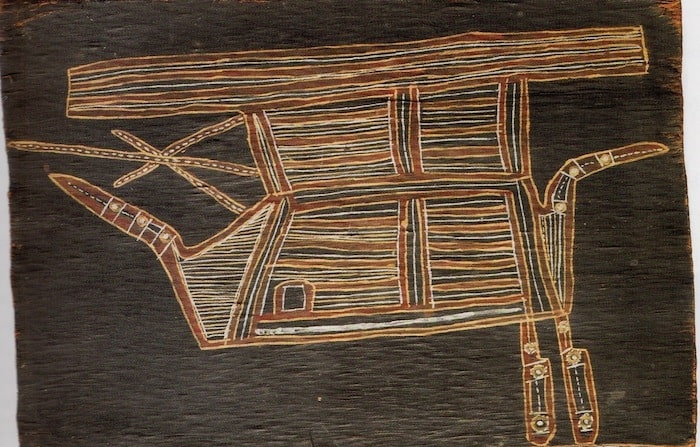 Macassan Prau by
Wurrumara (old Sambo) Barumba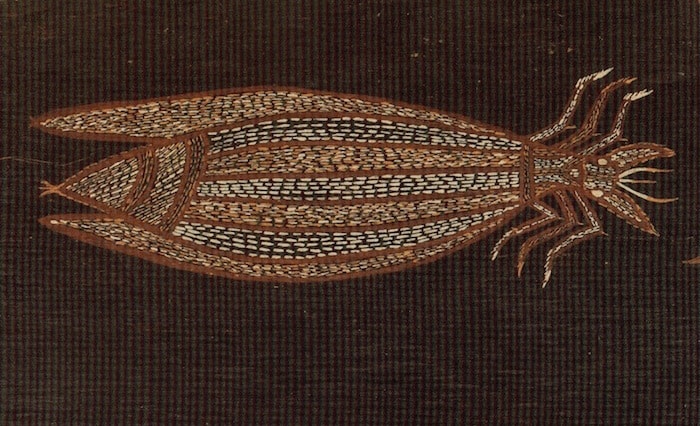 Unknown insect by
Wurrawilya (Bill) Namalyangkwa
Groote Eylandt Artists and Art
All images in this article are most importantly for educational purposes only.
This site may contain copyrighted material the use of which was not specified by the copyright owner.
If this post has been informative please take the time and make the effort to share it on social media

. By clicking any of the share buttons below you create a link from your social site to this article. Links are what google uses to calculate what information on the web is useful. By sharing this article you are letting google know you found my article / images of some value. Thanks!