John Bulunbulun Aboriginal Art
Aboriginal Artist John Bulunbulun was an Arnhemland artist best known for his depictions of the long-necked turtle. He often repeats an animal motif many times in a similar manner as George Milpurrpurr. John was also a ceremonial dancer eminent singer and leader of his people.
If you have an artwork painted by John Bulunbulun I would love to see it. I am happy to give you an idea of the value of the artwork and if it is exceptional make an offer to buy it.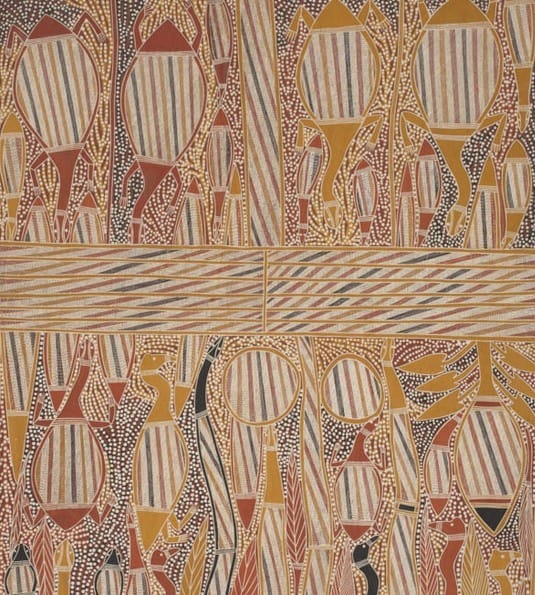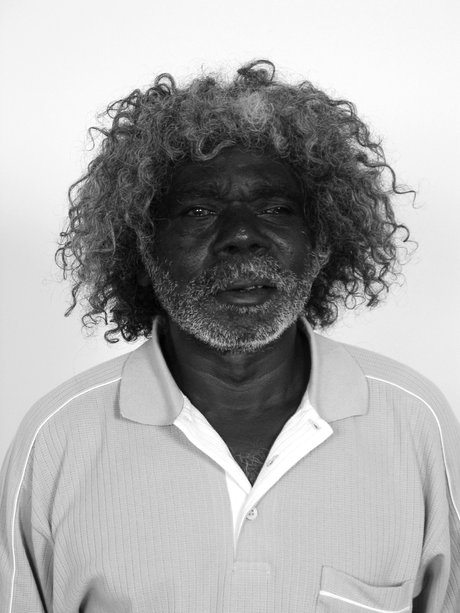 Biography John Bulunbulun
John Bulunbulun was born in 1946 in Ngaaliyindi near the Arafura Swamp. He belonged to the Gurrambakurramba clan and spoke Ganalbingu Language. As a young man, Bulunbulun trained in traditional customs under George Milpurrurru. He learned to paint and carve by watching his father Ngarritj and his uncle Peter Bandjurldjurl. After his initiation, Johnny and his family moved from their country to Nangalala.
When Bulunbulun's father passed away he moved to Maningrida to live with his uncles. In Maningrida, Bulunbulun stopped painting as he grieved for his father. He worked as a carpenter, at the sawmill, and as a plumber. Bulunbulun also worked as part of a team driving bullock from Maningrida to Bulman.
In Mandigrida he met his first wife Nelly sister of another aboriginal painter Jack Wunuwun. He lived in a bark hut in Maningrida and commenced work as the first Indigenous Art worker at the still emergent Art Centre. John immersed himself in his art practice, applying what he had learned from his father.
Bulunbulun also became a ceremonial leader. He was one of the most eminent singers and ceremonial men in North-Central Arnhem Land. He was the custodian of Marradjiri (birth of a child), Djapi (young boy's initiation), and Murrkundjeh (mortuary/funeral) ceremonies.
Later Career
When his first son was born Bulunbulun moved to his wife's country at Gamerdi. It was here that Bulunbulun became a full-time artist. He honed his painting skills and perfected what were to become the trademarks of his work.
Many of these artworks ended up being for sale at the Maningrida Art Centre.
In 1979, Johnny Bulunbulun and David Milaybuma produced the first limited edition prints by Aboriginal artists.
Throughout the 1980s Bulunbulun collaborated with other artists from Maningrida. He also worked with the National Museum of Ethnology, Osaka, Japan, and filmmakers Curtis Levy and John Darling.
In 1989 Bulunbulun took R & T Textiles to court for copyright infringements.  The Queensland t-shirt company had illegally reproduced one of his works 'Magpie Geese and Water Lilles at the Waterhole'. This case was to become a landmark in Indigenous intellectual property rights.
In 1992, he lead a group of ten performers to Sulawesi. Here they performed the Ganalbingu ceremony to the Macassar people.
Then in the early 2000s his work went on exhibit in Spain, France and the Netherlands. In 2001 Bulunbulun won the Bark Painting section of the Telstra National Aboriginal & Torres Strait Islander Art Award. In 2004 he was the recipient of the Red Ochre Award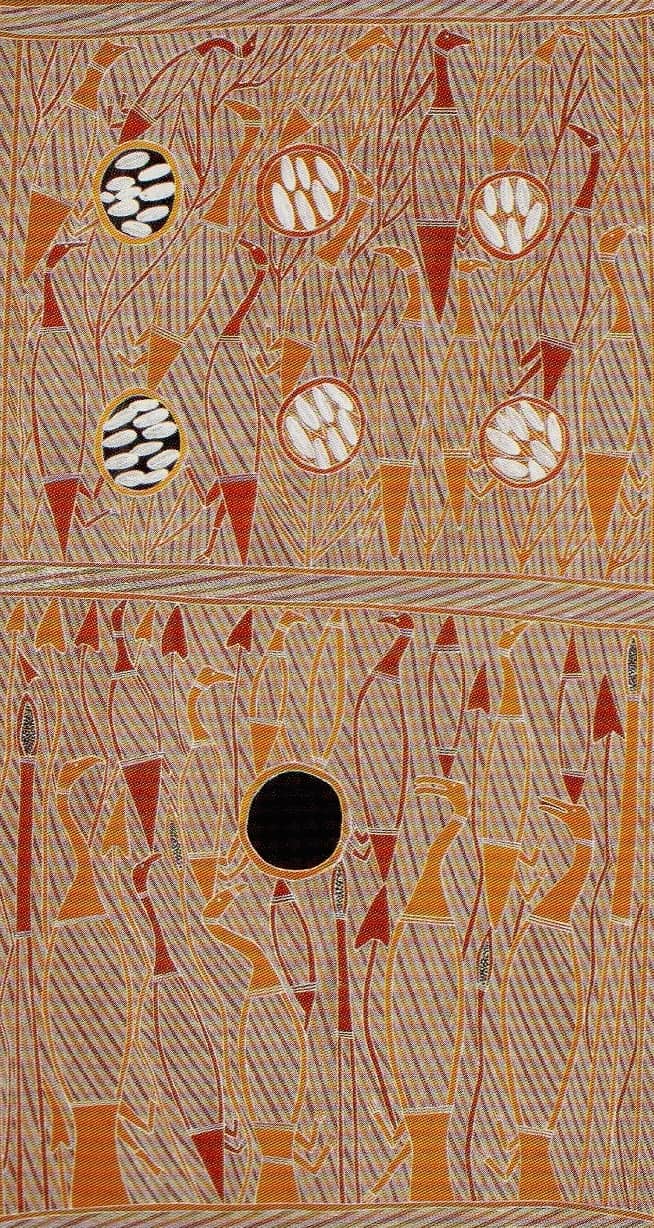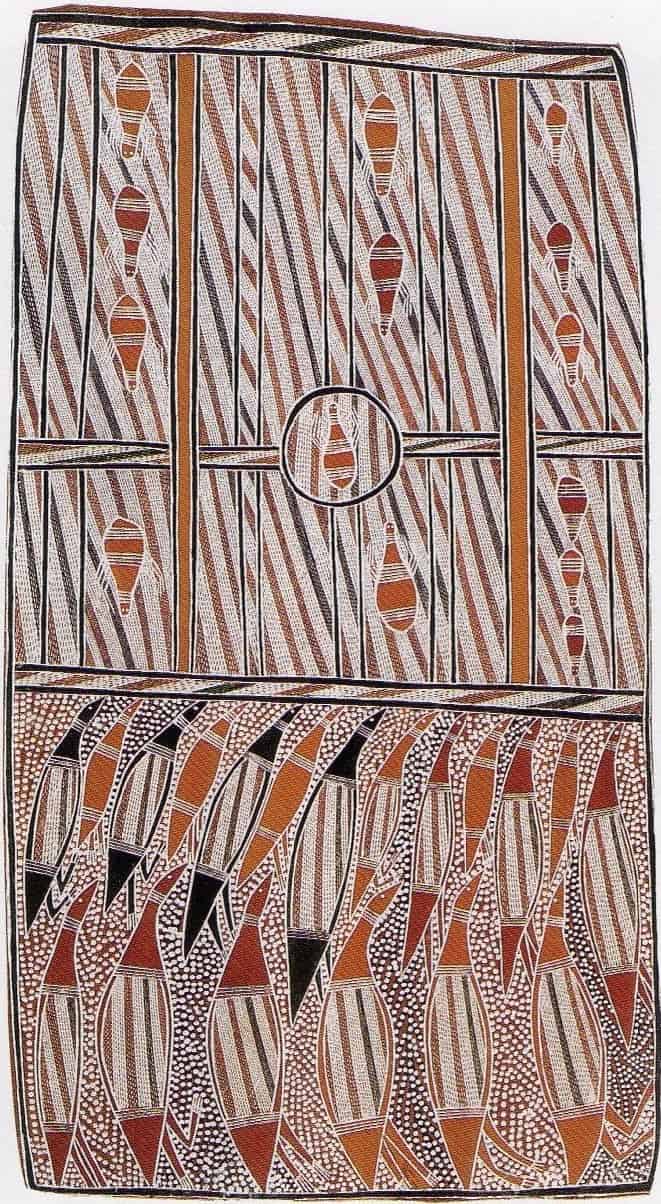 Artwork and Style
Bulunbulun artwork like many Central Arnhem land artists varies greatly. He uses a variety of techniques within a single work. Some areas will have solid blocks of color while others intense cross-hatching. He had a preference for a white background which makes his delicate crosshatching stand out.
Like George Millpurrupurr, Bulunbulun draws inspiration from the animals of the Arafura swamp. He repeats the animal motif many times to ensure a feeling of continued plenty. These animals include the magpie geese, snakes, fish, and long-neck turtles. The long-neck turtle Guwaynang was Bulunbuluns spiritual totem. It is, for this reason, it appears in most of Bulunbuluns artworks
The long-neck turtle Guwaynang is also an especially important animal in the cosmology of Bulunbulun's homeland. In different stories, the long-neck turtles are male, female, or sisters. The Guwaynang story connects to the more widely known ancestral story of the Sisters. The sister created much of the landscape in Eastern Arnhem Land. Guwaynang dreaming is a traditional story or dreaming that explains the creation of the landscape and the people.
Bulunbuluns paints several barks separated by a horizontal bar-like element. This element depicts a sacred log called Junggibarparnyamurru. This log is extremely sacred. It was at this log the mythical sister turtles separated. One sister journeyed on to form the Ganalbingu speaking clans while the other created the Wurlaki speaking clans.
Other Aboriginal Art and Artists
All images in this article are for educational purposes only.
This site may contain copyrighted material the use of which was not specified by the copyright owner.
Bulunbulun artwork Images
The following images are of the Artworks of Bulunbulun. It is not a complete list of his works. They do however give a good idea of the style and above all the variety of this Aboriginal Artist.
If this post has been informative please take the time and make the effort to share it on social media

. By clicking any of the share buttons below you create a link from your social site to this article. Links are what google uses to calculate what information on the web is useful. By sharing this article you are letting google know you found my article / images of some value. Thanks!