Tim Leura Tjapaltjarri was one of the founding members of the Western desert Aboriginal art movement
. His early works often on Composition board have great detail and symmetry. He is better known for his the latter paintings on large canvasses.
Many of these later works he achieved together with his younger brother Clifford Possum
.
Some of his artworks are
highly
collectable.
This article assists readers in identifying if their Aboriginal painting is by Tim Leura Tjapaltjarri
. It compares examples of his work.
If you have a Tim Leura Tjapaltjarri Aboriginal painting to sell please contact me. If you want to know the value of your Tim Leura please feel free to send me a Jpeg. I would love to see it.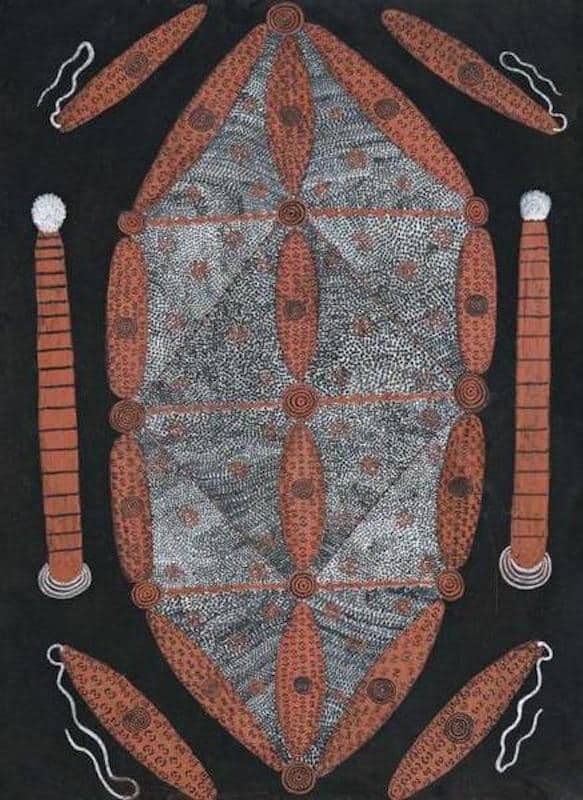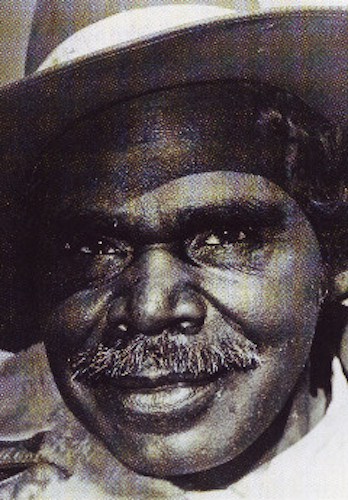 Tim Leura Early Life
Tim Leura Tjapaltjarri was born in 1934 and grew up and worked around Napperby and nearby cattle stations. The cattle stations had taken over his traditional tribal land and he became a stockman. Working for white people gave him a command of English as well as some familiarity with European ways. Tim formed close contacts with other aboriginal stockmen at this time including Billy stockman Kaapa and Dinny Nolan.
His clan still maintained tribal traditions and Leura was fully initiated and versed in ancient aboriginal lore.
In Napperby a small cottage industry for making carved painted animals for visiting tourists emerged. Tim Leura and his younger brother Clifford possum were well known for their carvings of snakes and Goannas. He also painted shields
In the 1960's he settled with his wife Daisy and their six children in Papunya.

Early Painting
In 1971 Geoff Bardon became a local school teacher at Papunya primary. He tried to encourage local children to paint in their own traditional style. When told only older men could paint these stories he decided to start a local men's painting group.
Leura was one of the first people to join this group and acted as an interpreter between artists and Bardon
Leura initially followed the ordered and symmetrical style that typified his Anmatyerre Arrernte tribal group. He was drawn to subdued tones, mixing colors, dotting on to wet grounds, and blending outlines. His shapes would often run into each other.
Tim Leura Tjapaltjarri quite quickly began to develop his own distinctive painting style. He did not stick strictly to traditional designs but was willing to alter his work to make it more appealing to Europeans.
This desire to straddle the cultural divide helped him to become a leading figure in Aboriginal art.
Tim Leura anguished over the loss and the humiliation his people had suffered. At the same time he recognized that the eternal stories of his Dreaming should remain alive and passed on to the new generation.
With the start of the Aboriginal Arts Board in 1972, Leura participated in a successful delegation to Sydney. This deligation succeeded to secure funds for the emerging Papunya Tula enterprise
Tim was mentor and older skin brother of  David Corby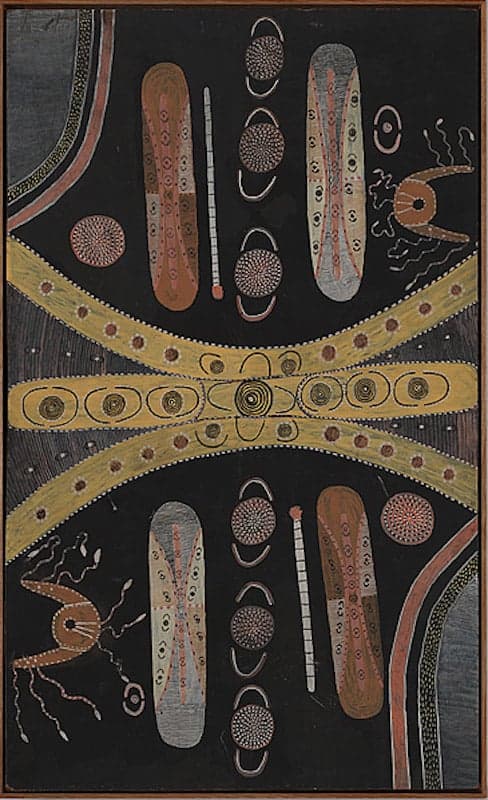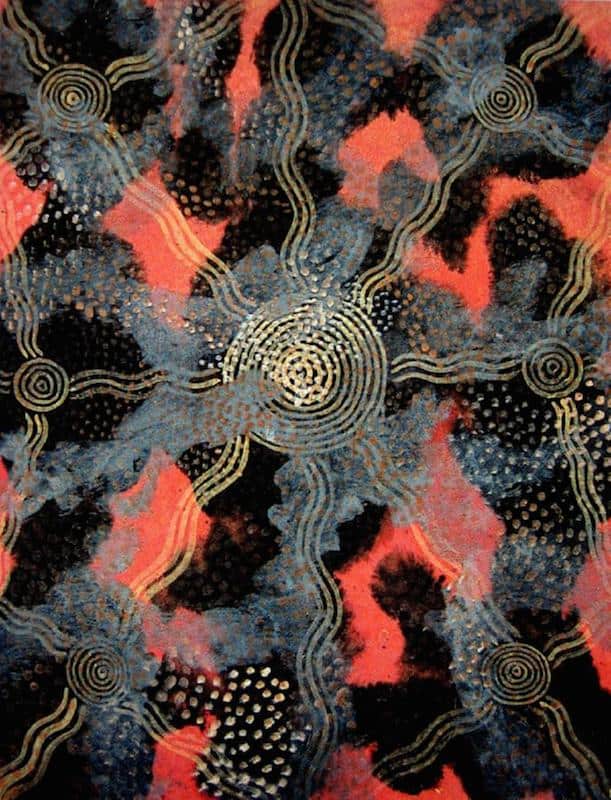 Middle Career
In 1974 artworks for sale at Alice Springs and in Perth caused severe problems for Bardons painting group. Other aboriginals were very upset that to much secret and sacred knowledge was being painted. This lead to the group having to veil secret designs with dots and paint less important songlines.
Tim Leura Tjapaltjarri moved away from traditional totemic mapping towards increasing artistic experimentation.
This suited Tim Leura well as he had been experimenting and adjusting designs for some time. His art was already more in keeping with the move to secularise the sacred Dreaming stories. With great subtlety, he would include stylised animal, plant or skeletal human figures. He achieved this without disturbing his partiality for balance and clarity of design.
He painted on canvass in brighter colors and often he depicts traditional songlines but then heavily veils them. It is the dots and design elements that are now so often recognized as being aboriginal dot art.
Late career
Tim Leura Tjapaltjarri was "brothers" with Clifford Possum and not only his spiritual mentor but instrumental in the development of Possum's talent and technique. Today  Clifford is by far the better known of the two.
In the mid 70's Leura and Clifford collaborated on a series of monumental paintings incorporating several Dreaming stories in a map like configuration. These collaborative canvasses are masterpieces of Central desert art.
These collaborative masterpieces involved both artists but often attributed solely to Clifford Possum.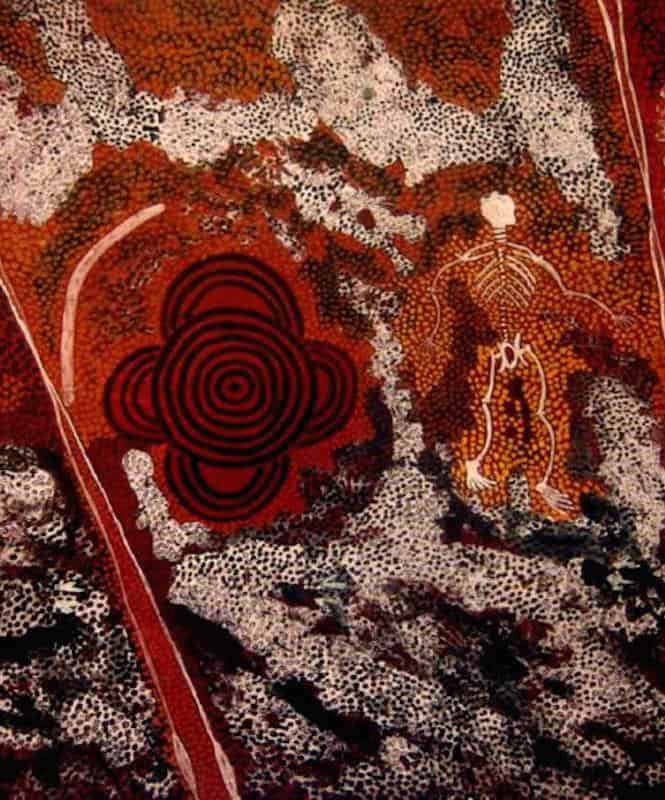 Napperby Spirit Dreaming
Napperby Spirit Dreaming, was collaboratively painted in 1980. It was the principal painting in the landmark Asia Society, Dreamings exhibition. It is now in the collection of the National Gallery of Victoria. This seven-metre masterpiece departs from strict tradition to reveal a subjective gathering of their Leura and Clifford's life history.
It contains areas which depict the Dreaming totems that sustained their life while a classic journey line runs through them. The journey line passes a skeletal spirit figure who waits and watches beside three resting spears.
The sombre, dappled surface reflects the deeply felt memory of Leura's birthplace. It recreats qualities of the landscape: leaves, smoke and grass, sand and earth imprinted with tracks and footprints.
Clifford Possum's crisp traveling line and central row of circles, contrasts with Leura's meandering mode of building atmosphere through the disolution of solid form.

This painting in which death is dramatically prefigured was Leura's last work. Tim Leura became ill not long after finishing it and wandered lost and disoriented for a time before dying in hospital of a brain tumor,
Tim is sometimes referred to as Timmy Learah
Early Papunya Artworks and Articles
All images in this article are for educational purposes only.
This site may contain copyrighted material the use of which was not specified by the copyright owner.
Tim Leura Tjapaltjarri Images
The following images are not the complete known work by this artist but give a good idea of his style and range.
If this post has been informative please take the time and make the effort to share it on social media

. By clicking any of the share buttons below you create a link from your social site to this article. Links are what google uses to calculate what information on the web is useful. By sharing this article you are letting google know you found my article / images of some value. Thanks!