Jamalula Old School Oenpelli bark painter
Jamalula is one of the old school original bark painters from Oenpelli. The aim of this article is to assist readers in identifying if their aboriginal bark painting is by Jamalula. It compares examples of his work. He painted in a Western Arnhem Land Oenpelli Bark Painting style
If you have a Jamalula painting to sell please contact me. If you want to know what your Jamalula painting is worth to me please feel free to send me a Jpeg. I would love to see it.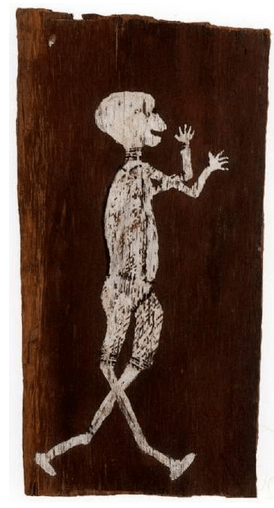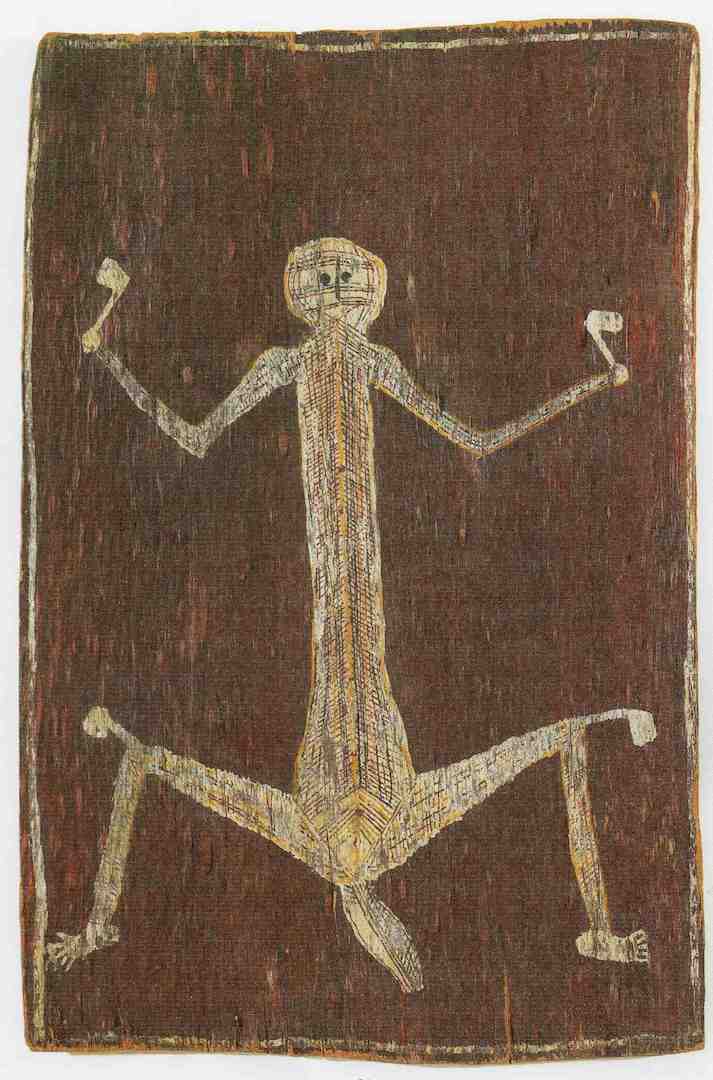 Style
Bark paintings by Jamalula with Mimih figures, Namarrkon or human beings on them are more popular and valuable. His barks of animals are not highly sorted.
His most valuable works either depict ceremonies or are series of barks. Series of barks were like a book to illustrate a traditional story to initiates. He was very minimalistic in his approach when painting barks. This works very well in some paintings but can look stark in others.
He often depicts figures with either very small eyes or with no eyes at all. The eyes are at the very front of the face.
His barks are like those found on cave walls. They are simple but can exude power.
He was amongst the old school of bark painters like Naiyomeolmi or Spider Nabuna
His animals and birds on bark reflect his clan's totemic relationships. These include fish, mud crabs, wallaby, snakes, and turtles.
Biography
Jamalula was born around 1910 and died in the early 1960's. He spoke Maung and was from Yiwaidja cultural area. Along with many other Arnhem Land Artists who did bark paintings, there is not a lot of information available about Jamalula. If anyone knows more information about the biography of Jamalula, please contact me. I would like to add it to this article.
Jamalula can also be spelled Djumbalulu or Jambulula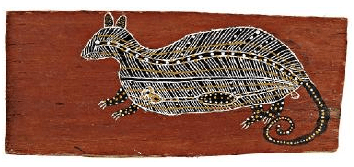 All images in this article are for educational purposes only.
This site may contain copyrighted material the use of which was not specified by the copyright owner. 
Western Arnhem land Artists and Artworks
Jamalula Bark Painting images
The following images are not a complete list of the artist's works but give a very good idea of his style and variety.
If this post has been informative please take the time and make the effort to share it on social media

. By clicking any of the share buttons below you create a link from your social site to this article. Links are what google uses to calculate what information on the web is useful. By sharing this article you are letting google know you found my article / images of some value. Thanks!