Tommy Barnes : Pioneer Aboriginal Artist
Tommy Barnes was a well know early Aboriginal artist. His aboriginal name was either Yackaduna or Warra-euea. He came from the Kwatkwat people. He lived in or close to the Upper Murray River all his life.
His drawings are some of the earliest examples of Aboriginal art and are collectible.
If you have a Tommy Barnes drawing to sell please feel free to contact me. If you want to know what your Tommy Barnes drawing is worth please send me an image. I would love to see it.
Other Pioneering Aboriginal artists like Yirawala and Cardo were not active for a hundred years after Barnes.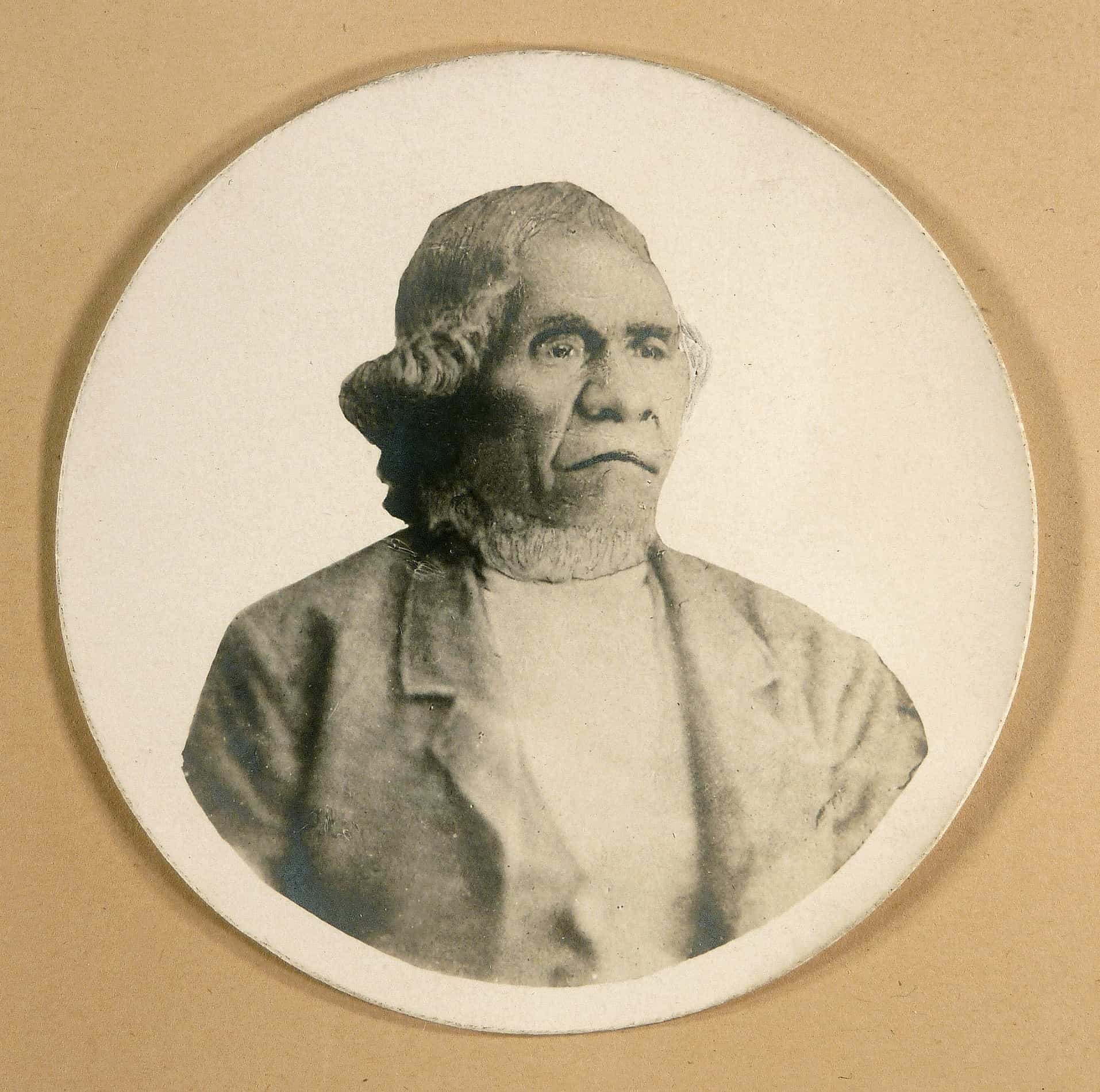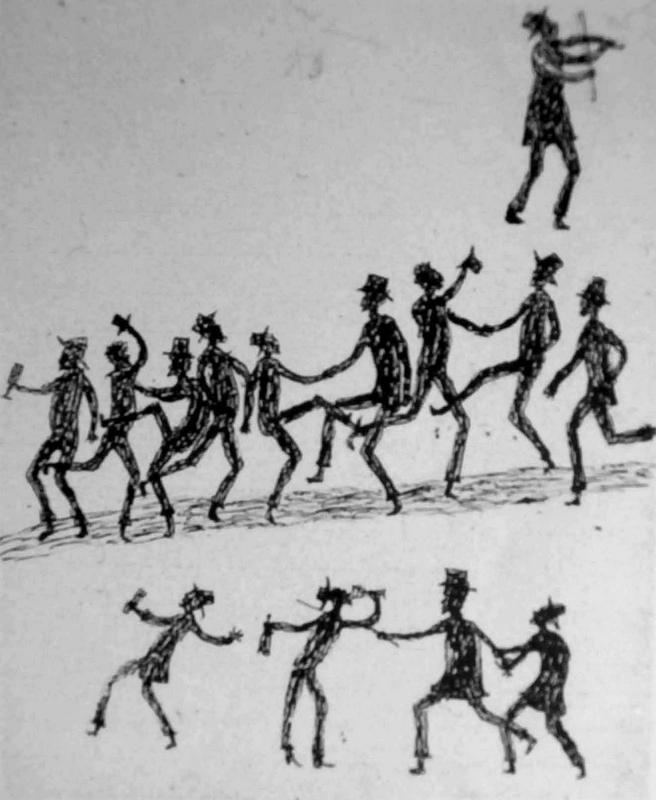 Tommy Barnes Style
Tommy Barnes sketches and drawings are normally black and white and focus on people and animals. People and animals silhouetted in landscapes. His backgrounds are of sparse trees and earth. Often there is a handwritten annotation at the bottom of the sketch. His figures are slightly stylized to exaggerate movement, leading to dynamic compositions.
His preferred medium was drawing with a steel-nibbed pen with ink on Paper. When selling works he often sold an entire sketchbook. Many individual surviving examples of his work started out as sketchbook pages.
Some of his most collectible works are of Corroboree and aboriginal customs.
His main subjects besides aboriginal custom were hunting scenes, tribal fighting and Buckleys escape.
Tommy McRae Biography
Tommy Barnes was born around 1835 and died in 1901. He was a well-known identity throughout the country from Albury to Yarrawonga'. He had a very traditional upbringing in the Upper Murray River. During his life, he recorded in drawings the establishment of pastoral settler society in his country.
As a man in his 20's Tommy became a laborer for the pastoralists. The pastoralist opened up sheep stations in northern Victoria. He was also a stockman for Andrew Hume, who developed Brocklesby station at Corowa,
Barnes' first drawings were from around 1862 at Barnawartha by the sculptor Theresa Walker.
At Wahgunyah in the 1860s, McRae met Roderick Kilborn, a Canadian telegraph-master. Roderick Kilborn became a patron and protector when the artist settled on the shores of Lake Moodemere at Wahgunyah.
Barnes married his wife Lily and had four children. During the 1860's Tommy McRae made and sold books of drawings, raised poultry and fished for Murray cod. His family also made possum-skin rugs.
He acquired a reputation for his pen-and-ink drawing. These drawings were sort after by travelers who s paid him for his work. European settlers admired Tommy Barnes, a dedicated non-drinker, for his industry
Between 1890 and 1897, all his children were taken from him under government regulations. The children sent to various reserves in Victoria. He turned to Kilborn to prevent these seizures but never saw his children again.
In 1897 Barnes and another Aboriginal man John Friday sued a photographer Thomas Cleary in Corowa court. Thomas Cleary failed to pay the £10 he had promised if he could photograph Aboriginal people at Lake Moodemere. Cleary claimed that the photographs had not turned out, and won the case.
Tommy died on 15 October 1901 and is buried in the Carlyle cemetery at Wahgunyah.
Tommy Barnes was also sometimes called Tommy McRae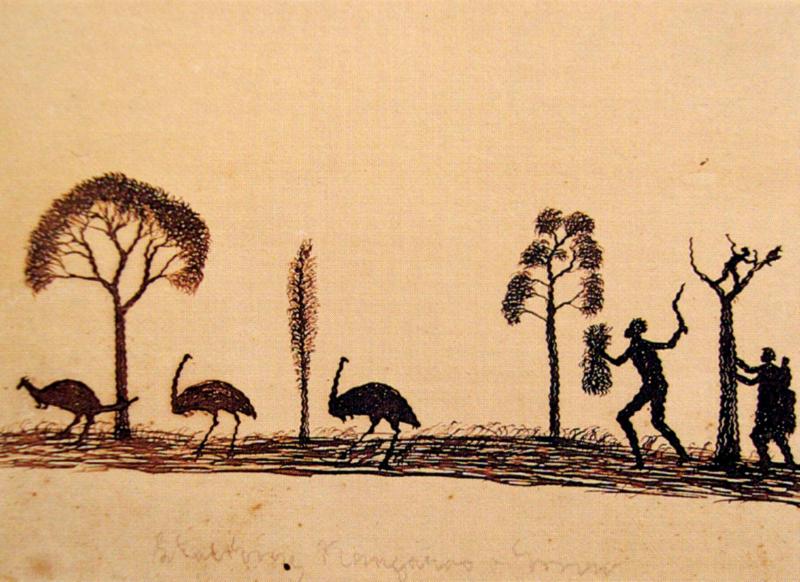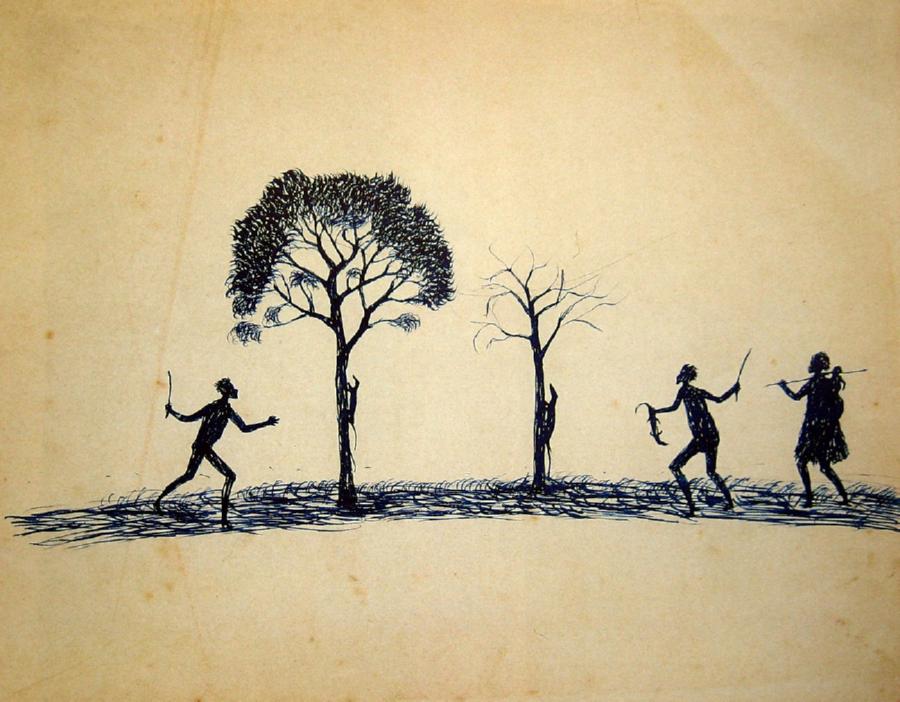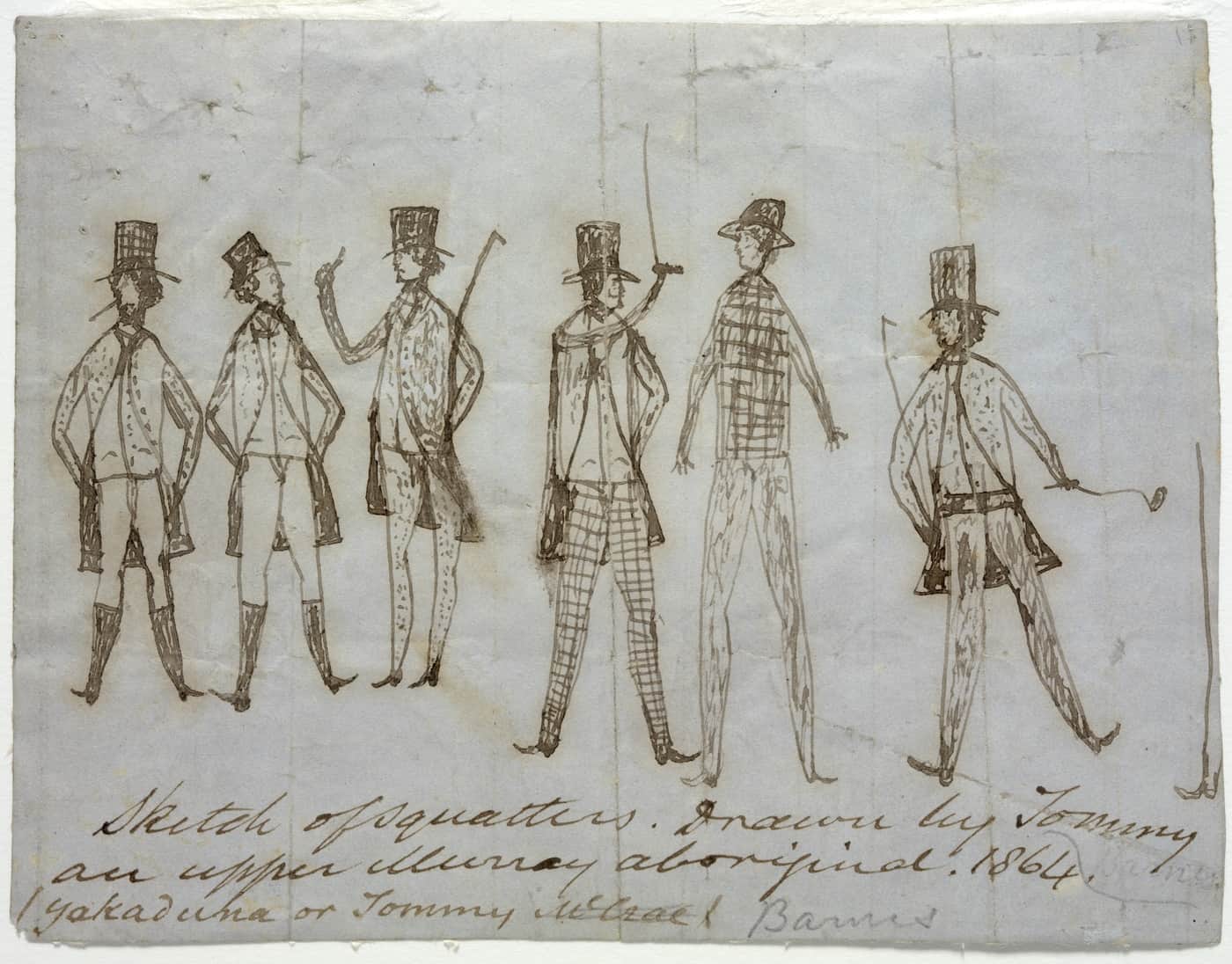 All images in this article are for educational purposes only.
This site may contain copyrighted material the use of which was not specified by the copyright owner. 
Tommy Barnes images
The following images are not the complete known work by this artist but give a good idea of his style.
If this post has been informative please take the time and make the effort to share it on social media

. By clicking any of the share buttons below you create a link from your social site to this article. Links are what google uses to calculate what information on the web is useful. By sharing this article you are letting google know you found my article / images of some value. Thanks!