Otto Pareroultja : Aboriginal Impressionist
Otto Pareroultja was an aboriginal artist who painted watercolors in a Hermannsburg style. He was a part of a new generation to follow Albert Namatjira as a watercolor landscape artist. Unlike Namatjira who was a realist, Otto Pareroultja was an impressionist.
If you have an Otto Pareroultja painting to sell please feel free to contact me. If you want to know what your Otto Pareroultja painting is worth please send me an image. I would love to see it.
Otto Pareroultja is often overshadowed by the more famous Albert Namatjira. This is a huge shame because they were very different artists and both excel in their own right.
Other Pioneering Aboriginal artists include Tommy McRae Yirawala and Cardo.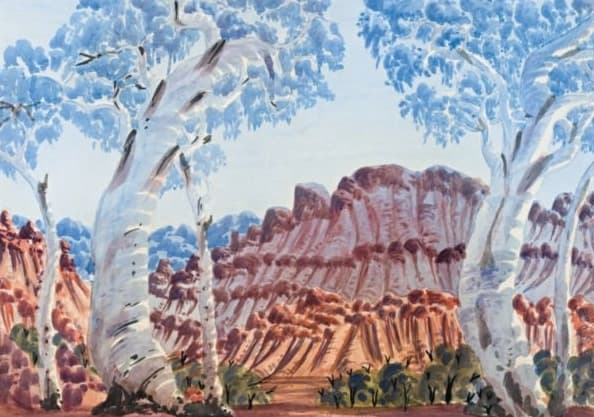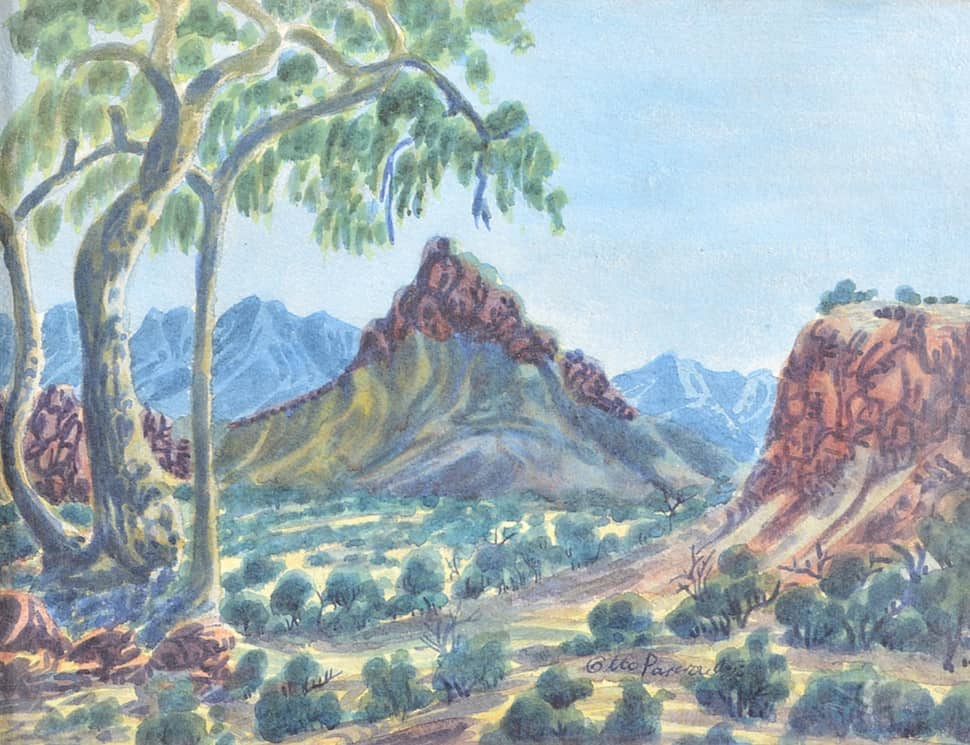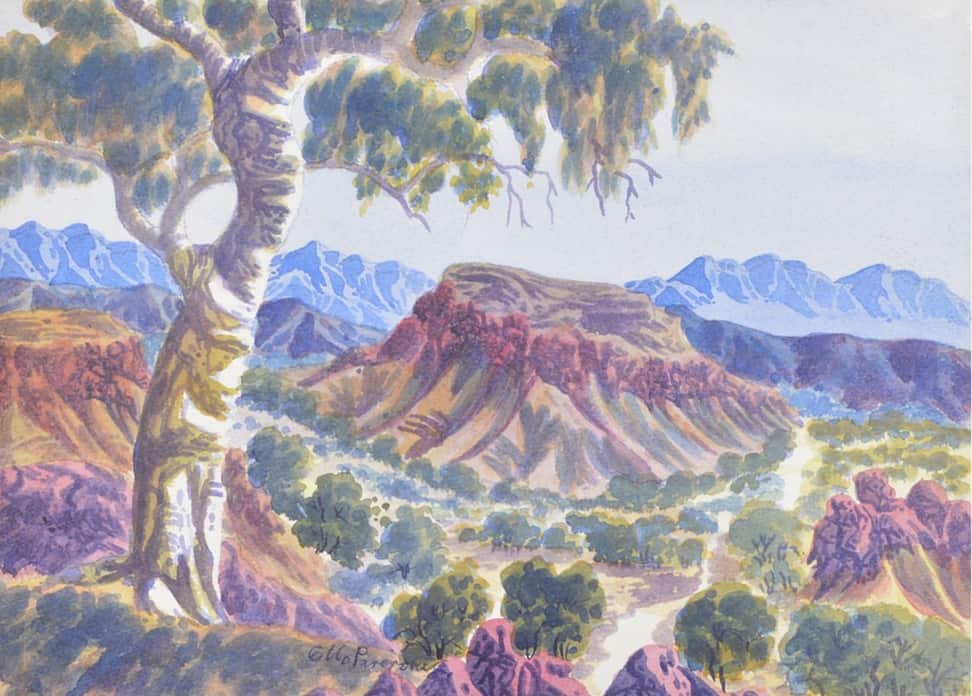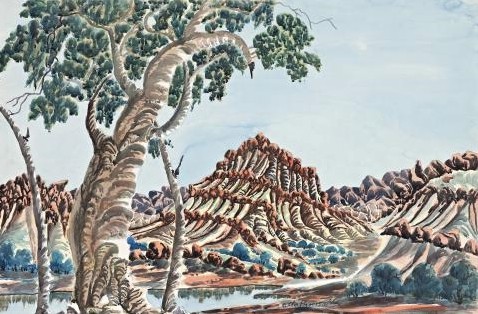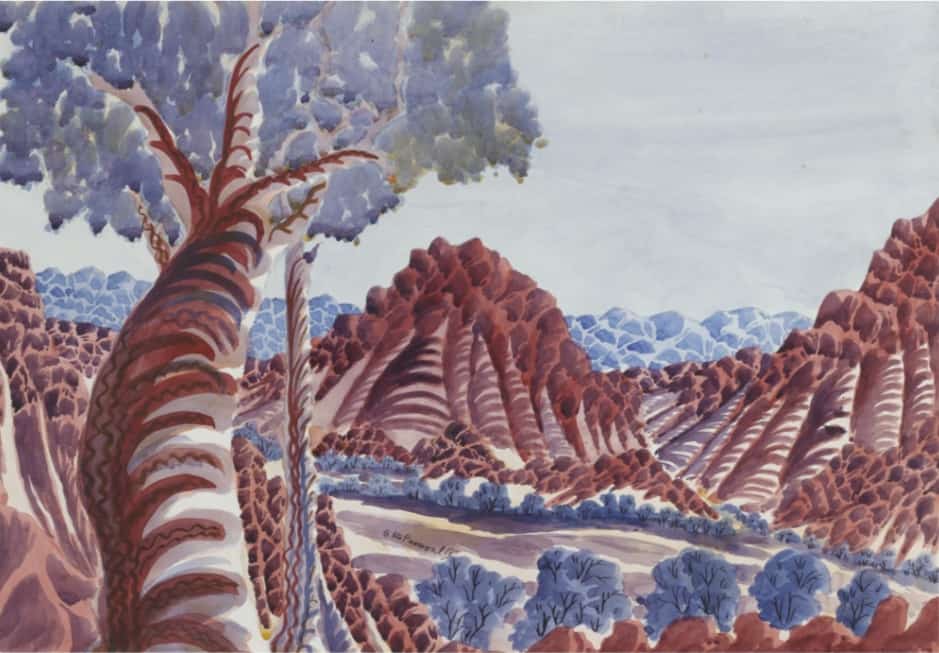 Otto Pareroultja Style
Otto Pareroultja Landscapes have bright color, dense patterning, and rhythmic repetition. Rhythmic repetition is most obvious in mountain slopes and more abundant in his later works.
His later painting is not realistic like Albert Namatjira. They are more like European impressionists such as Vincent van Gogh and Paul Gaugin. It is the lack of realism that makes his art excel. In many ways, he painted how the outback landscape felt, not how it looked. He was painting the spirit and the songlines of sacred land and not mere trees and mountains.
Otto Pareroultja never departed from the use of watercolor over the course of his artistic career.
His style changed over time becoming increasingly Impressionist, stronger and fuller of life. His early paintings are much like those produced by several other artists in his area. Over time his paintings lost their European correctness. They became more paintings of the spirit of the landscape and not just the landscape itself. It is these strong spiritual impressionist landscapes that are most collectable.
Anthropologist T.G.H. Stehlow pointed out the connections between the swirling parallel lines in Otto's paintings and the designs found on Churinga. Both Churinga stones and Otto's paintings are depictions of the spirit of his country. This was not a political statement on Otto's behalf. These native Indigenous forms are in the sacred landscape and felt not seen.
It is this spiritual resonance in his painting that distinguishes Pareroultja art.
These four similar scenes (on the Left) reflect the change in Otto's style over time.
Biography
Otto Pareroultja Was Born around 1914 and was a member of the Arunta Tribe. He was the oldest of three brothers that Rex Battarbee referred to as the 'breakaway group'. Pareroultja was twelve years younger than Namatjira. Like Namatjira, Otto was taught to paint by Rex Battarbee. Battarbee was a realist and had a preference for works by Otto's younger brother Edwin.
Landscape painting as taught at the Lutheran mission, and practiced by the majority of community painters. While Otto painted from 1947 onwards his work was largely overshadowed by that of Albert Namatjira.
Over time Otto developed his own increasingly impressionist style. This impressionist style was not really appreciated until the early 1980's. In the 1980's several of his works were in exhibitions.
This led to his inclusion in the Great Australian Art Exhibition 1788-1988 at the Art Gallery of South Australia.
If anyone has further information about Otto's life please feel free to contact me. I would love to add it to this article.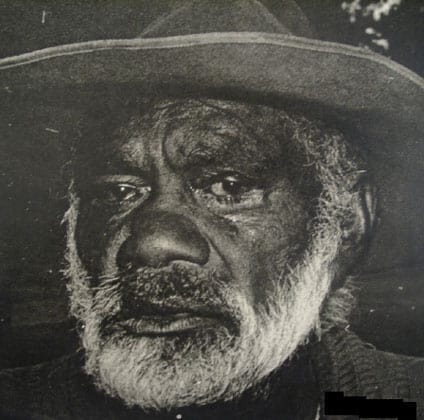 Otto Pareroultja images
The following images are not the complete known work by this artist but give a good idea of his style and range.
If this post has been informative please take the time and make the effort to share it on social media. By clicking any of the share buttons below you create a link from your social site to this article. Links are what google uses to calculate what information on the web is useful. By sharing this article you are letting google know you found my article / images of some value. Thanks!