Charlie Tarawa Tjungurrayi
Charlie Tarawa Tjungurrayi was one of the pioneering artists of the Western Desert Aboriginal art. He also sometimes called Chalie Taruru.
He was a prolific and talented painter. His works were often structured and intense. The vitality of his brushwork gave his works a characteristic textured surface.
His paintings often have a vigorous presence and depict sacred subjects. In the early part of his career, Charlie Tarawa Tjungurrayi painted on small bits of board. He went on to become one of the most vital figures of the aboriginal art movement. Many of his early works are ritual and contain secret imagery meant only for the eyes of initiated men. His later works are on Canvass and often maintain his earlier intensity of imagery.
The aim of this article is to assist readers in identifying if their Aboriginal painting is by Charlie Tarawa Tjungurrayi. It compares examples of his work. It also gives some background to the life of this fascinating artist.
If you have a Charlie Tarawa Tjungurrayi Aboriginal painting to sell please contact me. If you want to know what your Charlie Tarawa Tjungurrayi painting is worth please feel free to send me a Jpeg. I would love to see it.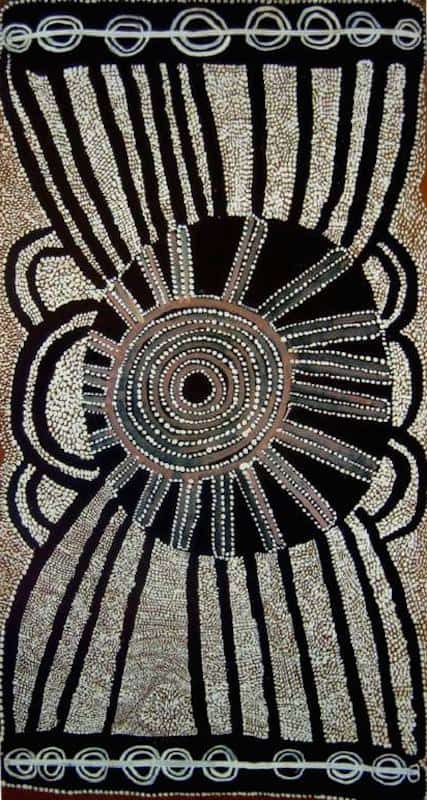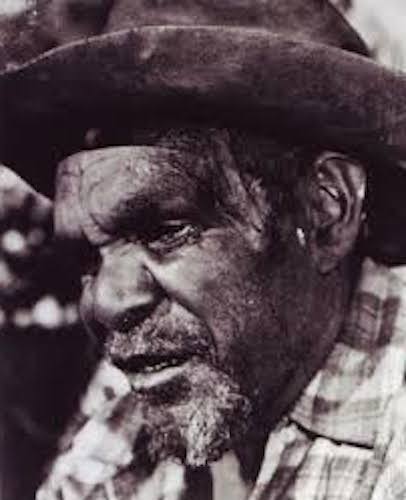 Charlie Tarawa Tjungurrayi Early Life
Charlie Tarawa Tjungurrayi was born west of the Kintore Ranges in Pintupi country. He first met Europeans as a youth and in his early teens lived at Haasts Bluff. By the Second World War, he had moved to Hermannsburg mission and learned a trade as a builder. His skills as a builder later took him to Adelaide where he helped build military camps.
In the 1950's he moved with his family back to live at Haast's Bluff. He often traveled out of Haasts Bluff into the desert to take rations to his tribal people. He helped, liaise for the welfare patrols who sought to draw the various tribes into government settlements.
In the 1960's he moved to Papunya a government resettlement town.
Charlie Tarawa Early painting
In 1971 Geoff Bardon became a local school teacher at Papunya primary. He tried to encourage local children to paint in their own traditional style. When he was told only older men could paint these stories he to start a men's painting group.
Charley Tawarra Tjungurrayi enthusiastically applied himself to the painting group. It was a way of reconnecting with his home country through art.
His artwork was structured but occasionally gave way to a more experimental flair. The vitality of his brushwork gave his works a characteristic textured surface that emphasized his attachment to the solidity of form.
His skill and determination imparted a 'vigorous presence' to his paintings.
Being a senior Pintupi tribesmen he and Uta Uta soon inspired other Pintupi tribesmen like Shorty Lungkarta and Yala Yala to join them. They would often sit under a tree with paintings balanced on their knees while chanting ancient songlines relating to their art.
Charlie also painted some wonderful designs on shields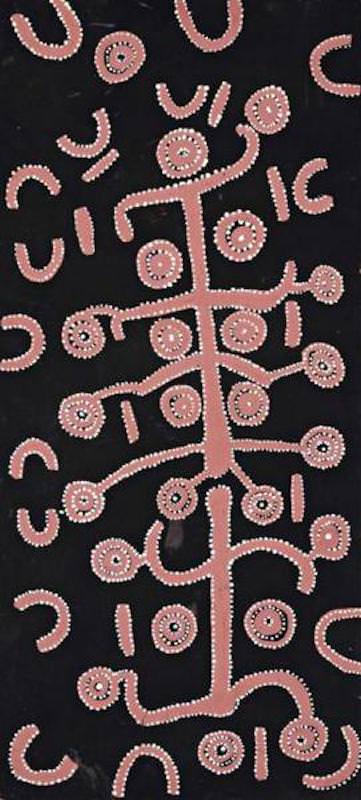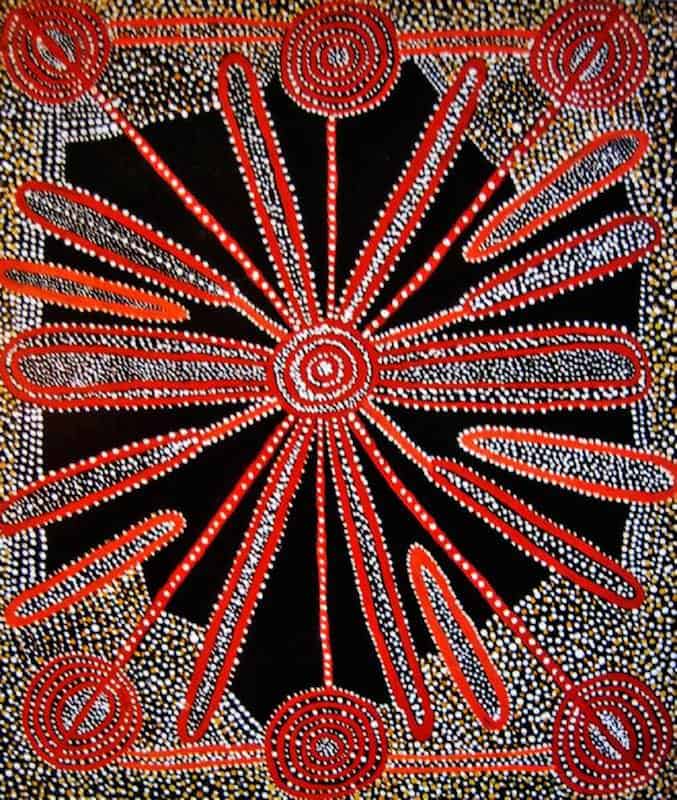 The natural Liason
His strong English and understanding of both cultures made Charley Tawarra Tjungurrayi a natural go-between for Bardon. He helped guide and explain, on both sides of the cultural divide. He was a key figure for the financial and cultural transactions that were the basis of a fledgling art business.
Charlie Tawarra Tjungurrayi was also the eldest of the many Tjungurrayi skin painters.These painters included Shorty Lungkata and Yala Yala. As the elder, he had authority but also looked after their interests.
He was one of the founding members of Papunya Tula. Papunya Tula was an art dealership for aboriginal people, run by aboriginal people.
It was Charlie Tarawa Tjungurrayi who suggested to Bardon in 1972 that the newly established company be called Papunya Tula. Papunya Tula literally meaning 'a meeting place of brothers and cousins at the Honey Ant place', the small hill that looked over the Papunya settlement.
Later Period
When Andrew Crocker came to Papunya as the new art advisor in 1981, a strong friendship developed between the entrepreneurial English man and Charlie Tawarra Tjungurrayi.
Crocker significantly raised the profile and sales of Papunya Tula. He used his contacts with wealthy people around Australia and overseas and sales skyrocketed.
Crocker brought Charley Tarawa into the limelight, as a leading artist. They traveled together to America and Europe. In England, Charlie Tjaruru even met with Queen Elizabeth the second.
In 1987 he was afforded the first retrospective devoted to an Aboriginal artist
Charlie Tarawa did eventually return to live in his Pintupi country, 25 years after he left it. Charlie Tararu lived an eventful and extraordinary life. Today his art resides in collections around the world.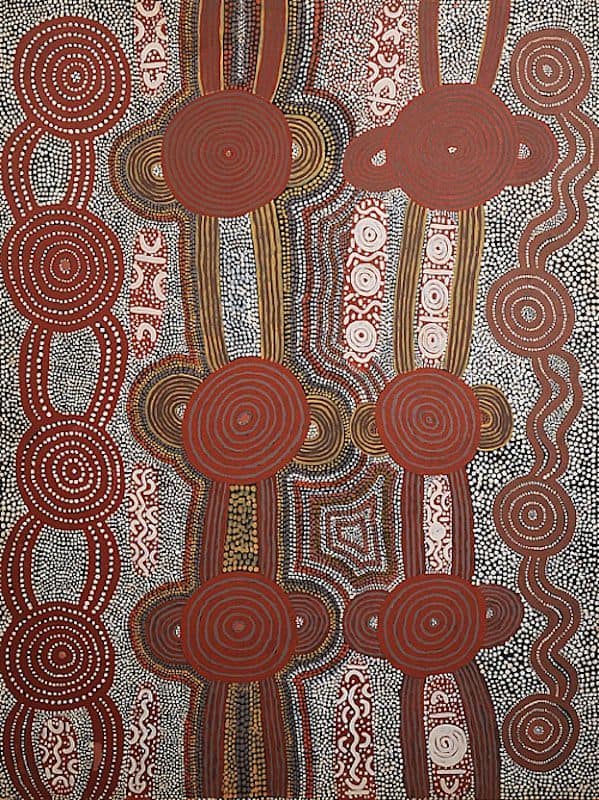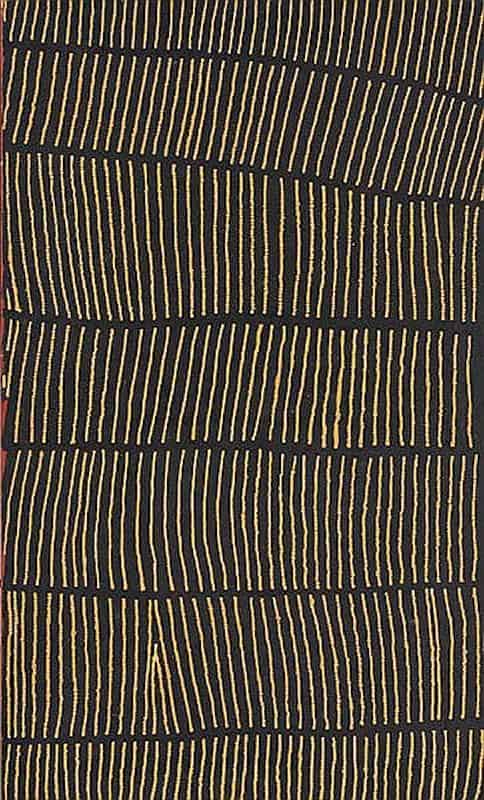 Later Life
Charlie Tarwarra Tjungurrayi also painted some fast and lower quality art to sell to make money. These pieces lack the spirituality of his earlier works and have little value.
These works lack the intensity of his earlier works and are closer to abstract than traditional. Although they do maintain traditional elements they no longer tell the stories of his best works.
His skin name Tjungurrayi can also be spelled Djungurrayi or Jungurrayi and Charlie has sometimes spelled Charley.
His tribal name arawa is also recorded as Tjaruru, Tararu, Taruru,  Wadama, Tarawu or Tawarra
Charlie Tarawa Tjungurrayi references
Early Papunya Artworks and Articles
All images in this article are for educational purposes only.
This site may contain copyrighted material the use of which was not specified by the copyright owner. 
Charley Tarawa Tjungurrayi Images
The following images are not the complete known work by this artist but give a good idea of his style and range.
If this post has been informative please take the time and make the effort to share it on social media

. By clicking any of the share buttons below you create a link from your social site to this article. Links are what google uses to calculate what information on the web is useful. By sharing this article you are letting google know you found my article / images of some value. Thanks!