Sell Aboriginal Art
When you sell Aboriginal Art one of the first things you need to do is identify the artist.  The art of some artists is far more valuable than others.  Unfortunately, that is only the start because determining what your artwork is worth is a bit of an art in its own right.
For example, say I want to sell aboriginal art by Charlie Tawara Tjungurrayi. It is easy to research that his works have sold from $1,100 to $212,000. That is a huge price range. in fact the price range is so large it doesn't really help you at all
You will need help.  The name of the Artist is useful because it can put you in contact with people who know the values of that particular artist's works.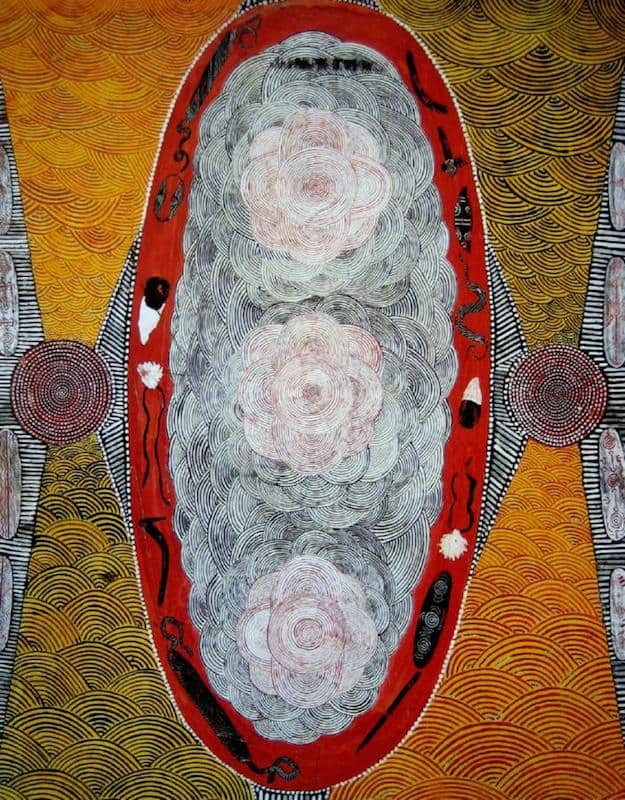 Value of your Aboriginal Art
The people who deal in Aboriginal Art all the time are the experts. Unfortunately, because the field of aboriginal art is so vast no one is an expert in every artist.
If you want to sell aboriginal art I am happy to help BUT I am not an expert in every artist and will only deal with the artists I know a lot about.
If you want to know if I can help you sall aboriginal art by a certain artist then use the search box.
If it is an artist that I have written about then it is an artist that I buy and sell
Different ways to Sell Aboriginal Art
 If you are lucky enough to have inherited a masterpiece worth thousands the way to sell that artwork is very different from the way you would sell a lesser piece. 
Auctions can be good but they can also be risky. Dealers by many underpriced pieces at auction every month.  Aboriginal art is a very specialized field and most auction houses do not know if your art is mediocre or great.
Private treaty is an excellent way to sell great pieces. Selling by private treaty is where a dealer will show your artwork to clients he knows collect that artist. Dealers selling by private treaty normally charge around 20 – 30 percent less than an auction.  The main advantage though is a private treaty sale will not expose the artwork to the whole market at once. Pieces that go to auction but fail to sell are often perceived as less valuable. private treaty sales are usually for outstanding works of art worth over $10,000
Selling to a dealer is often the easiest way for lesser artworks.  The dealer will normally buy pieces for about half of what he hopes he will sell it for.  Often though in these days of everyone wanting a bargain  the markup is more likely to be 30 percent
Sell Aboriginal Art outside of Australia
The best market for Aboriginal art is not surprising in Australia. If your aboriginal artwork is not in Australia it will be harder to sell and less valuable.  The first thing you need to do is work out if it is worth getting your artwork to Australia to sell or not. As a general rule of thumb if your aboriginal artwork is worth less than $1000 then it isn't worth moving.
These less valuable artworks can be sold at your local antiques or art auction.
Sell Aboriginal Art on the Internet
The best pieces to sell on the internet are those valued from $500 -$5000.  With Artworks over $5000 collectors want to see the piece in person so they can imagine it in their home.  I sell numerous more valuable pieces every year but they are sold through exhibitions where people can connect to the artwork rather than judge it from an image.
Artworks worth under $500 are not really worth freighting around Australia or the world.